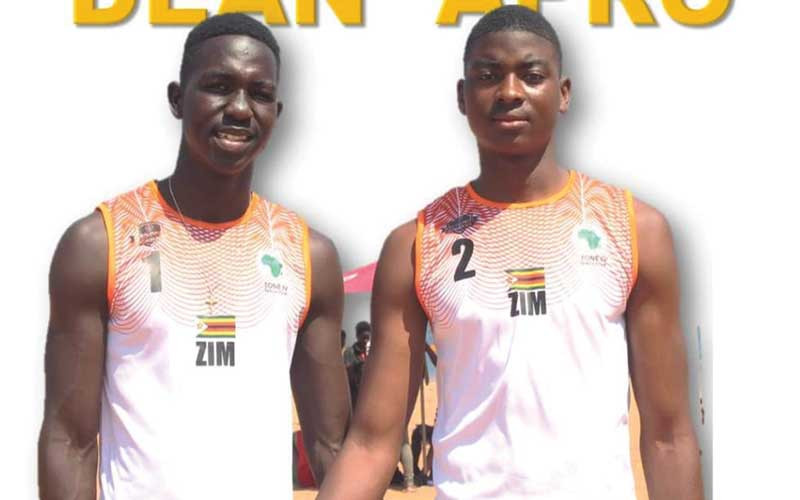 Zimbabwe Volleyball Association (ZVA) secretary-general Kenneth Kondo says local teams are ready for the 5th leg of Zone VI Beach Volleyball tournament which kicks off at the weekend.
The tournament runs from Friday to Sunday in Darwendale, with Mozambique, South Africa, Zambia, Botswana and Zimbabwe among other southern African countries taking part.
The tournament came to life this year in a bid to grow beach volleyball in the region. The Confederation of African Volleyball Zone 6 (Southern Africa) committee resolved to organise a beach volleyball circuit with the participating countries hosting the games on a rotational basis.
The first leg was hosted in Mozambique; second one in South Africa, third in Botswana while Zambia hosted the fourth one.
"Preparations are going on very well for the tournament, we have a local organising committee in place headed by Brian Manuel. Administratively, we have done all processes necessary to ensure we are within the legal confines of our governing institutions so, we are good to go," Kondo said.
"Fifteen Zimbabwe teams have confirmed their participation — six men's and nine women's teams. The gold medallists from the previous leg, the ZDF pair of Progress Gasa and Levenia Marange have already confirmed participation. The silver medalists in the previous edition, Kimberly Dhlomo and Nyengeterai Guyo from Zambezi Amazons are also confirmed participants in the event. The under-19 duo of Apronage Ngorima and Dean Mukusa from AM Academy are also in for the event. We are expecting at least five countries to compete in the three-day event."
Kondo said the contest was a good opportunity for young athletes to acquire more skills and exposure.
"This event is critical for our athletes in Zimbabwe. We are looking forward to creating more awareness with the corporate world by bringing the event closer to the local business community. It is also an opportunity for our age group players to rub shoulders with their seniors, a move critical for their exposure and growth," Kondo said.
"We need these kinds of competitions closer to home so we create a legacy for our youngsters for the future. We have been partnered by the Zimbabwe National Parks and Wildlife Management Authority and the event will be in a recreational park which offers spectators more than just the beach volleyball that we are gathering for."
AM Volleyball Academy director and head coach Aaron Mutede also said the participating teams have been training since August and are ready to compete.
"Since Siavonga, Zambia when we took part in the fourth leg, the teams did not stop training. They are currently in Chimhanda and today (yesterday) they will travel back to Darwendale beach area to get used to the venue before the competition," Mutede said.
Mutede also applauded the two teams of Mukusa and Ngorima as well as Mutembedza and Mutede who have been part of the series since its inception and are the only schoolgoing pupils.
"There is need to have more youth development programmes, build beach volleyball courts close to youths in the community," he said.
Follow Magreth on Twitter @MagrethRuzvidzo
Related Topics