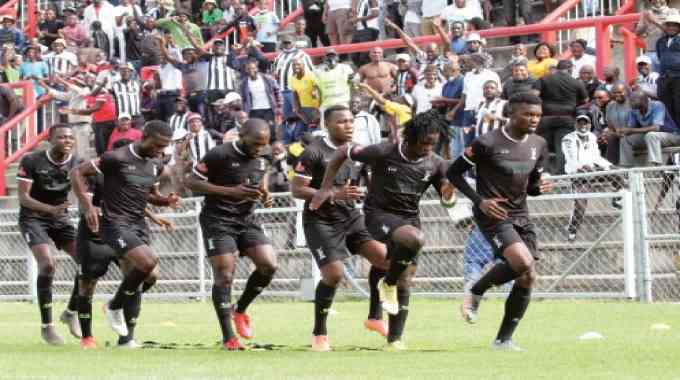 YADAH FC . . . . . . . . . . (0) 2
HIGHLANDERS . . . . . (2) 3
Highlanders survived a late fightback from hosts Yadah FC to end a four-year wait, spanning 32 matches, for a league win away from home in an entertaining match at the National Sports Stadium yesterday.
This is a second consecutive away win for Highlanders after they beat Triangle in the Chibuku Super Cup first-round at Gibbo Stadium about a fortnight ago.
The last time that Bosso won in the league away from home was at Gibbo in a 1-0 win over Triangle in July 2018.
Two first-half goals from Ray Lunga and Washington Nyavaya as well as another one early in the second half were enough to give Bosso a big win which lifted them to fourth place.
Innocent Masiwa and Fortune Binzi scored two late goals ensured a clean finish for Highlanders who had control of the match for long periods.
Assistant coach Joel Luphahla was happy to finally break the 32-match jinx.
"We are very happy for the boys as the technical team. Sometimes it's very hard, I think 2018 was the last time we won away from home in Triangle if I am not mistaken, so to come here and try to break that jinx was not going to be easy," he said after the match.
"But I think the boys put the foot off the pedal when we were leading 3-0. A little bit of complacency crept in because the plan was to give the young boys a chance to play without pressure. But to come here and score three goals makes us happy and I also think our fans are happy," Luphahla added.
Highlanders were the first to settle and took the lead barely 10 minutes into the game when Lunga headed home from a Navaya cross.
Navaya doubled the scores with a simple tap-in after he was picked out by Chikuhwa.
Highlanders carried on from where they left off in the first half as Chikuhwa made it three early in the second half taking advantage of poor defending by the hosts to slot home past George Munhupedzi.
Yadah turned on the power after the visitors withdrew experienced players for youngsters Prince Ndlovu, goalkeeper Raphael Pitisi and Mason Mushore 11 minutes from time.
It was Masiwa who pulled one back for Yadah, blasting home from close range a Kudakwashe Mangami square ball in the 82nd minute.
Three minutes later, another substitute Binzi netted another one to ensure a nervy end to the game for Bosso.
Yadah coach Genesis Mangombe bemoaned mistakes by the defence.
"It was a difficult game for us as my boys made silly mistakes and we failed to clear the lines on crosses from wide areas. During the second half, we corrected it and managed to get goals, but today was not our best day," he said.
Teams:
Yadah: G Munhupedzi, B Kadamanja, K Mangami, L Chome, T Shandirwa, C Mandivei, M Faranando, F Binzi, T Chilenga( K Dlamini, 46'), L Mucheto (I Masiwa, 66'), A Manenji
Highlanders: A Sibanda (R Pitisi, 79'), D Mhindirira (M Mushore, 79'), L Chikuhwa, R Lunga (B Sibanda, 68'), N Masuku, G Makaruse, A Mbeba, P Muduhwa, D Mukuli (A Silla, 64'), M Ndlovu, W Nyavaya (P Ndlovu, 79')
Related Topics