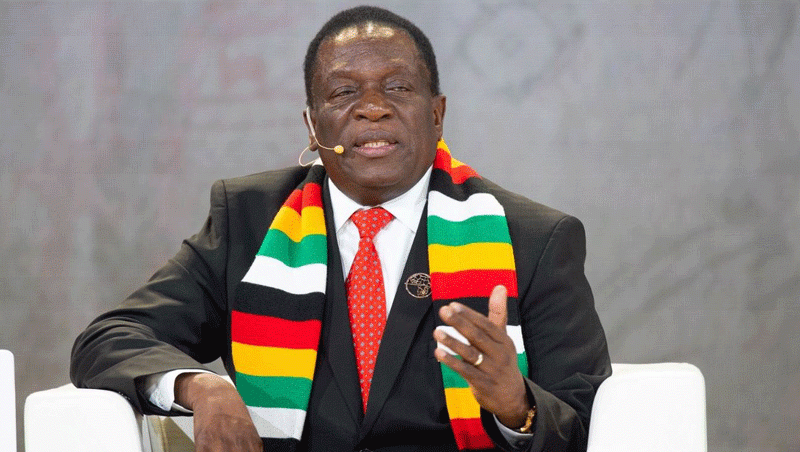 The leader of Zimbabwe's main opposition party has warned of violence and repression by the ruling Zanu PF party to ensure victory in elections scheduled for later this year.
In an interview with the Observer, Nelson Chamisa, president of the Citizens Coalition for Change (CCC), called on the international community to have "eyes on" the struggling southern African country despite other crises around the world and to "offer solidarity" to those fighting for change there.
"Here too, people are being killed for their opinions. Zimbabweans want to see change and want to see a transformation," Chamisa said.
The coming elections, set to be held in July or August, will be the second after the military takeover that ended the rule of veteran leader Robert Mugabe in 2017 and brought Emmerson Mnangagwa, one of the former dictator's chief lieutenants, to power.
Hopes of a new era of reform, democracy and accountability after the 37 years of Mugabe's increasingly authoritarian regime proved misplaced. Critics of the new government have faced successive crackdowns while economic conditions for most of the population have worsened.
Mnangagwa, whose guile and alleged brutality earned him the nickname "the Crocodile", is expected to stand for a second term in this year's elections.
"The leopard has not changed its spots … The crocodile has not changed its antics and tactics, so violence is a big fear. Violence is the Zanu PF's default setting. We see dark clouds gathering," Chamisa said.
Last weekend, the authorities gave a vivid demonstration of what opposition activists might expect in the months ahead when they raided a gathering of CCC activists in a private home in the Budiriro township, about 16km from the centre of the capital, Harare. Dozens were detained, and 25 appeared in court last week.
Lawyers are also fighting to free Job Sikhala, a CCC executive viewed as an important figure in winning urban support for the party. Sikhala has now been held in the Chikurubi Maximum Security Prison on the outskirts of Harare for more than seven months. The outspoken politician was charged with inciting violence after allegedly threatening to avenge the murder of an opposition activist whose body was mutilated before it was dumped in a shallow well last June.
Last year, the Zimbabwean author Tsitsi Dangarembga was given a six-month prison sentence after being found guilty of inciting violence when she held up in public a placard inscribed "We want better. Reform our institutions". The sentence was suspended for five years on the condition that she does not repeat the offence.
In the 2018 presidential election, which was marred by allegations of vote rigging, Mnangagwa narrowly avoided a run-off, winning 50,8% of the votes. Chamisa, a 44-year-old former pastor, was then running on the ticket of the Movement for Democratic Change alliance and won 44,3% of the ballot. Shortly after the poll, six people died when soldiers opened fire on protesters and commuters in central Harare.
Though many towns and cities are bastions for the opposition, Zimbabwe's countryside has long been held by the ruling party, which can deploy powerful networks of patronage and intimidation to secure support.
Officials of the CCC, which was founded a year ago, say they are pursuing a low-level, "village-by-village" effort to win votes. "It's been totally legal but very quiet. We now have a presence in every village," said Fadzayi Mahere, the CCC's spokesperson.
But Piers Pigou of the International Crisis Group, a conflict-prevention organisation, said the CCC lacked the infrastructure to effectively mobilise potential support in rural areas, where 65% of the voters live, and to protect supporters from retaliation. "They may not be able to defend the vote they do have. They need 40 000 poll agents and are going to struggle to get them," Pigou said.
The Zimbabwe Peace Project (ZPP), a non-governmental organisation, has recorded hundreds of incidents of assault, threats or intimidation across Zimbabwe: 263 in November and 209 last month.
Zanu PF was responsible for about 45% of them, followed by the police with 28%. Almost nine out of 10 victims were not affiliated with a political party, while the remainder were CCC supporters.
Jestina Mukoko, director of the ZPP, said the ruling party guarded its influence in rural areas "jealously", adding: "They have a system on the ground especially for events like elections. They deploy gatekeepers who keep an eye on particular communities. People are told that they will know who they voted for … and that instils a lot of fear."
A further complaint is that the Zimbabwe Electoral Commission has redrawn constituency boundaries to suit the ruling party. Obert Masaraure, a political activist and spokesperson of the Crisis in Zimbabwe Coalition alleged that it was "a clear case of gerrymandering".
Mnangagwa and the ruling party will also benefit from access to State resources such as relatively well-funded media. This makes them formidable opponents to a still fragmented opposition, analysts believe, despite the appeal of a charismatic leader and deep discontent. "There's no doubt that Zanu PF will win," Pigou said.
Monica Mutsvangwa, Zimbabwe's information minister, did not respond to messages from the Observer but has said the government is committed to Press freedom, pluralism and "feeding the nation the right information through the correct and appropriate channels".
In a speech at the National Defence University in Harare last week, Mutsvangwa accused the "military-industrial complex of the west" of trying to seize Zimbabwe's natural resources. "The onslaught directed at Zimbabwe by the west and its media is as a result of the vast wealth endowments the country has which they want to resume their old habits of looting," she told students.
The elections come against a background of profound economic hardships. Inflation is estimated at between 250% and 400% annually and the World Bank expects the economy to slow further in 2023. Some areas receive less than four hours of electricity daily.
Chamisa said that 2023 was to be a year of change, victory and breakthrough. "We are very united as a people and as citizens. Change is happening in Africa. We have to build an anthem for change, transformation, freedom and democracy that all African voices have to sing."
Related Topics