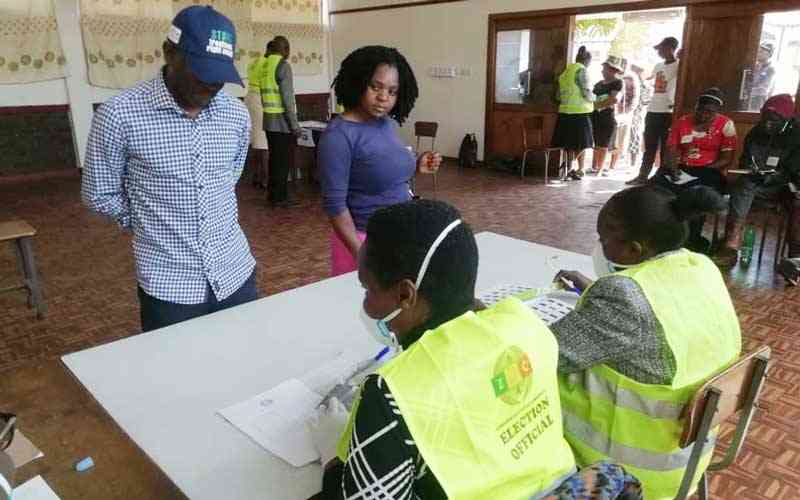 SEVENTY-YEAR old Henry Mudangwe sat on a plastic chair at Kariba Crescent Tent, a temporary polling station set up by the Zimbabwe Electoral Commission (Zec) in Harare's Glen Norah suburb on August 23.
Mudangwe has been religiously voting in every election since 1980.
"I have never seen anything like this," the elderly man said as he waited for voting to start hours after the polling station was opened.
"Even the 1980 election, which was conducted just after the war, was more organised than this.
"I have voted in many elections throughout my life, but I have never experienced such incompetence. We deserve better treatment, especially at our age.
"This delay is a disgrace to our democracy."
Mudangwe was one of the people who had waited six hours for the ballot papers to be delivered so that he could vote.
Zimbabweans across the country eagerly awaited the opportunity to cast their votes in the recent elections, hoping for a smooth and efficient process.
However, in most Harare areas such as Mufakose, Budiriro, and Glen Norah, the election day turned into a shambolic affair, with citizens enduring agonizingly long waiting times.
In Mufakose, a densely populated suburb of Harare, voters braved the scorching sun and stood in queues for more than 12 hours, testing their patience to the limit.
Frustration and anger permeated the air as people shared their grievances about the delays.
Sinikiwe Marozva, a mother of two, shared her disappointment after spending the whole day at the polling station.
"I woke up early, hoping to cast my vote and go about my day," Marozva said.
"Little did I know that I would spend the entire day standing in a line.
"This is unacceptable! Our voices deserve to be heard, but this chaotic process is suppressing our rights."
In Budiriro, Ronald Gedza, a taxi driver, thought that he would just cast his vote and go back to work.
"I have lost a day's worth of income because of this disorganised voting process," Gedza said.
"How am I supposed to provide for my family when I am forced to wait in a queue for hours on end?"
Like thousands who waited to exercise their right at Cold Comfort Primary School polling station, the delay in opening of the station frustrated, Sibongile Maneto,
To add to her worries was the fact that she had left her baby at home in anticipation of a quick and smooth flowing voting process.
"I came here by 6am to join the queue before many people so I could rush home to my one-month-old baby," Maneto said.
Voting at her polling station was declared open at 8:15pm and was scheduled to end the following morning after the 12-hour period.
Many women waited patiently for their turn to vote, with some leaving way after midnight, risking their lives in the not-so-friendly environments.
The lengthy delays finally took a toll on many of the women waiting for the ballot papers to be delivered and some of them eventually returned home to take care of the unfinished business.
"I had no option but to go back home to my baby," Maneto said.
"I failed to come back as I heard that the ballot papers came well after dark.
"I'm in pain as I was hoping to exercise my right for the first time."
In Glen View, 70-year-old Gogo Shorai Nyemba sat on the pavement of a shop at Glen View shops waiting for the announcement that they could vote.
Unlike her male agemates, she is now frail and clearly needs rest.
Nyemba endured the uncomfortable situation as she was determined to cast her vote and make changes that would benefit her grandchildren.
"I am diabetic and I cannot manage anymore, but I have to endure until they call us to start voting," she said.
"I have waited for five years for this day so I will not give up. I came here before 6am, but the long waiting hours are becoming unbearable."
Luckily for her, when the ballot papers for Glen View finally arrived shortly after 3pm, elderly women were given first priority to vote.
In most of the polling stations that voted at night, many women could be seen with children in tow or on their backs.
While there was frustration, a sense of camaraderie was on show in Warren Park, where voters talked about their daily struggles.
There was a mini-picnic at Haig Park School as some prospective voters brought burgers to share while waiting to vote.
However, reports emerged of a shadowy group called Forever Associates Zimbabwe (Faz), a Zanu PF affiliate group, intimidating voters in various polling stations.
Zec failed to provide ballot papers at several polling stations in Harare and Bulawayo when voting started at 7am on Wednesday.
Citizens Coalition for Change (CCC) leader Nelson Chamisa, said the disruptions in Harare and Bulawayo, the opposition party's strongholds, were meant to deliberately frustrate his supporters from voting.
Zec acknowledged the delays, but blamed them on several court cases against it for delaying the printing of ballot papers.
Several observer missions expressed concern over the delay in starting the voting process at many polling stations especially in urban areas.
"Some polling stations opened more than 12 hours after the stipulated time," head of South African Development Community Election Observer Mission Nevers Mumba said on Friday.
"The reason provided by Zec for this unprecedented development was the unavailability of ballot papers, particularly for the local authority elections, and also due to previous litigation.
"On the basis of these two considerations, the subsequent information from Zec that they did not have adequate ballot papers has the unfortunate effect of creating doubts about the credibility of this electoral process."
The African Union-Common Market for Eastern and Southern Africa observer mission led by former Nigerian President Goodluck Jonathan also expressed concern.
"The mission further notes that Zec was not fully prepared," Jonathan said. "This disenfranchised voters from voting in the first place."
AU said that the delay in delivering ballot papers cast doubt in the credibility of polls.
Zanu PF reacted angrily to the Sadc report.
"We are dismissive of the rumblings, the mouthing of Mumba," Zanu PF spokesman Christopher Mutsvangwa told a press conference in Harare, describing the head of the Sadc mission as a biased "preacher".
Zimbabwe has a history of disputed elections that dates back to the Robert Mugabe era.
Related Topics