Shouts of "Riot yauya, riot yauya!" (the riot has come) woke Edson Madya, 41, and his wife, Sharon, on 25 May 2005. It was the day the family lost their home and grocery store in Chitungwiza, a town just south of Harare, during Operation Murambatsvina. By the end of June, 700,000 people had been left homeless across Zimbabwe, as shacks deemed illegal were destroyed by the police.
After Operation Murambatsvina (officially Operation "Restore Order" or "Clean-up" but literally: "Getting rid of the filth"), Madya registered with the municipal authorities for a new plot of land – or "stand", as it is known in Zimbabwe – to build on. Nearly 20 years later, he is still waiting for his application to be assessed.
Council services in Chitungwiza, a sprawling municipality of about 400,000 people that grew out of three townships after the independence war, had been deteriorating for years. The authorities have failed to provide social housing, maintain roads and traffic lights, address perennial water shortages or fix burst sewage pipes.
But things took a turn for the worse in 2003, after the opposition Movement for Democratic Change (MDC) won the council elections. The MDC faced many challenges, but the ruling Zanu-PF deliberately undermined its work.
Emmerson Mnangagwa, the former vice-president and now president widely known as "the Crocodile", has boasted about this. A video emerged of him telling a gathering on one occasion that "the [Harare] opposition MP here cannot approach a beast like me.
"A Zanu-PF MP can come to me, because he supports Robert Mugabe. If you vote for the MDC, the MP will report to the [MDC party office] – that's where it will end."
Zimbabwe's weakened state structures have allowed corrupt "land barons" linked to the ruling party to flourish.
In 2009, Madya says he paid US$1,500 – almost half his annual income – to a businessman and former deputy mayor of Chitungwiza, Frederick Mabamba, to buy a plot of land. But the sale was illegal: the land, which floods during the rainy season, was designated as grazing land for cattle. Mabamba died while on remand in prison in 2021.
"When I visited the council offices recently, I was first told that I had to formalise my stand [of land], and later to wait until we were relocated," Madya says. "But we don't know when they are relocating us."
Edith Ncube, 39, a self-employed mother of four, said she was advised by a party official to become a Zanu-PF member if she wanted to be housed.
"After years of failing to get a stand through the municipality, I was frustrated with the bureaucracy and expensive costs," she says. "The risk that you are cheated and lose all your lifetime savings is always there, so then I opted to pay $50 to get a stand through the party structures in Harare, which meant that I automatically became a member."
She now attends party meetings. "We have been promised that as long as we support the ruling party, we will keep our stands," she says.
Caleb Zhanje, 73, says his years of allegiance to the ruling party earned him a 2,000 sq metre plot in 2008. "The stand was sold to me by two men who claimed to be [liberation] war veterans," he says.
But party loyalty did not prevent him being cheated. "At first, we were made to believe it was a cooperative, and we contributed money every month, only to realise that these people were abusing our funds."
Zhanje ended up losing half of the land and so far has not been able to build on the rest of it. "This year, I was instructed to become a registered voter in that constituency, or else I would lose the stand," he says.
Ncube and Zhanje both receive occasional WhatsApp messages supposedly from party officials asking for payments to maintain roads, or for electricity and other services. Whether or not these are genuine, failure to pay could lead to loss of the stand, they say.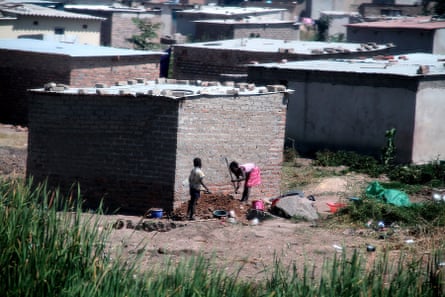 In 2019, a report by a government commission into the sale of state land revealed the extent of abuses.
The judge who led the inquiry found there had been: "creation of new urban settlements by aspiring or sitting members of parliament as a way of mobilizing political support; abuse of political office in the allocation and appropriation of urban state land; and use of names of top ruling party leadership to exert undue influence on government institutions and processes".
The report criticised "land barons who are usually politically connected, powerful and self-proclaimed illegal state land 'authorities'", as the power players who "illegally sold state land in and around urban areas without accounting for the proceeds". Illegal sales had cost Zimbabwe nearly $3bn, the inquiry found.
The report documents this as starting in 2005, the same year in which the government under the former president, Robert Mugabe, undertook to clear shacks built illegally in and around cities by people desperate for housing.
Since the report was published, little has changed. In the run-up to this year's presidential and parliamentary elections on 23 August, land barons remain an important instrument to garner votes for the ruling party, says Prof Innocent Chirisa, acting vice-chancellor at the Zimbabwe Ezekiel Guti University and an expert on regional and urban planning.
"This party always uses a method of patron clientelism," Chirisa says of Zanu-PF, which has been in power since Zimbabwe gained independence in 1980. "It dishes out goodies and it has created people who work for the party to do this."
He said Zanu-PF has had to rely on buying votes because "since 2000, it has been losing urban votes. And as long as it feels people are not voting for them, they will continue bringing 'sweets' to the people, and those sweets are created and delivered through land barons."
In the early 2000s dwindling numbers of urban votes for Zanu-PF was also cited by human rights organisations and lawyers as the motive behind Operation Murambatsvina.
In the aftermath of the demolitions, Human Rights Watch interviewed several observers who claimed the "evictions were an act of retribution against those who had voted for the opposition during the elections in March 2005", and were also aimed at "preventing mass uprisings against deepening food insecurity and worsening economic conditions" at the time.
Chirisa agrees that the demolitions were "a form of punishment … that told urbanites to 'go back to the rural areas'". The attitude in the ruling party, he said, was that "'Maybe in the rural areas, we are going to turn you into Zanu-PF voters'."
Traditionally, rural communities have been more susceptible to pressure from local Zanu-PF branches, which control everything from seed allocations and food parcel distribution in times of hunger to the transport to markets. It is a strategy that is still in place, says Chirisa.
Fully legal housing in the cities is out of reach for most. Mortgages for a private home are unaffordable for all but the richest, and many social housing projects exist in name only: out of a government target of building 220,000 housing units by 2025, and a Zanu-PF's promise in 2018 of 800 new houses a day, so far the only known number of finished housing is a total of 569, built in 2021.
One alternative that still exists is to join a cooperative, where members pool resources to build housing together. Chirisa says the cooperatives – a feature of newly liberated Zimbabwe in the 1980s and 90s – were even "spelled out in the national housing policy", bearing "names of liberation-struggle heroes and heroines, trying to show how patriotic they were".
Jason Zuze, a 41-year-old teacher, is among 60 members of one surviving cooperative. He received a stand two years after joining in 2015. "We [contributed] through monthly instalments," he says. "Then I self-financed the house doing carpentry and tutoring students after school."
However, even these investments in cooperatives are at risk of being lost because land barons have infiltrated these organisations, too.
Grace Shamba had lived for 10 years in the self-built settlement of Budiriro 5 in Harare before she lost her home in 2020. "We lived there for 10 years, contributing to a housing cooperative every month, and the council was even connecting water to our area," she says.
"But one morning, when it was raining, we woke up to [hear] bulldozers. All because a land baron sold the stands to other beneficiaries for a higher price," says Shamba.
Zuze acknowledges that many cooperatives "are no longer trustworthy", but he still has faith in his one. He is waiting to receive a compliance certificate from the local municipality, which would formally regularise his home and make it a legal dwelling that will not be destroyed. But, he admits, that "may take longer because it's not easy to get".
The challenge for Zuze is even greater because, instead of reforming the housing cooperative system, the government banned it altogether in 2016. Nevertheless, many cooperatives continue to operate informally, with some claiming to be backed by powerful individuals with political connections.
Chirisa says that while he accepts government had to ban the cooperative system – because "as with so many policies, it was poorly executed" – the land barons have never been stopped. "They are immune to these bans. They [know] that they enjoy protection from their party allegiance."
Nigel Ruzivo, an engineer with decades of experience in the housebuilding sector, suggests that "the most effective way to get proper regularised housing will be a state project financed by a financial institution, which would guarantee roads and sewerage services as well … Such projects could [issue] title deeds to self-build homeowners, freeing them from debts."
But it remains to be seen – especially with elections approaching – if anyone in government is really interested in solving the housing crisis and reducing urban dwellers' dependence on the favours of the ruling party.
After becoming president in 2017, Mnangagwa announced he would give title deeds to all homeowners. To date, only 350 of such deeds have been announced as allocated.
Related Topics