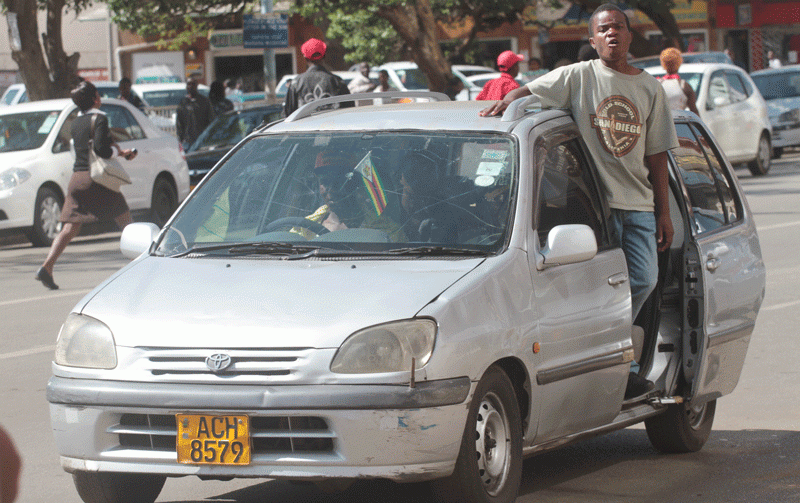 Of all the places he could have met his fate, Gift Nechiturike never imagined his current workplace on that list.
The 39-year-old tyre technician, whose shop sits next to a main road in Harare's Glen View 3 high-density suburb, vividly remembers two incidents where he survived death during his days as an artisanal gold miner over a decade ago.
The freak accident in which a car flew over him barely missing his head on May 24 is a story he is failing to comprehend.
"I have worked as an artisanal miner before and I remember surviving death when a pit I had just left collapsed as well as when I was attacked by machete gangs," Nechiturike recalls.
"It still baffles me that I did not see or hear anything on that day (May 24), but what I remember is the showers of engine oil that spilled all over me while I stood at my stall."
Zimbabwe National Statistics Agency (Zimstat) data points at a total of 474 deaths and 2 386 injuries recorded from 12 588 accidents that occurred during the first quarter of this year.
This represents a significant increase from previous years and it is a trend that is likely to continue largely as a result of reckless driving on the country's roads.
At the top of the offenders' list are illegal public transport operators referred to as "go faster" or "mushikashika".
Nechiturike and several other onlookers almost became part of the ugly statistics when an unlicensed mushikashika driver came speeding, in a failed attempt to overtake, towards them before hitting a huge rock that sent his vehicle into the air.
Unfortunately, Anotida Murehwa, an unlicenced 18-year-old behind the wheel, did not survive.
Mushikashika operators, plying intra- and inter- city routes, often drive recklessly with disregard for traffic laws.
From speeding to overtaking dangerously, their conduct puts them and their passengers at risk.
"All that happened was a result of bad driving because if you look at the bad state of the road and how crowded it is in this area, the driver should not have been at such high speed," says Mungofa, one of the first people at the accident scene.
True to Mungofa's sentiments, illegal transport operators have become a menace on the roads as they jostle for commuters in efforts to make a quick buck.
Pirate taxis have been a long standing headache in the country, but a government ban of privately owned commuter omnibus in a bid to curtail the spread of Covid-19 at the beginning of 2020 exacerbated the problem.
The move saw a rise in the number of smaller private vehicles transporting the public illegally.
In 2021, government reacted by introducing a law making it illegal to operate a mushikashika business without a licence. But lax law enforcement has seen operators continue to spread tentacles.
Most mushikashika drivers are either unlicenced, which means that they do not undergo safety training and as a result they often have little knowledge of road safety rules and regulations, or take advantage of the authorities' lack of strictness to blatantly flout the rules.
According to ZimStat, unlicenced drivers are a major contributor to road traffic accidents.
Since last year, the Zimbabwe Republic Police (ZRP) has launched several operations against errant drivers, traffic offenders and illegal transport operators, but that has fallen short of addressing the problem.
"I want to assure the public that when we are conducting these campaigns with the Traffic Safety Council of Zimbabwe, we will impound all unroadworthy vehicles, so drivers be warned," Zimbabwe Republic Police spokesperson Paul Nyathi said last year.
A few times the police also arrest passengers for boarding illegal transport, but in the face of a chaotic national transport system, commuters still resort to using mushikashika with clampdowns blamed for increasing transport woes.
"We really appreciate their presence on our roads because they make it easy to connect shorter routes in our suburbs and that lessens our burden in terms of movement," says Brian Muteerwa, a Glen View resident who stays a stone's throw from Nechiturike's work place.
"What we really need now is strict regulation before more people become victims of negligent driving."
The Transport ministry has also introduced a raft of measures including an age limit for public service vehicle drivers as well as mandatory fitting of speed limit devices to try and curb the country's increasingly alarming rate of road carnage.
"The rate at which we are losing people due to negligence is alarming," Transport minister Felix Mhona said last month.
"It is not only about bad roads and potholes that are causing accidents, but motorists need a mind-set and culture shift to stop speeding on the roads."
But, the ascribed solutions could only work in a formalised transport network.
"Leaving mushikashika unregulated as it is, is a serious problem that is putting lives at risk and costing the country money," said Mungofa, adding that the government must also improve the road infrastructure and invest more in public transportation.
Ironically, sitting on the rock that saved his life, Nechiturike affirms:
"We cannot say they should be removed from the roads because they are good for our businesses, but they ought to understand road rules and avoid driving under the influence of drugs so that we are also safe because miracles (surviving accidents) do not happen twice," the married father of three said.
Related Topics