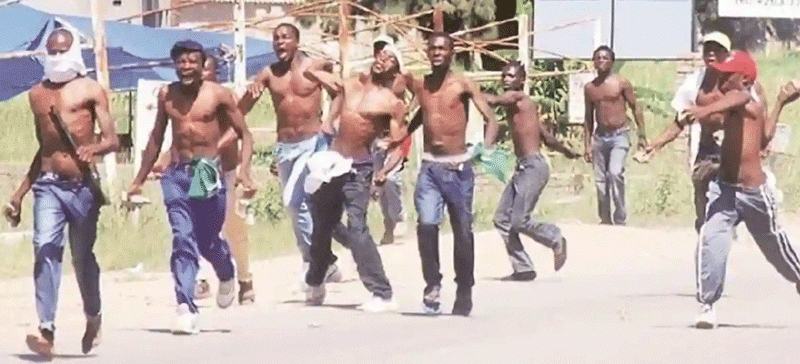 Victims of political violence in Midlands yesterday shared harrowing tales of political violence at the hands of Zanu PF activists.
Zanu PF activists went on the rampage in Kwekwe's Tigereef area and assaulted Citizens Coalition for Change (CCC) members who were conducting a door-to-door campaign.
Human rights groups have noted an increase in cases of politically motivated violence and intimidation against the opposition as the election draws near.
A weekly report by the Zimbabwe Human Rights NGO Forum cited Zanu PF supporters as responsible for inciting violence and intimidating opposition activists.
This publication yesterday spoke to the CCC members Betty Svoba, Judith Ncube, Otillia Mhaka and Josphat Mpunzi who narrated their traumatic experience.
"After Zanu PF activists ambushed us and beat us, I had to spend hours hiding in the bush," Mpunzi said.
"They arrived in multiple cars and began assaulting us indiscriminately.
"I had to flee and seek refuge in the bush while bleeding."
Ncube said the Zanu PF activists accused them of being cattle rustlers.
"They accused us of being cattle rustlers and proceeded to attack us," Ncube said.
"There were numerous Zanu PF activists wearing party regalia.
"They chanted slogans calling for the demise of (CCC) Nelson Chamisa."
They reported the assault at Amaveni police station in Kwekwe.
CCC Kwekwe Central legislator Judith Tobaiwa said party members were living in fear as the elections draw closer.
"They deliberately book venues near our programmes," Tobaiwa said.
"We have individuals, who have been forced to flee their homes due to threats they received after attending Nelson Chamisa's rally in Gweru (last week)."
Zanu PF spokesperson, Christopher Mutsvangwa, said the ruling party did not condone any acts of political violence.
"President (Emmerson) Mnangagwa has been preaching peace and we are glad that the people of Zimbabwe have heeded the call," Mutsvangwa said.
Witwatersrand University-based political analyst Romeo Chasara, called on political parties to rein in their supporters to ensure a peaceful election.
"It is crucial for authorities to address these incidents promptly and ensure the safety and security of all citizens as the country approaches the upcoming general elections," Chasara added.
Related Topics