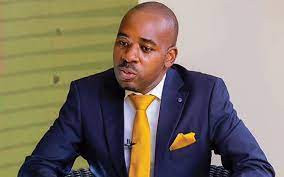 Opposition Citizens Coalition for Change (CCC) leader Nelson Chamisa has dismissed speculation that there could be secret behind-doors discussions between him and President Emmerson Mnangagwa.
Chamisa said the last conversation he had with the Zanu PF strongman was way back in 2018 when the two met at the late Morgan Tsvangirai's Harare home where Mnangagwa had visited the former prime minister who was sick.
"The future of Zimbabwe is predicated on conversation, not only in the context of the media or those that consume media products, but also in the context of politics and how we transact our societal engagements," he said.
"It is good to dialogue, it is good to have a conversation.
"Would you believe that we're going again into a contest with Mr Mnangagwa, but we have never had a conversation since the last election?
"The last time I saw him was at the late president Tsvangirai's home when he (Tsvangirai) was not well. That was the last time.
"We have never had a phone call; we have never had a conversation.
"What that tells you is that we are a sick society.
"That toxicity of environment is not good for the country."
He was speaking to senior journalists and editors at a meeting organised by the Media Alliance of Zimbabwe in Harare on Friday.
He lamented the capture of national media outlets by Zanu PF and said there was need to "liberate them from the shackles and manacles of politics" under whose weight they were unable to operate professionally.
"You see you can hardly distinguish between The Herald and The Patriot (a Central Intelligence Organisation-linked newspaper) and that is not desirable.
"The Herald must be a national newspaper and must be seen as such.
"That is critical and I can say that is an area of discomfort to us."
Chamisa said it was important for journalists to have their own self-regulating body just as other professions did.
"There has to be a voluntary media council of the profession. All professions including lawyers, engineers, nurses, doctors, accountants, all of them have profession councils that regulate their members and their activities," he added.
"I think journalists are the only ones that are suspected, that are not trusted to the extent that they are not given that opportunity to have a Bill that allows them to self-regulate.
"Yes, the government will come in here and there with checks and balances, but the law has to be there allowing journalists to regulate themselves."
Chamisa said no election could ever be deemed credible, free and fair in the absence of a free, non-partisan and independent media.
While the private media could have some latitude to lean on the side of their choice, Chamisa said it was wrong for the public media to be seen to be partisan.
While differences were inevitable in societies, Chamisa said it was important for a nation to try to unite and work together for the good of the country.
"Differences happen but we have to find each other. We are a great country, but that greatness is dwarfed by divisions, and by toxicity," he said.
" We hope that the press will play a pivotal role to lubricate our poisoned environment and make sure there is more light in it than darkness."
Related Topics