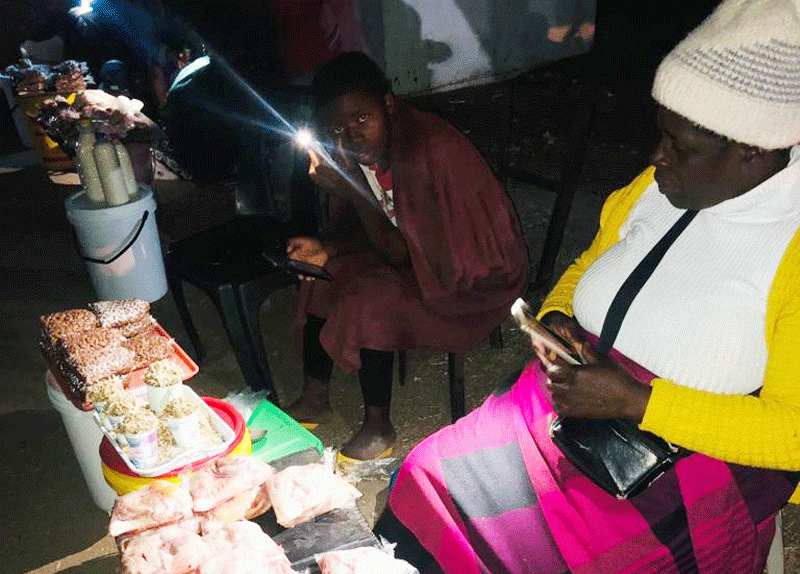 As soon as she disembarks from an omnibus at Chitubu bus stop in Harare's Glen Norah high density suburb, Chido Marerwa hastens to a tarred pathway parallel to the main road.
In this passage, meat vendors of different ages are starting to assemble one after another with buckets and makeshift tables carrying their stock for the day.
Chicken, fish and goat meat are some of the options on offer on the illegal fresh meat market that emerges at twilight daily.
Consumers like Marerwa, a formally employed mother of four, make up the customers.
"I look at the variety of meat that we are able to buy, including chicken, goat meat, beef and fish and then I switch them over different days so that we do not get bored of eating the same relish every day," she said.
For a dollar, she is able to get a pack of chicken cuts enough for her entire family.
"On this meat market we get real value for our money and also get to choose our favourite pieces, this is different from butcheries which are not only expensive but offer frozen meat that weighs more, meaning you get less in terms of value," Marerwa said.
As Zimbabwe's economy sinks into the doldrums owing to inflation and massive corruption at government level, prices of goods and services have risen acutely, exposing the country's lowly paid citizenry to extreme poverty.
With the country's year-on-year inflation currently over 200% — among some of the world's highest rates — a World Bank report titled Zimbabwe Poverty Assessment revealed that the country's food poverty rate almost doubled between 2011 and 2021 from 23% to 43% respectively.
"The food poverty rate fell by six percentage points (from its peak of 49% in July 2020) to 43% in 2021 on the back of economic recovery and record maize harvests," reads part of the document released in October last year.
"As poverty increased, so did inequality, with the Gini index rising.
"Thus, many Zimbabweans not only saw their living standards deteriorate over the decade, but they also witnessed the gulf between poorer and richer in the population widen."
The figures are a far cry from Zimbabwe's aspirations to reduce the share of the population below the food poverty line to 10% by 2025.
The signs have started showing in many urban households that are starting to consume nutritionally inadequate diets.
"Meat is very important in a person's diet or day to day living because it is a major source of protein and when someone is not having it they might also be deficient of vitamin B12 which is very vital for normal body functions," says nutritionist Blessing Mushonga.
According to the USA's National Institutes of Health, vitamin B12 is a nutrient that helps keep the human body's blood and nerve cells healthy and helps make DNA, it also aids prevention of megaloblastic anemia, a blood condition that makes people tired and weak.
On the other hand, protein, which is made up of chemical 'building blocks' called amino acids, is an important part of a healthy diet as the body uses these to build and repair muscles and bones and to make hormones and enzymes.
In March, the Zimbabwe National Statistics Agency (ZimStat) said more than 60% of the country's 15,2 million people cannot afford a balanced diet as 51% of the people in rural areas were "living in extreme poverty, while 10% in urban areas were living in extreme poverty".
ZimStat also indicated that 91% of Zimbabweans can no longer afford protein-rich foods such as meat and are largely surviving on vegetables such as rape and covo among others.
As a result of the economic pinch, the few families attempting to balance meals on their plates are opting for illegal markets where they can afford proteins.
"I think one needs to have one trusted vendor they buy from like I do because it is a bit scary to change, you need to buy from one person to avoid buying contaminated meat," says Marerwa.
However, without appropriate structures in place it is near impossible to track street food systems and supply chains in what exposes consumers to unhygienic practices and subsequent diseases.
Efforts to earn financial sustenance by the sellers or food security for the customers come with a veiled risk of exposure to zoonotic diseases especially in the largely popular but scarcely regulated poultry supply chains.
Data from the International Livestock Research Institute shows that zoonotic diseases — transmissible either directly or indirectly between animals and humans — are responsible for more than 2.4 billion cases of human illness and 2.2 million deaths per year.
"The major risk that people could be facing from eating or buying meat from sources that are not trusted, is food toxicity," Mushonga said.
The risks are further exacerbated by massive water and electricity challenges the country is battling.
"The major thing that you would be facing is different bacteria that might be in the meat and because there is no electricity most of the time there is bacteria that survives or thrives in certain temperatures and that is very dangerous to people's health if consumed.
"That is why we say if you freeze meat or store it well in very low temperatures, you are stopping certain types of bacteria from thriving and make the meat unfit for consumption," she added referring to listeria and salmonella as some of the bacteria.
Meanwhile, at Glen View 1 shopping centre, a man who only identifies himself as Timothy sits with his stock piled on the boot of his car.
He has been in the business since 2004 as a means to supplement the meagre salary that he earns as an Agriculture lecturer at a local government tertiary institution.
"You need to know your market size and then measure the number of birds you slaughter because it is bad to sell birds that have spent a night," says the father of four who has bought a house through the business.
But, by his own admission, as the number of informal workers rises due to high unemployment in the country this means more competition for customers in his line of work; short cuts are being taken in this value chain.
With reports of Cholera cases, an acute diarrhoeal infection caused by ingesting contaminated food or water on the rise across the country and Harare being a hotspot, Marerwa is spooked by the likelihood of getting seek from street meat but has no choice.
"The good thing is we mostly buy chicken from these street markets and get other meats like beef from the butchery, because chicken is cleaner than beef.," she explained as she increased her pace to get home in time to prepare a meal for her family before night's darkness set in.
Related Topics