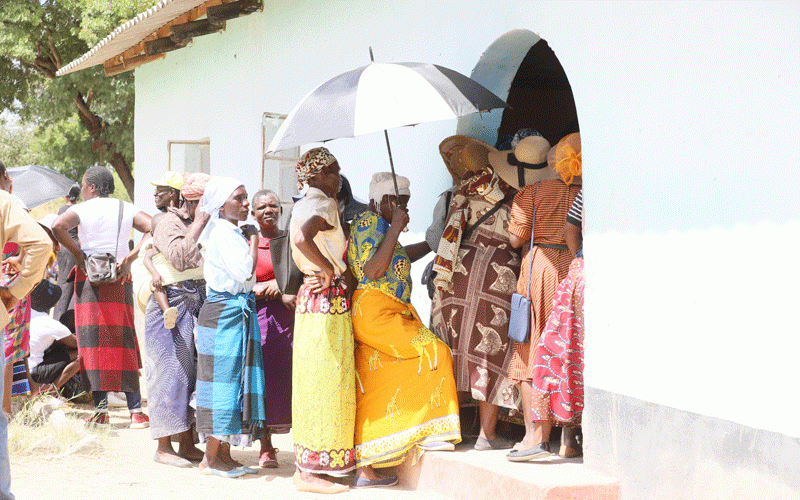 ZANU PF yesterday held chaotic primary elections marred by violence and vote rigging claims with some candidates' names missing from cell registers while ballots were not delivered in some areas.
In Mashonaland Central, President Emmerson Mnangagwa's shadowy campaign team, the Forever Associates Zimbabwe Trust (FAZ), was accused of vote rigging in Bindura, Muzarabani, Mt Darwin and Rushinga where 27 cell registers were reported missing.
Some polling stations were yet to receive ballot papers by 4pm in the province.
"The way FAZ is conducting elections in Mt Darwin raises a lot of questions.
"How can cell registers be missing honestly?," a disappointed Zanu PF member said.
In Matabeleland South, Beitbridge, police were summoned late yesterday afternoon to restore order at Beitbridge Mission where chaotic scenes were the order of the day.
Several Beitbridge candidates slept at their district command centre housed at the Beitbridge Old Police Station command centre fearing ballot box stuffing.
"This is real politics; we slept here to guard our interests," a candidate said.
At 6am, several policemen were deployed to different polling stations spread across the district with some centres 150km away from the command centre.
Unlike in the past where only the Zanu PF old guard including senator Tambudzani Mohadi and Metrine Mudau featured in the primaries, yesterday there were youths contesting.
In Matobo's ward 25, elections were called off because of violence. The violence was sparked by vote rigging reports.
Fear and intimidation characterised the elections in Mashonaland West with scores of people failing to find their names in the voter's register.
When The Standard visited a polling station at Chegutu Country Club the queue, mainly composed of illegal artisanal miners, was moving slowly with scores of people complaining that their names had disappeared from the voters' roll.
Sitting MP Dexter Nduna was facing off with Farai Chigavazira.
Supporters linked to Chigavazira stormed Bosbury Primary School armed with machetes to stop the elections in Ward 24 before taking away voting materials.
In Sanyati Constituency, the two front-runners, Mines deputy minister Polite Kambamura and Thembikosi Magwaliba were both accused of violence and intimidation of each other's supporters.
In Hurungwe East, some voters failed to vote at Kavaya Secondary School, Chimusimbe Primary School and Zvarai Primary School because there were no ballot papers.
Zanu PF members in Murewa South Constituency were left seething with anger after ballot boxes failed to be availed in time.
In Murewa South, voting continued beyond 4pm.
In Marondera East Constituency, at Mountview Training Centre, a number of voters were still to cast their votes after 2pm.
Speaking to The Standard, some voters claimed that their names were missing from the cell registers despite the recent cell verification exercise.
Some voters at Chikangwe hall in Hurungwe said their names were missing from cell registers and chaos and confusion reigned supreme.
A voters' cell register for the Johane Marange Apostolic sect members went missing at Chikangwe hall.
Some Apostolic sect members tried to break into the hall as they demanded explanations from the election teams.
It was the same story in Matabeleland North where some voters failed to find their names on the voters 'roll.
A Zanu PF member who wanted to cast his vote at Lupane Primary School complained that their names were struck off from the voters' roll.
'' It all points to rigging," he said.
There was also chaos in Manicaland where ballots were delivered late.
Zanu PF Commisor Mike Bimha said some areas had been allowed ro exdtend voting to between 7am and 1pm today. .
Related Topics