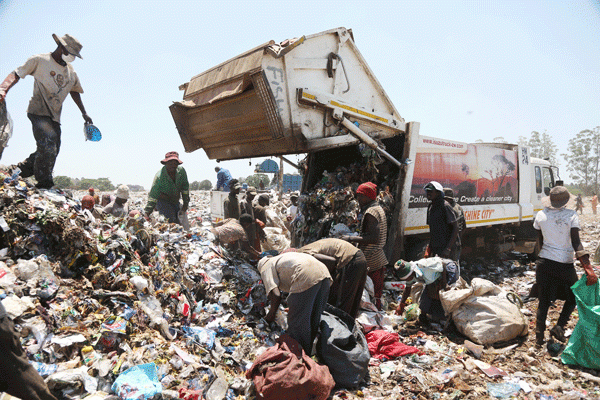 HARARE'S Glen Norah residents are furious that garbage has not been collected in the area for over half a year.
They told NewsDay that diseases are now stalking them as garbage continues to pile up at street corners and every available open space.
Many are asking what the City of Harare is doing with the money it collects every month from the residents.
"Garbage collection is very irregular, posing great danger in terms of land pollution," Farisai Mutauri, a 36-year-old father of three, said.
"As residents, we are furious about the situation and we demand improved service from the relevant authorities. Garbage is now blocking the drainage system and it is affecting our living conditions."
Another resident, Tanatswa Matarutse (18), said while she sympathised with the cash-strapped council, the situation posed a serious health hazard.
"We fear the outbreak of diseases like cholera, which will not be kind to our children and the elderly," she said.
Contacted for comment Glen Norah ward 27 councillor Herbert Gomba said: "It is the job for the waste collection management at City of Harare. Mr (Lisben) Chipfunde (waste collection manager) has been making excuses to pick-up the garbage in Glen Norah saying he doesn't have vehicles or they are in a bad condition."
Gomba said he had, meanwhile, created a dumping area in some parts of the high-density suburb as a mitigatory measure.
Chipfunde, said council was failing to collect the garbage because of breakdowns.
"We had breakdowns on the fleet and are repairing the fleet currently," he said, adding that waste collection would be scaled up once the council fleet is repaired.
The council is also planning to employ more street cleaners, deploy equipment for street cleaners, especially, pushcarts, procure and install street bins and timely remove skip bins.
Chipfunde welcomed the involvement of the Environmental Management Agency (Ema) in the capital city's waste management saying: "We have a good relationship with Ema and we are working together to overcome solid waste management in Harare."
Related Topics