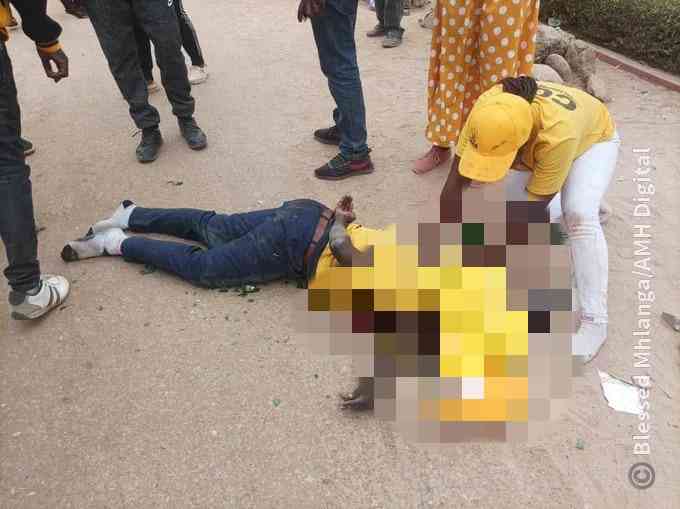 A CITIZENS Coalition for Change (CCC) activist was yesterday stoned to death by a suspected Zanu PF member near Tanaka grounds in Glen View, Harare, as political temperatures rise ahead of the August 23 elections.
The CCC activist, Tinashe Chitsunge, from Glen View was hit with a stone while trying to flee from a suspected Zanu PF mob which had gone on the rampage against opposition activists who had gathered at the ground to hold a rally.
The attack came shortly before CCC party leader Nelson Chamisa's convoy was attacked with stones by suspected Zanu PF activists yesterday evening in Mutasa, Manicaland province, after addressing a rally.
Chamisa told NewsDay: "We had just finished addressing our supporters in Mutasa. As we were heading back, upon approaching the DC area, we found the road barricaded by stones. They were throwing stones at our convoy. We had to make a U-turn. But I am safe."
In the Glen View attack, several other CCC supporters were injured.
National police spokesperson, Assistant Commissioner Paul Nyathi confirmed the incident saying investigations were underway.
"The Zimbabwe Republic Police confirms an incident of public violence in Riverside area, Glen Norah near Tanaka grounds, Harare on August 3, 2023 at 1300 hours," Nyathi said in a statement.
"One person is confirmed dead as a result of the clashes. The scene is being attended to by all relevant police stations."
In a statement later last night, Nyathi said they had arrested two suspects in connection with the murder, but did not state which party they belonged to.
"Reference is made to the ZRP press statement on the violence which occurred in Riverside area, Glen Norah near Tanaka Grounds, Harare, on 03/08/23. The police have arrested two suspects as efforts to account for the remaining suspects continue. #notoviolence."
On the Chamisa convoy attack, Nyathi said: "On that case which you are referring, to as we speak police officers are on the ground, but no one has come forward to make an official report. We have not received any official report concerning the alleged violence."
CCC spokesperson Fadzayi Mahere demanded the arrest of the violence perpetrators.
"We strongly condemn the violent attack by suspected Zanu PF thugs on our members in Glen View," Mahere said.
"They assaulted and stoned our members who were peacefully marching heading to a rally. One of our members was murdered in the violent orgy. We demand peace and justice."
CCC supporters, who were at the venue when the incident occurred, told NewsDay that they had to remove party regalia to evade attacks by the mob.
Ahead of this month's polls, fears of violence abound with analysts and human rights watchdogs saying the March 26, 2022 by-elections were a precursor to the current violence.
A CCC activist, Mboneni Ncube, was speared to death by suspected Zanu PF supporters at a rally which was addressed by Chamisa in Kwekwe ahead of last year's March 14 by-elections.
President Emmerson Mnangagwa is preaching peace ahead of the elections, but the country continues to record cases of political violence with Zanu PF cited as the main perpetrator.
Addressing a rally recently, Mnangagwa directed law enforcement agents to hunt down suspected CCC supporters behind an arson in the Hanke area of Shurugwi, where 10 houses were burnt down.
This was despite police spokesperson Nyathi initially saying the case was not linked to political violence.
Amid the escalating violence, Zimbabweans who are bearing the brunt of political violence and other human rights violations ahead of the August 23 polls are now banking on a knight in shining armour — social media.
Several images and videos of people being beaten, campaign posters being torn and cars being damaged have surfaced in recent days as political temperatures continue to rise.
In a video circulating on social media, Wilson Runopamwa, CCC's Chivi Central aspiring councillor for ward 18, says his car, house and shop were destroyed by alleged Zanu PF supporters.
In another similar incident, in Beitbridge, a police officer was caught red-handed tearing CCC posters.
In a video which has since gone viral on social media, the police officer is seen being ordered by angry CCC supporters to put back the posters he had removed.
In Mutare Central, pictures of 71-year-old Amos Madzitire, who was severely assaulted by alleged Zanu PF supporters, are also circulating.
The incident occurred when known Zanu PF activists identified as Nyasha Mutenji, Sin'a Dhlakama, Cecilia Gambe, Pension Gwinyai, Chamunorwa Mutungwazi, Sydney and Grace, allegedly launched a brutal assault on Madzitire and fellow CCC activists, including ward 2 candidate Gift Kadozora.
The matter was reported at Chisamba Police Station under reference RRB 5603622.
In another incident, Taurai Mavhoko, CCC aspiring legislator for Mutoko North, posted on Facebook that he was robbed of his phone by a known Zanu PF activist.
Zanu PF spokesperson Christopher Mutsvangwa, however, dismissed the social media videos linking the ruling party to political violence.
"President Emmerson Mnangagwa has been preaching peace, and we are glad that the majority of the people have heeded his call. This election has been the most peaceful. Zanu PF is a peaceful party," he said.
Related Topics