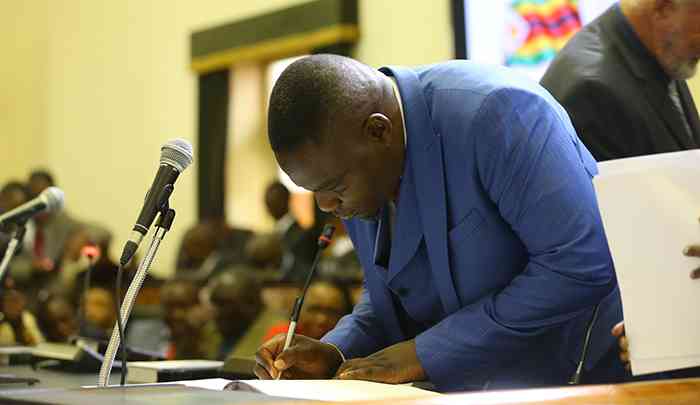 GOVERNMENT has defied opposition calls to abandon the local currency despite its spectacular free-fall and price spikes that have seen businesses abandoning it.
In Parliament on Wednesday, opposition lawmaker Chalton Hwende (Citizens Coalition for Change) asked government to consider paying farmers in United States dollars only to preserve value for retooling and preparations for the next season.
"The RTGS will not enable these farmers to buy inputs for the next cropping season," Hwende said.
"Why is the government not considering paying them in United States dollars for all their produce just like what is being done beyond the borders? Right now, the government is paying farmers RTGS and expects them to go to shops where prices are being inflated."
Last month, government announced that farmers would be paid at US$368 per metric tonne payable as US$200 in foreign currency plus US$168 in Zimbabwe dollars at the interbank rate.
This means farmers will get nearly half of their earnings in local currency at the official rate, which is less than half the value on the verdant parallel market.
But Justice minister Ziyambi Ziyambi, who is also the leader of government business in Parliament, said government was not prepared to dump the Zimdollar.
"Honourable Hwende is in other words encouraging government not to pay in RTGS (Real Time Gross Settlement), but US dollars. The truth is that we cannot stop paying farmers in RTGS. We cannot, therefore, say we are no longer paying in RTGS. We cannot dump the RTGS because it has lost value and we adopt another currency. That is not possible. We have to promote our own currency if we want to control our own economy," he retorted.
"We can only put measures to control and stabilise the inflation rate on the parallel market. If you look at all the countries around the world, Zambia for example, has once done it, but eventually moved away from that decision and opted for its own currency, the kwacha."
However, Norton legislator Temba Mliswa (Independent) said government should abandon the local currency experiment.
"Let us not lie to each other. Our local currency has no value at all. Let us park it. We must not play politics with reality," Mliswa said.
"As ministers, they are paid in US dollars, that is what they are using and that is what has value."
Zimbabwe, which has suffered bouts of hyperinflation over the past 15 years, is in the throes of another episode of hyperinflation, while its currency is on a free-fall.
Critics blame the dire state of the economy on years of government mismanagement and made worse by endemic corruption.
At 75%, inflation is a long way off the 500 billion percent recorded by the International Monetary Fund at the height of hyperinflation in December 2008, but remains among the highest in the world.
That hyperinflation episode forced the southern African country to dump its currency, which had become worthless, and legislators feel that the current economic crisis and the free-falling currency warrant similar action.
When the Zimdollar was reintroduced in June 2019, it was trading at 1:1 with the US dollar, but has since fallen to $1 407 on the official auction market and $3 200 on the black market.
Related Topics