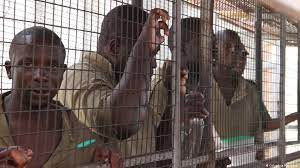 CYCLONE Freddy, which has hit parts of Malawi, Mozambique and Zimbabwe has stalled deportation of 10 Malawian citizens who have been languishing in remand prison in Harare.
The Malawians were arrested for border jumping and travelling without documents.
On Monday, the Malawi government declared a state of disaster in its southern region due to the cyclone following the death of 99 people.
Zimbabwe's prisons have been holding hundreds of Malawian citizens who were caught trying to use the country as a transit point to South Africa without proper documents.
Malawi's deputy ambassador to Zimbabwe, Elias Mpaso told NewsDay that there were efforts to try and repatriate the prisoners, which have however been hampered by Cyclone Freddy.
"We are processing their papers so that they leave this country soon; we are disturbed by the cyclone at home. We are hoping that after the cyclone that's when we are likely to remove them from Chikurubi and Harare remand prison.
"They are being accused of illegal entry and travelling without documents and they were arrested in different parts of the country. We are also sourcing funds from Malawi for their repatriation. In Malawi, the repatriation process is done in collaboration with the Department of Foreign Affairs and Department of Food Disaster Management to take our citizens back to Malawi," Mpaso said.
Unlike countries such as South Africa, Zimbabwe does not have holding facilities for immigrants awaiting deportation. They are sent to prisons.
The Zimbabwe Human Rights Commission has said locking up immigrants with criminals was a violation of human rights.
The country's prisons last year had 550 Malawians that were caught trying to illegally sneak into South Africa without proper documents.
In August, the country jailed 148 undocumented Malawian nationals. The Malawi Freedom Network reported that the 148 nationals were sentenced to between four and six months in prison while awaiting deportation.
Malawi has since sought help from international institutions such as the International Organisation of Migration to facilitate the return of its citizens.
Meanwhile, an environmental lobby group, Green Governance Zimbabwe Trust (GGZT) has called on Southern African countries to strengthen their disaster risk management co-operation in the wake of a rise in the death toll and loss of property due to Cyclone Freddy.
So far, the cyclone has claimed over 200 lives in Malawi and Mozambique, destroying infrastructure worth millions of dollars, mostly in and around Blantyre, the Malawian commercial capital, triggering a serious humanitarian disaster.
"But, with climate change, such occurrences will only grow in intensity and frequency and the region needs to shore up its preparedness including more international cooperation.
"There is a need for greater co-ordination among regional civil protection units toensure international cooperation; and knowledge and skill transfer across international borders to handle severe weather events," GGZT said in a statement.
Follow us on Twitter @NewsDayZimbabwe
Related Topics