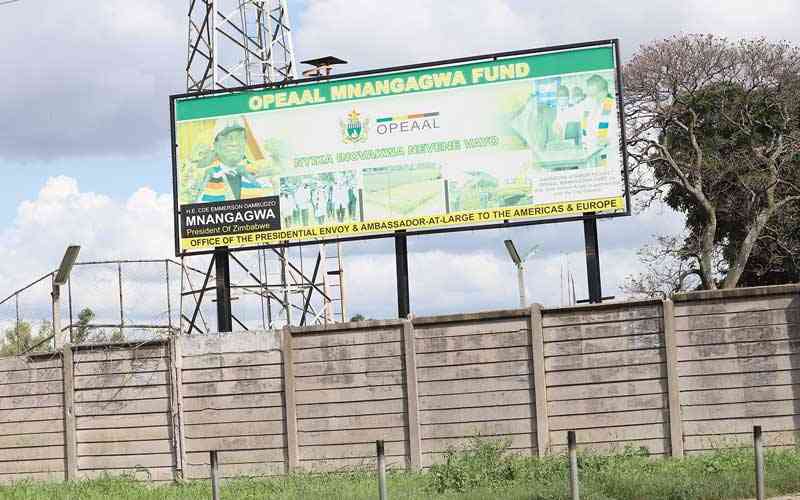 FOR residents in Dzivarasekwa high-density suburb in Harare, the one stand out memory of the local stadium was when a soccer fan was beaten by a snake while watching a football match.
Then, the now-defunct Monomotapa Football Club was sending shockwaves in the local Premier Soccer League on the way to become champions in 2008. That also remains an abiding memory of many too.
However, Dzivarasekwa Stadium, which used to host a number of football clubs in Harare such as Sporting Lions, has been reduced to a shadow of its former glamour.
The most unfortunate thing about the state of stadiums in Harare is that while DZ Stadium has deteriorated to the extent that further snakebites cannot be ruled out, its deplorable state is a reflection of the death of the facilities in Harare.
NewsDay Weekender visited Harare's major stadiums, including Rufaro, Gwanzura and DZ, with the investigation revealing heart-breaking sights.
Residents and football experts interviewed in the investigation cried foul, especially on the politicking by authorities while the rot at the stadiums persists.
However, officials at Harare City Council remained adamant that efforts to revitalise the facilities were on course, especially for Rufaro.
Tom Joachim, a football fan in Dzivarasekwa, shared memories of how the community fell in love with the sport as they had access to watch top level football within their corridors.
"We watched the best in the country as two or three teams shared the stadium and we used to fill the facility every weekend to watch topflight football," he said.
"The best year was when Norman Mapeza won the league with Monomotapa in 2008, but after that, the situation started going downhill and as you can see, the stadium has continued to disintegrate."
Joachim said the stadium has also become a haven for criminals, while youths engage in immoral activities such as drug abuse and sex.
Football coach Watson Maruwa shared the nostalgic moments when the stadium was in pristine conditions when they watched premier league football.
"But the state of the stadium has deteriorated because there is no water. It started deteriorating when they started hosting musical shows.
"People attending the shows broke down the precast security wall and the perimeter fence was stolen because there is no one looking after the stadium, it's not even being maintained anymore," he said.
Maruwa said the stadium has not been maintained for almost five years.
"We make contributions to pay for someone to cut the grass when we want to use the pitch even for practices. We try to look at the state of the grounds, especially the pitch, so that we can get the grass trimmed," he said.
Other residents told NewsDay Weekender that if the ground is repaired, there would be activities to keep youths out of trouble.
"It's also possible that the big teams would come again to use the stadium for their matches," they said.
At Machipisa Shopping Centre near Gwanzura Stadium, residents had no kind words for the government and Harare City Council.
Last February, amid pomp and fanfare, President Emmerson Mnangagwa told Zimbabweans that government and Harare City had partnered presidential envoy and ambassador-at-large to the Americas and Europe Uebert Angel to refurbish Gwanzura.
However, what has remained of that project is a huge billboard set, ostensibly, to promote Mnangagwa and nothing of the said refurbishment.
What is known about the project is that some ploughs went through the turf like they were preparing a field for planting maize, and then disappeared.
"We were anticipating the early return of soccer with clubs like Caps United returning to its home ground, but I don't expect that to happen soon," a resident, Eugene Chaku, said in an interview. "Football is doomed because no facility in this community has been maintained and the longer the situation persists the stadiums will be doomed."
The sad story of Rufaro Stadium has been the talk of the country from the time Fifa banned Zimbabwe from hosting its national team at the ceremonial home of football.
After years of neglect and the pitch almost turning into a vegetable and potato market, Rufaro and its environs has been turned into an open market for various goods and merchandise.
Danmore Chandi, who claims to have watched many famous football battles at Rufaro Stadium, expressed sadness that the giant facility was rotting while they watched.
"My experience at the stadium goes beyond April 18, 1980, when we hosted the first independent celebrations, but the famous matches, especially when we used to host football matches pitting Zimbabwe against Zambia.
"These are just memories because the authorities have neglected the facility. Everything has broken down and I just wonder if the matches would return to this historic facility," he said.
Hopes were raised after Sakunda Holdings committed itself to give Rufaro Stadium a massive face-lift after entering into a partnership with Harare City Council.
The bubble burst, however, when the energy giant announced that it was withdrawing from the project after signing a memorandum of understanding early this year.
Sakunda had already carried out some feasibility work and toured South African stadiums together with council officials to get key guidelines.
However, Sakunda Holdings chief operations Mberikwazvo Chitambo wrote to mayor Jacob Mafume informing him that they were dropping the project, citing "toxicity" experienced from council's attitude.
He also cited a lack of political will to implement the project on the part of council, adding that all project designs and plans would be donated to council in the public interest.
Mafume also fired a salvo at Sakunda, accusing the energy firm of a raft of allegations, leading to the death of the deal.
In an interview, legendary soccer commentator, Charles "CNN" Mabika, said: "It's so sad to see the appalling conditions most of these stadiums are in Harare.
"Lack of continuous maintenance over the years, unfortunately, resulted in this sorry state. There were state-of-the-art facilities at venues like Mbare's No 5 and No 7 Grounds, where many household names like George "Mastermind" Shaya, Stanford "Stix" Mutizwa and Japhet "Short Cat" Mparutsa honed their skills from a very early age."
Mabika said facilities in Mufakose brewed the super abilities of greats like Moses "Bambo" Chunga and the late trio of Joel "Jubilee" Shambo, Stanley "Sinyo" Ndunduma and Gift "Ghetto" Mpariwa.
"Nowadays, there is virtually nowhere our budding youngsters can go to refine their natural talents. And some of the unfortunate alternatives for them have obviously been the exorbitant abuse of alcohol and drugs.
"Herculean efforts for repair and resuscitation need to be employed by the city fathers ... and fast."
Football consultant Phillip Zulu described the state of our football stadiums in the country and Harare as tragic.
Besides the facilities above, Zulu also named Chibuku in Chitungwiza, Arcadia and other community facilities that served grassroots sport in suburbs such Glen Norah, Mbare, Glen View and Mabvuku.
"This tragedy has driven a huge wedge between aspiring youngsters and the development of our national programmes.
"When we mourn about football failure, let us remember the sad state of dilapidated stadiums and all facilities that used to draw good numbers of youngsters to enrol them and offer basic fundamentals of early learning opportunities in sport," he said.
"Zororo Youth Centre in Highfield used to be a thriving platform for local youngsters from around Canaan, Glen Norah, Western Triangle, Lusaka and Engineering residents to converge with different sporting activities that encouraged them to compete with other suburbs such as Mufakose, and Tafara among others."
He said youth workers were in full control of these centres as part of their employment with the local councils, something that is rare in this day and age, as the council hinges on the tragic failures of sport.
"The council has failed us as residents and as a nation at large, we pay rates for the upkeep of these facilities and yet, we witness multitudes of our young people perishing in drugs and substance abuse.
"Our sport is dead. We have to revisit our postcolonial era in the early 1980s and start to bring about such platforms and models of youth engagement through sport, and try to rehabilitate our collapsed facilities so that they can attract more youngsters to access them," Zulu said.
Responding to inquiries, Harare spokesperson Innocent Ruwende said council had set up a taskforce to facilitate works at Rufaro.
He said while painting works and pitch maintenance were in progress, the roads section was working on drainage and levelling the pitch.
"Electrical repairs have commenced, including engagement with Zesa to facilitate restoration of power at the stadium. The city architect is working on the extension of changing rooms — the designs have been done and the bill of quantities has also been produced," he said.
Ruwende added that procurement of material for the works were on course while other works are still waiting for procurement of material to start.
He said the council had also engaged previous contractors to complete outsourced works.
Related Topics