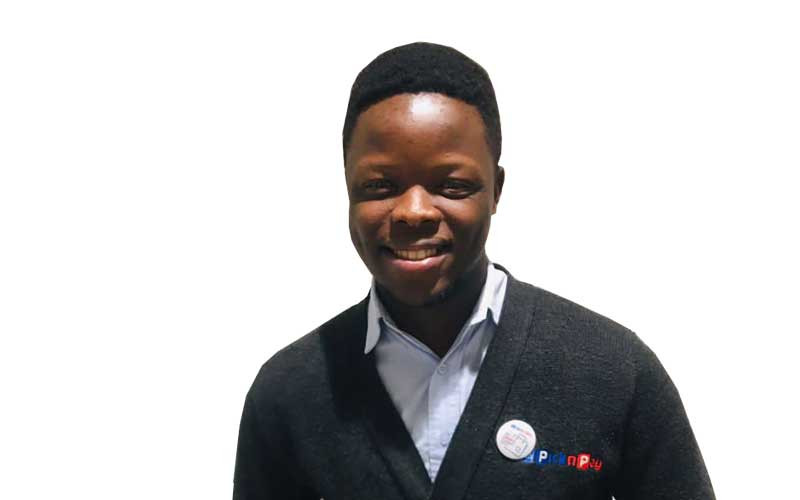 WHILE 24-year-old Kundai Masache is a popular help at one of the top supermarkets at Highland Park Mall in Harare, he has a tale that shows how time makes diamonds while a mother's love can build a child's dreams into reality.
Unfortunately, life's brickbats can also destroy a child's dream unless the Heavens smile on the unfortunate. Kundai's ease smile and confident conversations could have attracted many shoppers but for him, time is the cruel teacher; first she gives the test, and then teaches the lesson, and it aptly describes his life of ups and downs.
And behind the ready smile lies a very sad story that Kundai rarely shares but it is a tale that has made him a strong character oozing confidence and optimism.
He gives all the tribute to his mother for teaching him resilience.
As Agatha Christie said: "A mother's love for her child is like nothing else in the world. It knows no law, no pity; it dares all things and crushes down remorselessly all that stands in its path."
That is all that Kundai needed as he battled life's adverse throwbacks to dream of a future that just needs a little push to be realised. In an interview this week, Kundai took time to share his life story; his growth and aspiration which he hopes to achieve to change the world.
"The honest truth is; I was inspired by my mother as I listened to her stories, seeing the hardships she overcame, her fundamental optimism and decency," he said confidently.
All Kundai hopes for is going back to school, attain his cherished law degree and make life better for his mother and siblings.
"My story began on July 26, 1998, in the small mining town of Bindura. I was born in a family four. My father was a hardworking man who was swept away by temptation," he said.
"At the age of five, my parents separated due to my father's infidelity and abuse which I vividly recall even though I was just but a little boy."
Suffice to say, Kundai has forgiven his father and they are at peace, helping him heal to become the person he is today. As his parents' marriage failed, his mother moved the family to Igava communal lands in Marondera.
"The transition from an urban to rural setting was very uncomfortable for us..
"What kept us alive was, hope, a belief that tomorrow will be better than yesterday."
In 2003, his mother, at 27, found herself with two children while expecting another.
"She worked in other people's fields. I had to learn and adapt to my new environment."
Kundai attended Igava and Nyakurwi Primary Schools in Marondera rural.
"In school, I remember going to school with my khaki uniforms from the previous school, which was a totally different colour.
"Other children would chide me. Regardless of the misfit and going to school with flip- flops during winter and the rainy season, I was honoured and appointed as the school head boy."
Watching his mother Kundai was exposed to challenges faced by single mothers in Zimbabwe.
"The pain of outgrowing my clothes top shops and waiting for 'hand me down' clothes from my cousins affected me a lot," he said.
"I had one faithful corduroy pair of trousers that I would wear only on special occasions and I became the laughing stock of the community.
"As the only male figure in the house, I felt the need to protect my mother and sisters," Kundai said.
He also grew gigantic hopes for a better future. Kundai was also a bright learner in school.
In 2010, the family had an epiphany when Kundai's mother re-married and moved to Marondera.
"I believe God always takes us around the block just to get you to the next door. I learnt kindness, love and compassion from my step-father," he said.
Kundai completed his primary and secondary education in Marondera attaining 13 points in his Advanced Level examinations.
At Nyameni High School, where he was the head boy Marondera Municipality junior town clerk in 2017.
He also formed the Marondera District Education Forum with young leaders in schools to tackle drug and substance abuse.
They initiated an anti-drug campaign including a thousand man marches with pupils from surrounding schools.
"We worked in partnership with the ZRP, Ministry of Women Affairs, Provincial Education director and the then child president, Tinaye Mbavari. We made a huge impact," he said.
In all these strides, Kundai kept his dream of studying law alive so that he would be in a position to fully provide for his family. He was, however, forced to get a job and ease the weight off his parents' shoulders who could not afford to take him through tertiary education.
The parents also needed to take his siblings through basic education. He took a job at Pick 'n' Pay supermarket in Highlands, Harare.
However, the thought of giving back to the community kept calling. Kundai met Edwin Tapiwa Toreveyi, a Seed Scientist, starting a non-profit making trust called The World Change Organisation. The organisation has distributed more than 3 000 packets of sanitary pads and a sizable amount of detergents, stationery and clothes to young boys and girls in Igava, Tsholotsho and Kwayedza.
He has partnered Chitaitai Chemicals, Farenorth Investments and Tafira Family since 2019. The group has also done awareness campaigns on radio, televisions, magazines and newspapers.
Life has not been easy for Kundai but the hope that kept him going as a young boy growing up in the rural areas still drives him. He also keeps a huge dream to go back to school for that law degree. He just needs to raise enough money to pay for university fees.
Related Topics