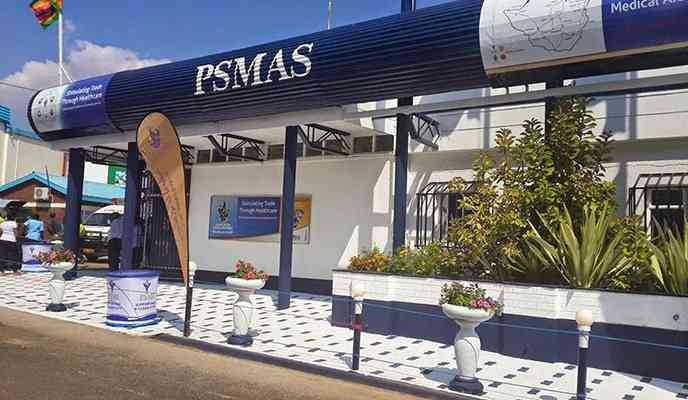 THE recent closure of 120 Premier Service Medical Investments (PSMI) medical units has dealt a significant blow to thousands of civil servants across the country who form a preponderant part of the medical institution's clientele.
The company closed 21 medical clinics, 15 dental clinics, 24 pharmacies, all 13 rehabilitation clinics, 17 radiology units, and 10 optometry clinics among other units.
Owing to the closure of units, capacity utilisation has plummeted to below 10% as patients and clients fail to access services.
Public servants who, for a long time have relied on PSMI for medical needs due to the relatively lower premiums charged have now been left out in the cold as accessing health services is no longer easy.
They are trapped between the proverbial hard place and the deep blue sea as getting assistance from public hospitals is a nightmare.
Their earnings are inadequate to access decent medical services in the country considering that they are raking in an average of ZW$40 000 fetching less than US$50 on the parallel market.
Consultation fees for specialist doctors range from US$50 while drug prices have been on an upward trajectory for a long time.
A Magnetic Resonance Imaging (MRI) scan which is a type of scan that uses strong magnetic fields and radio waves to produce detailed images of the inside of the body ranges from US$40, a figure which eats up a public servant's salary.
Those with chronic conditions requiring regular attention are also crying foul as they are financially malnourished to handle exorbitant prices that come with frequent visits to the doctor.
"I am diabetic and was getting my tablets from the PSMI pharmacies using my medical aid. Since the majority of pharmacies have been closed I am in a terrible fix because I do not have the money to buy the drugs from private pharmacies," said a Marondera-based government teacher.
Psmas has been on a downward spiral for some time but its presence provided some relief to the middle and low-level members of society.
"I was involved in an accident three months ago and was being attended at one PSMI medical unit in Harare. Midway through my recovery, the hospital closed and I am stranded.
"I have been making efforts to have myself assisted but to no avail. I ended up going to Sally Mugabe Hospital, but the service there is pathetic to the extent that I now fear that I might develop complications," said a Harare-based teacher who spoke on condition of anonymity.
What is agitating the affected people is that their monthly medical aid premiums are being deducted despite the absence of service.
A panacea to the problem appears to be a pipe dream as PSMI acting managing director Margret Maulana noted that: "Although relevant stakeholders are working round the clock for a speedy resolution, there has been no official communication with regards to specific timelines."
The PSMI closure is further straining a health sector which the National Development Strategy 1 (NDS-1) agrees: "… is also faced with a critical shortage of specialised professionals and health-care staff, demotivated staff who go on strikes, dilapidated hospital infrastructure, lack of essential medicines and commodities, inadequate emergency services for delivery and under-utilisation of existing antenatal services."
The NDS-1 is the country's first five-year medium-term plan aimed at realising the country's Vision 2030.
According to the plan, "… the overall outcome of the Health sector during the NDS-1 Period is to improve quality of life, and improve life expectancy at birth from the current 61 years to 65 years."
However, with what is happening, this objective appears to be unattainable.
The sporadic closure of the facilities has also been marked by the arrest of PSMI executives on allegations of defrauding the entity millions of United States dollars at a time the entity is struggling to offer services to its clients.
Corruption allegations levelled against Psmas executives have since triggered a forensic audit into the affairs of PSMI being conducted by the Zimbabwe Anti-Corruption Commission (Zacc), Criminal Investigations Department (CID) and the Zimbabwe Revenue Authority (Zimra).
Related Topics