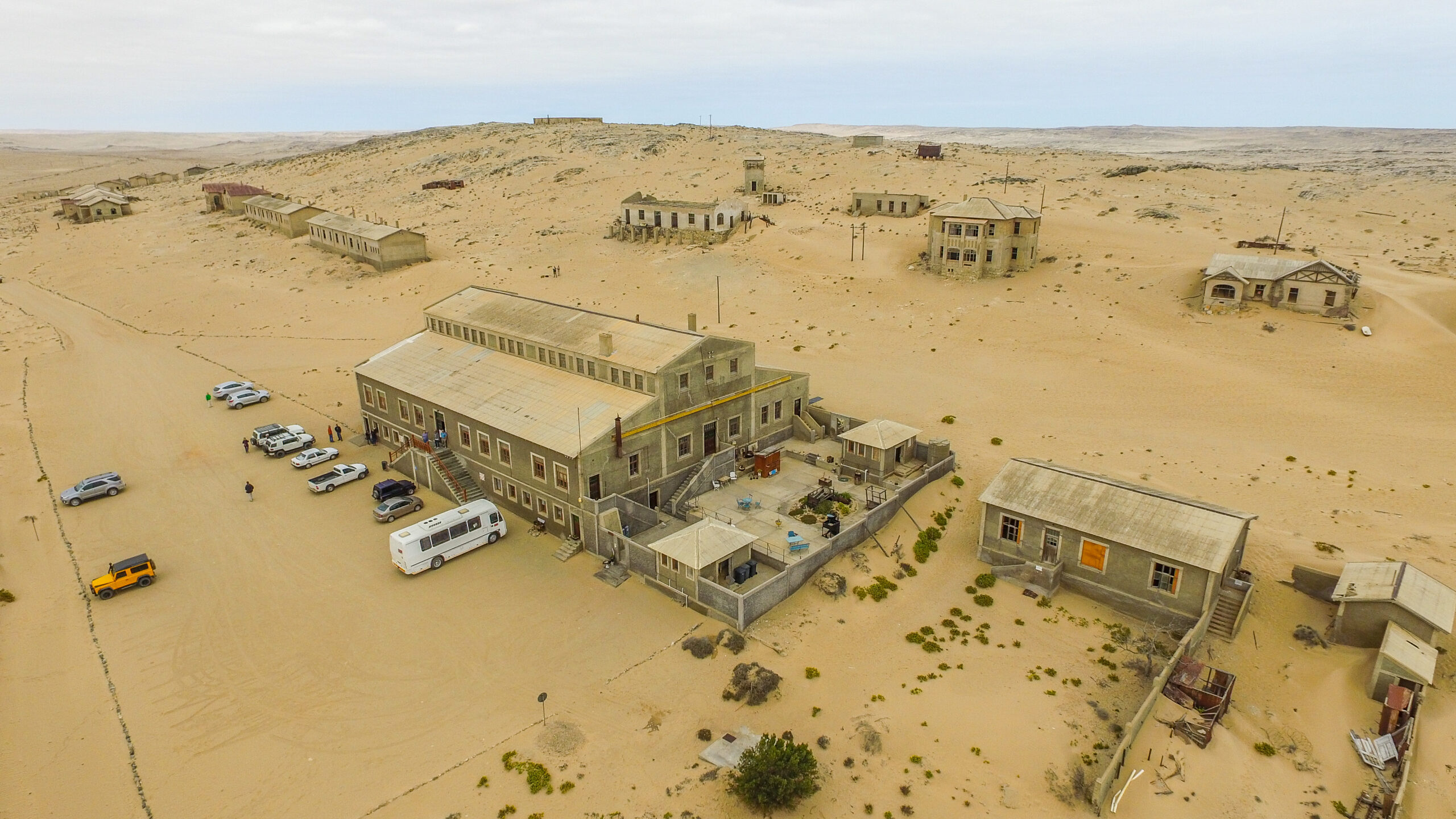 Kolmanskop is an almost otherworldly place located in southwestern Namibia. This ghost town was abandoned in the mid-20th century and is slowly being reclaimed by nature. Kolsmanskop has become somewhat of a tourist attraction, although it is by no means a conventional place to visit during your time in Namibia. If you enjoy urban exploring and unusual tours, this complete guide Kolmanskop, including where to get tickets and how much the entrance fee is, will be incredibly helpful.
Kolmanskop sits close to the coast of southern Namibia in the Namib desert. It's located 12 kilometers from the port town of Luderitz and is surrounded by desert. The landscape in this area is very dry and rocky, with little vegetation but beautiful sand dunes.
History Kolmanskop (Kohlmannskuppe in German) was originally built in 1908 when a railroad worker discovered diamonds in the area. Within just a short period of time, the town became home to more than 1,200 people, most of whom were very wealthy.
Kolmanskop soon had a casino, a bowling alley, a theatre, and a ballroom, and residents built a school and modern hospital. Considering the town was so small, this was more than impressive at the time. Due to colonial influences, a lot of the buildings in Kolmanskop were built with German architecture in mind, and most were lavishly furnished with expensive decorations and wallpapers that can still be seen today.
The eerie ghost town of Kolmanskop has become a favourite among group tours and tourists exploring Namibia and not without reason. Some buildings have more or less been preserved and protected from the elements, while others are in various stages of decay, creating a mysterious atmosphere that feels almost surreal.
The town is being swallowed by the desert and is slowly being covered in sand. Some rooms are filled nearly to the top, and the sand dunes create a fantastic place for taking photos.
Today, there is little left of the once-successful mining industry in this part of southern Namibia. Even the plentiful diamond reserves of Kolmanskop had to come to an end at some point, and by the 1950s, there was almost nothing left of the rare resource. Approximately 1,000 kilograms of diamonds were extracted at Kolmanskop over time, but only 46 years after its construction, the town was completely abandoned. By 1954 all residents had left the desert, and the impressive buildings started being overtaken by nature.
Directions Luderitz, which is the closest town to Kolmanskop, has a small airport that is serviced by Air Namibia. Flights are not very frequent, but you can definitely go for this option if you want to get to the ghost town quickly and comfortably.
Another option is to drive, which might take a while but will be a great excuse to see some of the beautiful landscapes that Namibia is known for. The capital, Windhoek, is located around 670 kilometers north of Luderitz and the B1 highway conveniently connects the two places with each other. The drive takes over seven hours, though, so expect to spend an entire day on the road if you want to drive from Windhoek to Luderitz and Kolmanskop.
If you're coming from the south, you can also cross the land border between South Africa and Namibia and reach the ghost town that way. Just make sure you've got a trusted driver and aren't attempting the journey by yourself unless you have some sort of local contact or extensive experience traveling through Africa.
Finally, you could also book different types of all-inclusive tours to take you around Namibia. Most will have Kolmanskop in their itineraries, and prices will include entrance fees and booking tickets. This is a convenient option for those wanting to see a lot of Namibia without having to do any planning. You'll get to spend more time enjoying this beautiful country and the chance to explore hidden places you might not have seen otherwise.
Just keep in mind that Namibia tours will usually be slightly more expensive than if you had booked the entire trip yourself, and not all of them include a budget for food, so that could be an additional expense. Always read the reviews of group tours before you book trips to places like Kolmanskop.
Entrance? Yes, visitors need tickets to access Kolmanskop, which means paying an entrance fee. They're called permits, and you can either buy them at the gate on arrival or at one of the many tourist offices in Luderitz.
Unless you're joining a guided tour to Kolmanskop, it's advisable to buy the tickets directly at the ghost town to avoid upcharges or scams.
The entrance fee to Kolmanskop ghost town is approximately $6 per person and $3.50 for children (free under six years old).
If you're a photographer coming to Kolmanskop to shoot unusual photos, then you should consider obtaining a so-called photography permit. For $17 per person, you'll be able to visit the ghost town outside of regular hours, which allows you to take far better pictures without any other people in them.
A guided tour is also included in the price. Photo permits are valid from sunrise to sunset, so you can visit whenever you like. Just keep in mind that this permit is only suitable for amateur photographers who won't use the pictures for commercial purposes. If you're a commercial photographer, you will need to purchase a different permit for around $500 per day.
Make sure to buy your photography permit a day in advance, ideally in Luderitz or at the gate of Kolmanskop. There won't be staff at the ghost town until around 8:00 am, so if you're coming for sunrise, you might be unable to buy a permit that early in the morning. If you already have yours, just leave it on the dashboard of your car, so security can check it. Don't come to Kolmanskop without a valid permit to avoid risking expensive fines.
If you're interested in learning more about the history of Kolmanskop and this part of Namibia, it's highly recommended to join guided tours around the ghost town. This is included in the ticket price although a lot of visitors forget to take part.
Tours take place every day from 9:30 am to 11:00 am, so make sure you're visiting at the right time. Tours of Kolmanskop will take you to all the important places around the ghost town and explain the historical significance. The experience is definitely worth it.
Make sure to dress in light and airy clothing and wear lots of sunscreen to protect your skin. Bringing a hat is also highly recommended.
Don't forget to bring plenty of water to stay hydrated. There is a small restaurant located in Kolmanskop but it's always good to have your own.
Safety Generally, visiting Kolmanskop in Namibia is considered to be safe. However, keep in mind that you'll be exploring abandoned buildings that are more than 100 years old. Some have partly collapsed or are about to, and there is little regulation on which buildings tourists can enter and which ones are unsafe. — Lifestyle Traveller.