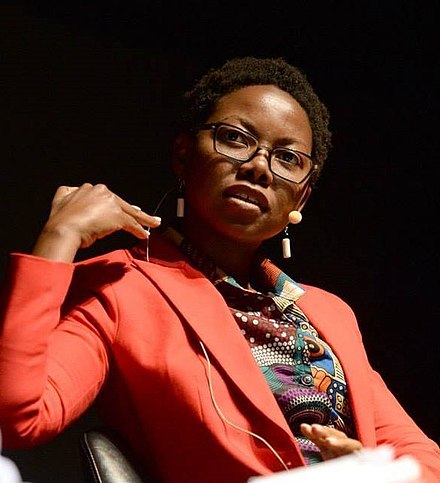 United States-based Zimbabwean author Elizabeth Zandile Tshele, who uses the pen name NoViolet Bulawayo, recently published a fictional novel titled Glory, a modern, Zimbabwean Animal Farm.
In the book, NoViolet Bulawayo completely removes the vocabulary of "people" from the story and the language of its characters, who are all animals.
Bulawayo, 40, adopted her pen name in tribute to her hometown. She was born in Tsholotsho and attended Njube High School and later Mzilikazi High School for her A-levels. She lives in Oakland, California, where she works as a teacher at Stanford University.
She feels a kinship with writers such as Tsitsi Dangarembga, Petina Gappah, Novuyo Rosa Tshuma and Siphiwe Gloria Ndlovu, among others.
"I'm really delighted," she says in a conversation with LA Times, "to be writing along with a cohort of writers and artists who are very dedicated to telling difficult stories."
The book is set in Jidada, a fictional African country that can be understood as a sort of fantasia of Zimbabwe in the period between the 2017 military overthrow of its president, Robert Mugabe, and his death two years later.
In Glory, a nation riven by decades of autocratic rule finds itself dividing once again. Seeking "to forget the screaming in their heads", the citizens of Jidada flock to the internet. Safe inside this "Other Country", they rage against their government in ways that would be unthinkable in the physical "Country Country", where cancellation is truly final.
The gulf between the world as it is and the world as it could be is as wide in Bulawayo's novel as it is outside it. The actions depicted in the book are so familiar, the events so recognisable, the pain so acute, it's easy to see how Glory began as a work of non-fiction. That the characters are animals — furred, feathered, scaled and all — is almost incidental.
In Bulawayo's telling, however, Jidada's deposed autocrat is an elderly stallion long known as Father of the Nation, but now derided as Old Horse. Following a bloodless coup staged by the nation's canine military, the Father's vice-president and fellow old horse, Tuvius Delight Shasha, returns from a brief exile with promises of "a new dawn, a new season, a New Dispensation". Tuvy, as he is called, vows to make Jidada "great again". In no time, he acquires a cult-like following, a new nickname (the Saviour) and a reputation for megalomania, misogyny and corruption that surpasses that of his predecessor.
In her author's note, Bulawayo shares how her book's most obvious literary inspiration, George Orwell's anti-Stalinism allegory Animal Farm, became a trending topic on social media in the wake of Mugabe's ouster. The parallels between post-revolution Manor Farm and post-coup Zimbabwe were too painful to ignore.
"Pivoting from nonfiction to create Glory became an extension of my fellow citizens' impulse to articulate the absurd and the surreal," Bulawayo writes.
Below are snippets of great reviews the book has received so far:
l "Manifoldly clever … brilliant … Glory is its own vivid world, drawn from its own folklore. This is a satire with sharper teeth, angrier, and also very, very funny." — Violet Kupersmith, The New York Times Book Review.
l "Few writers possess a literary voice as inimitable as Bulawayo's … (The) dazzling voices of this novel will draw you deep into its ambitious and mystifying heart." — Vulture.
l "An absurd yet captivating examination of themes such as toxic masculinity, hero-worship and performative change." — Time.
l "Bulawayo's storytelling gifts … are prodigious … Any satire worth its weight in talking animals is really a warning — to the powers that be, the complicit, and anyone who thinks nothing so terrible could ever happen to them … By almost any measure, Glory weighs a tonne." — Washington Post.
l "Throughout, Bulawayo keenly displays the perspectives of political players and the civilians who bear the brunt of their violence. With satire that feels necessary and urgent, Bulawayo brings clarity to a murky political morass." — Publishers Weekly. — Greedy South/Washington Post.