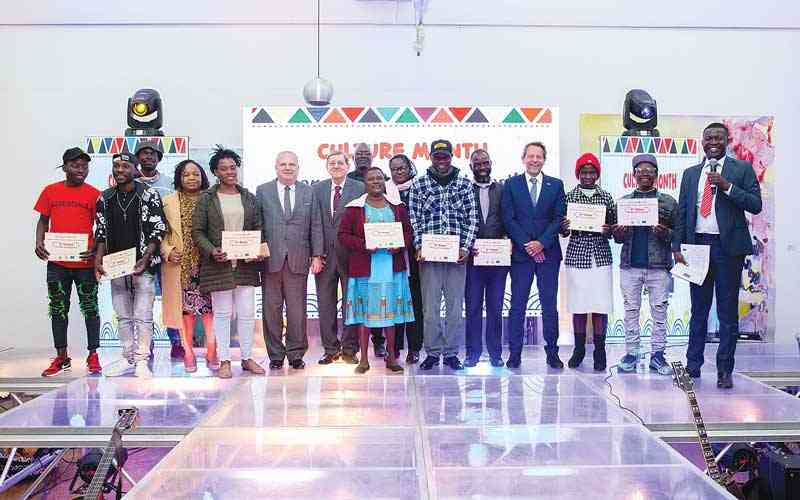 EUROPEAN Union (EU) ambassador to Zimbabwe, Jobst von Kirchmann has said the just-ended Culture Month commemorations exposed Zimbabwe's rich and diverse cultural heritage.
Von Kirchmann made the remarks over the weekend as the guest of honour at the belated Culture Month commemorations at the National Gallery of Zimbabwe (NGZ) in Harare.
The Culture Month closing ceremony brought to an end cultural events which were spread across the country's 10 provinces.
This year's Culture Month was commemorated under the theme United in Diversity-Promoting Diversity, Unity and Peace.
Culture Month, celebrated from May 1 to 31, is an extension of World Day Cultural Diversity for Dialogue and Development commemoration which is celebrated on May 21, a date that was set aside by the United Nations Educational, Scientific and Cultural Organisation following the Universal Declaration on Cultural Diversity in 2001.
"The Zimbabwean sculptures have grown in international popularity. Shona sculptures are everywhere, you find them at airports, in parks, galleries and you find them also at such a remote place, they travel everywhere," he noted in his closing remarks.
"(Of course, the sculptures are artworks), but then also, I think they carry something with them, that is Zimbabwe and the people of Zimbabwe. So, I believe the sculptures are more than sculptures, are more than art, they are more than culture, they are a symbol of Zimbabwe."
He said the EU was immensely grateful to the creatives, artists, cultural institutions and all those who contributed their passion, talent and expertise to the resounding success of Culture Month.
"Culture Month 2023, indeed, presents a fascinating adventure, as NACZ [National Arts Council of Zimbabwe] and the EU are 'united in diversity' to realise a vision of varied events nationwide, incorporating a mosaic of cultures. Zimbabwe is so rich in a variety of cultures," he noted.
"I hope that the spirit of Culture Month will continue to inspire us all and that we will continue to work together to promote cultural diversity, unity and peace."
The EU has had a long-standing commitment to support Zimbabwean culture. Earlier this year, it launched the Creative Actions II project, committing €2,06 million over 36 months through the Culture Fund of Zimbabwe Trust.
In June, 42 exceptional projects by Zimbabwean artists were awarded grants worth US$748 588 as part of the first round of the Creative Actions II project.
In the spirit of the country's National Development Strategy 1, Creative Actions II is funding innovative artistic and cultural expressions, empowering civil society, promoting gender equality and women's empowerment and providing training and skills development programmes to arts and culture practitioners.
Speaking at the same event, Youth, Sport Arts and Recreation permanent secretary Thokozile Chitepo said the month-long cultural diversity celebration had enabled the nation to be socially integrated and courteous to each other, while living in peace and harmony.
"My ministry is pleased that the National of Zimbabwe and European Union partnership supported the hosting of the National Culture Month launch, which saw a crowd of over 10 000 participants attending the event in the Chief Siansali area in Binga," she said.
"The event was one of the biggest Culture Month national launches to date, and we are pleased that the President of Zimbabwe, Emmerson Dambudzo Mnangagwa, who was the guest of honour, re-affirmed government's commitment and support for the Cultural and Creative Industry (CCIs) in Zimbabwe with his attendance.
"In addition to these provincial launches, communities at district, ward and cell levels of our country have hosted their own Culture Month or Culture Day commemorations, also attended by scores of eager participants. This is all testimony to the success of the Culture Month concept.
"From the hosting of Culture Month, we believe the nation will take heed of the President's call to uphold ubuntu/hunhu to deal with vices and societal challenges that are negatively affecting the youths."
Chitepo expressed gratitude that all the different Culture Month events were in sync with the President's plea on substance and drug abuse in communities.
"Events placed focus on having messages that raise awareness on this scourge and other vices that include child abuse, immorality, indiscipline and disrespect among the youth that continue to be a threat to our national character, moral fibre and the future of our country," she said.
Pointing out that traditional leaders are the cornerstones of safeguarding of Zimbabwe's culture, she added: "Through their (traditional leaders) leadership, Culture Month has become an important driver of local economies providing a place to market, sell and popularise authentic Zimbabwean foods, medicines, agricultural implements and other cultural and creative industries (CCIs) products.
"The CCIs espouses that players in the sector continuously seek new markets and provide new products to grow the sector, and Culture Month has become the pivot for artists to produce new works for new audiences, not only improving their skills, but also contributing to the growth and development of the CCIs in Zimbabwe."
Some artists were honoured over the weekend event following their participation in the Culture Month exhibition and competition which, according to the adjudicators' sheet received 50 entries.
The 50 entries constituted the women, youth and general categories.
In the women's category only four artworks were selected and adjudicators could not find a suitable fifth artwork.
The four artists whose artefacts qualified for the finals are Tracy Chatsama with Runyararo (Peace), Dorcas Mutemasango with The Power of Peace, Lorraine Mamvura with In Union and Simelokuhle Zibengwa with Leader of Many Countries.
Mamvura was adjudged the category's overall winner and pocketed US$500, while Zibengwa and Chatsama came second and third, walking away US$300 and US$200 richer, respectively.
In the youth category, the five artists who qualified for the finals were Remembrance Chikuruwo with Harmony in Nature, Remember Matafi with Union Shadows, Lawrence Tirivangani with Together in Accord, Blessing Mutukwa with Same Stem and Tinotenda Makuvise with Companionship.
The category's ultimate winner was Tirivangani who received US$500, while Mutukwa and Makuvise received US$300 and US$200 for second and third positions, respectively.
In the general category, Ishmael Chitiyo shrugged off competition from four other artists who qualified for the finals, with his piece Diverse Unity winning him US$500.
Eckel Nyamondoro's piece Cultural Intervention came second, earning him US$300, while Shepherd Deve came third with his piece titled Unity is Power to Co-exist, which earned him US$200.
Kennedy Musekiwa and Rufaro Murenza completed the finalist category with pieces Same Good Journey and Unity Gala, respectively.
NACZ director Nicholas Moyo, NGZ executive director Raphael Chikukwa, NACZ board members, artists and cultural practitioners were among the guests who attended the event.
Related Topics