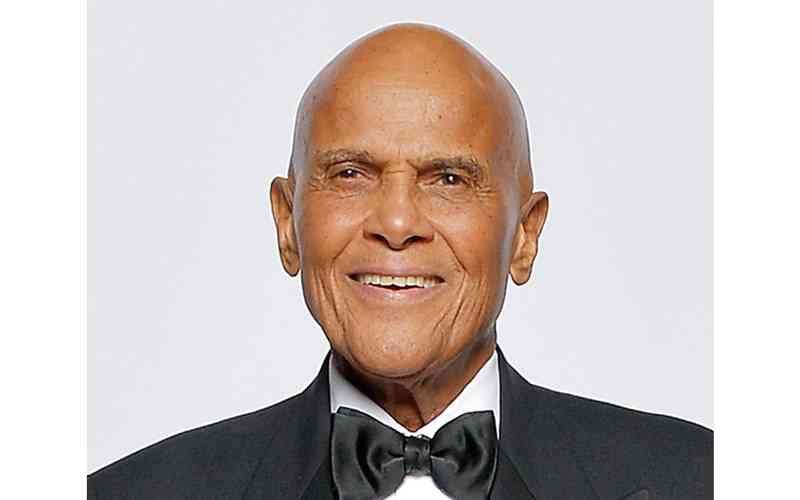 Harry Belafonte, the singer, actor and civil rights activist who broke down racial barriers, has died aged 96.
As well as performing global hits such as Day-O (The Banana Boat Song), winning a Tony award for acting and appearing in numerous feature films, Belafonte spent his life fighting for a variety of causes. He bankrolled numerous 1960s initiatives to bring civil rights to Black Americans; campaigned against poverty, apartheid and Aids in Africa; and supported leftwing political figures such as Cuba's Fidel Castro and Venezuela's Hugo Chavez.
The cause of death was congestive heart failure, his spokesman told the New York Times. Figures including Joe Biden, the rapper Ice Cube and Mia Farrow paid tribute to Belafonte. The US president said Belafonte was a "groundbreaking American who used his talent and voice to help redeem the soul of our nation".
"Harry Belafonte's accomplishments are legendary and his legacy of outspoken advocacy, compassion, and respect for dignity will endure forever," Biden said on Twitter.
The US news anchor Christiane Amanpour tweeted that he "inspired generations around the whole world in the struggle for non-violent resistance justice and change. We need his example now more than ever."
Bernice King, daughter of Dr Martin Luther King, shared a picture of Belafonte at her father's funeral and said that he "showed up for my family in very compassionate ways. In fact, he paid for the babysitter for me and my siblings." The Beninese-French musician Angélique Kidjo called Belafonte "the brightest star in every sense of that word. Your passion, love, knowledge and respect for Africa was unlimited."
Belafonte was born in 1927 in working-class Harlem, New York, and spent eight years of his childhood in his impoverished parents' native Jamaica. He returned to New York for high school but struggled with dyslexia and dropped out in his early teens. He took odd jobs working in markets and the city's garment district, and then signed up to the US navy aged 17 in March 1944, working as a munitions loader at a base in New Jersey.
After the war ended, he worked as a janitor's assistant, but aspired to become an actor after watching plays at New York's American Negro Theatre (along with fellow aspiring actor Sidney Poitier). He took acting classes – where his classmates included Marlon Brando and Walter Matthau – paid for by singing folk, pop and jazz numbers at New York club gigs, where he was backed by groups whose members included Miles Davis and Charlie Parker.
He released his debut album in 1954, a collection of traditional folk songs. His second album, Belafonte, was the first No 1 in the new US Billboard album chart in March 1956, but its success was outdone by his third album the following year, Calypso, featuring songs from his Jamaican heritage. It brought the feelgood calypso style to many Americans for the first time, and became the first album to sell more than a million copies in the US.
The lead track was Day-O (The Banana Boat Song), a signature song for Belafonte – it spent 18 weeks in the UK singles chart, including three weeks at No 2. His version of Mary's Boy Child was a UK chart-topper later that year, while Island in the Sun reached No 3. He released 30 studio albums, plus collaborative albums with Nana Mouskouri, Lena Horne and Miriam Makeba. The latter release won him one of his two Grammy awards; he was later awarded a lifetime achievement Grammy and the Academy's president's merit award.
Bob Dylan's first recording – playing harmonica – was on Belafonte's 1962 album, Midnight Special. The previous year, Belafonte had been hired by Frank Sinatra to perform at John F Kennedy's presidential inauguration.
Belafonte maintained an acting career alongside music, winning a Tony award in 1954 for his appearance in the musical revue show, John Murray Anderson's Almanac, and appearing in several films, most notably as one of the leads in Island in the Sun, along with James Mason, Joan Fontaine and Joan Collins, with whom he had an affair. He was twice paired with Dorothy Dandridge, in Carmen Jones and Bright Road, but he turned down a third film, an adaptation of Porgy and Bess, which he found "racially demeaning".
He later said the decision "helped fuel the rebel spirit" that was brewing in him, a spirit he parlayed into a lifetime of activism, using his newfound wealth to fund various initiatives. He was mentored by Martin Luther King Jr and Paul Robeson, and bailed King out of a Birmingham, Alabama, jail in 1963 as well as co-organising the march on Washington that culminated in King's "I have a dream" speech. He also funded the Freedom Riders and SNCC, activists fighting unlawful segregation in the American south, and worked on voter registration drives.
He later focused on a series of African initiatives. He organised the all-star charity record We Are the World, raising more than $63m for famine relief, and his 1988 album, Paradise in Gazankulu, protested against apartheid in South Africa. He was appointed a Unicef goodwill ambassador in 1987, and later campaigned to eradicate Aids from Africa.
After recovering from prostate cancer in 1996, he advocated for awareness of the disease.
He was a fierce proponent of leftwing politics, criticising hawkish US foreign policy, campaigning against nuclear armament, and meeting with both Castro and Chavez. At the meeting with Chavez, in 2006, he described US president George W Bush as "the greatest terrorist in the world". He also characterised Bush's Black secretaries of state Colin Powell and Condoleezza Rice as being like slaves who worked in their master's house rather than in the fields, criticisms that Powell and Rice rejected.
He was a frequent critic of Democrats, particularly Barack Obama, over issues including Guantanamo Bay detentions and the fight against rightwing extremism. He criticised Jay-Z and Beyoncé in 2012 for having "turned their back on social responsibility … Give me Bruce Springsteen, and now you're talking. I really think he is Black." Jay-Z responded: "You're this civil rights activist and you just bigged up the white guy against me in the white media … that was just the wrong way to go about it."
He continued to take occasional acting roles. In 2018, he appeared in the Spike Lee movie BlacKkKlansman. In 2014, 12 Years a Slave director Steve McQueen announced he was working with Belafonte on a film about Paul Robeson, though it wasn't developed.
Belafonte was married three times, first to Marguerite Byrd, from 1948 to 1957, with whom he had two daughters, activist Adrienne and actor Shari. He had two further children with his second wife, Julie Robinson: actor Gina and music producer David. He and Robinson divorced after 47 years, and in 2008 he married Pamela Frank, who survives him.
Related Topics