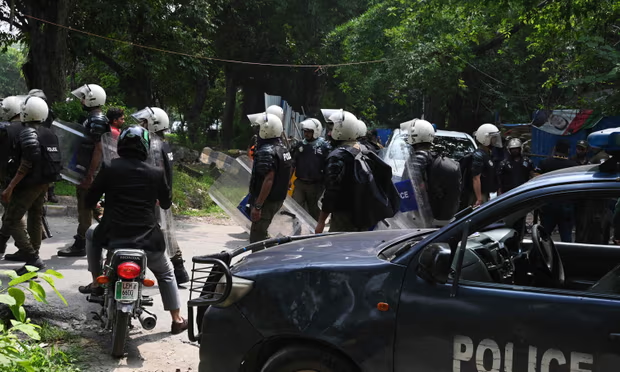 ​​Pakistan's former prime minister Imran Khan has been arrested after a court in Islamabad sentenced him to three years in jail and disqualified him from politics for "corrupt practices" involving the sale of state gifts.
Khan, 70, was picked up by police from his home in Lahore on Saturday after a court ruled on the Toshakhana case, in which he was accused of illegally selling gifts from heads of state worth hundreds of millions of rupees.
Toshakhana is the government department that stores official gifts given to rulers and government officials. Last October, Pakistan's election commission began investigating allegations that Khan had bought several of the valuable gifts, including an antique watch given to him by the Saudi crown prince, Mohammed bin Salman, and sold them for undeclared profit.
The judge found Khan had "deliberately submitted fake details" of the gifts to the court and had been involved in corruption. After expressing his displeasure that Khan's lawyers were not in court, he found Khan guilty of "hiding the benefits he accrued from the national exchequer wilfully and intentionally" from selling the gifts and sentenced him to three years in prison. According to the constitution, that means Khan is automatically banned from politics for five years.
"His dishonesty has been established beyond doubt," the court order added.
Khan has denied all wrongdoing and his lawyer, Intezar Hussain Panjutha, said they would be appealing against the ruling, calling it a case of "political victimisation".
"Khan was not given an opportunity to defend himself and give his side of the story," he said. "We wanted to provide witnesses in his favour but he was not allowed this opportunity. Khan was not given a fair trial."
The information minister, Marriyam Aurangzaib, rebutted the claims and asserted that the government had nothing to do with the verdict or the arrest. "Khan was given free and fair trial," she said. "It went on for a year, and out of more than 40 hearings, Khan only turned up for three."
Police surrounded Khan's home and detained him almost immediately after the judgment was given. According to the state information minister, he was taken to Islamabad.
The ruling and subsequent arrest are likely to be the final nail in the coffin for Khan's chances of contesting Pakistan's upcoming general elections, which are scheduled to take place by November, but could be delayed further. The case is one of nearly 150 that Khan is facing in the courts, which include charges of corruption and attempted murder.
Many in Pakistan had felt Khan's arrest was the inevitable conclusion to his attempts to go up against Pakistan's all-powerful military establishment, who have had a grip on Pakistani politics for decades. All previous prime ministers who have tried to take on the military have ended up in prison.
"Many of us saw this verdict coming but it still casts a shadow over the upcoming elections," said Zahid Hussain, a political analyst. "Khan is still the most popular leader in Pakistan and disqualifying him from running will raise questions over the fairness of the polls."
Known for his populist politics, Khan was elected in 2018 with the backing of the military, but after losing their support he was toppled from power last year in a vote of no confidence.
This is the second time in three months that Khan has been arrested since his relationship with the military establishment soured and he began a public campaign against the country's top brass, including accusing them of two attempts on his life.
Almost 100 paramilitary troops were involved in Khan's arrest in May as he entered Islamabad high court to appear in one of the dozens of cases filed against him. A few days later the supreme court ruled his arrest was illegal and ordered his release, but not before the country had erupted into days of violence.
In the aftermath, Khan and members of his political party, Pakistan Tehreek-e-Insaf (PTI), have faced a major crackdown. Thousands, including some of the party's most senior members, have been arrested and many reported being pressured or tortured into leaving PTI. Khan has alleged that the military is behind the attempts to dismantle his party in order to prevent him from running in the next election, and has accused its leader, Gen Asim Munir, of bearing a personal grudge against him.
In a video message Khan had recorded before his arrest, which was later released on Twitter, he called on his party members and followers to take to the streets in protest.
"When you receive this message, I will be arrested and I will be in prison," said Khan. "I just have one appeal for you: don't sit and hide in your homes, I want you to continue peaceful protests. This movement is not for myself, it is for you and the future of your children. If you don't stand up for your rights, you will live like slaves."
Supporters gathered around his home shouting slogans, and across the country, 25 people were arrested for protesting. However, given the scale of the military's harassment and intimidation of thousands of PTI supporters in recent weeks, the response was far more muted than after Khan's arrest in May.
"Another former prime minister convicted and disqualified from running for office in Pakistan," said Husain Haqqani, Pakistan's former US ambassador. "A sad reflection of a lack of full democracy. One can disagree with him, his actions, and his ever-changing views but still recognise that this is just a rerun of Pakistan's sorry past."
Related Topics