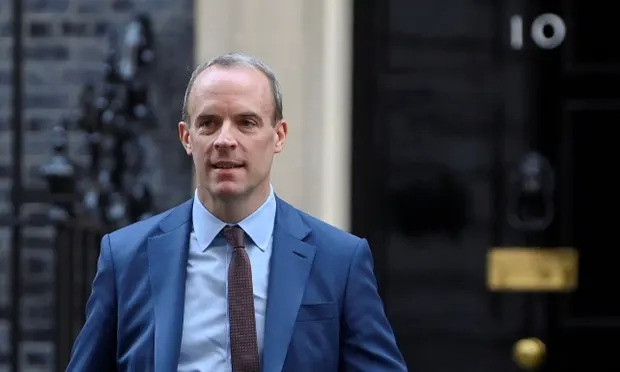 Dominic Raab has resigned as justice secretary and deputy prime minister after months of allegations about bullying behaviour in the Ministry of Justice and other Whitehall departments.
The senior Conservative MP had faced multiple formal complaints over his dealings with civil servants, including claims, first revealed by the Guardian, that he bullied and belittled staff, driving some to tears or causing them to vomit before meetings.
The departure of such a close political ally is a major blow to Rishi Sunak who will face questions over his judgment after allowing Raab to stay in post while an investigation by Adam Tolley KC, a leading employment barrister, was held.
Some Tory MPs are privately concerned that Sunak's handling of the row, in the wake of the Nadhim Zahawi tax affair, would further undermine his pledge to instill "integrity, professionalism and accountability at every level" of his government as he tries to move on from the Boris Johnson era.
Raab had consistently denied any bullying of civil servants, including some in senior roles, and said he would vigorously contest the formal complaints about his behaviour as justice secretary and, previously, as foreign secretary and Brexit secretary.
Sunak suggested in February that if Tolley concluded that his deputy had fallen short of the standards expected of somebody in his position, he would be sacked. However, the lawyer's remit was solely to "establish the facts" of Raab's conduct and it was left to the prime minister to decide whether he should face sanction.
"When I'm presented with conclusive independent findings that someone in my government has not acted with the integrity or standards that I would expect of them, I won't hesitate to take swift and decisive action," he said at the time. Raab had also said he would respect the findings of the inquiry.
Dozens of Raab's own staff were interviewed by Tolley as complainants or witnesses, or submitted written evidence to the inquiry, which was set up by Sunak last November. He also interviewed all three senior civil servants who worked withRaab while he was holding cabinet positions.
Raab's enforced ministerial departure over claims of bullying is the second since Sunak became prime minister on 25 October. In early November, Gavin Williamson resigned as a cabinet office minister after allegations, revealed by the Guardian, that he told a senior civil servant to "slit your throat" while he was defence secretary, and the emergence of abusive messages to a Tory colleague.
Related Topics