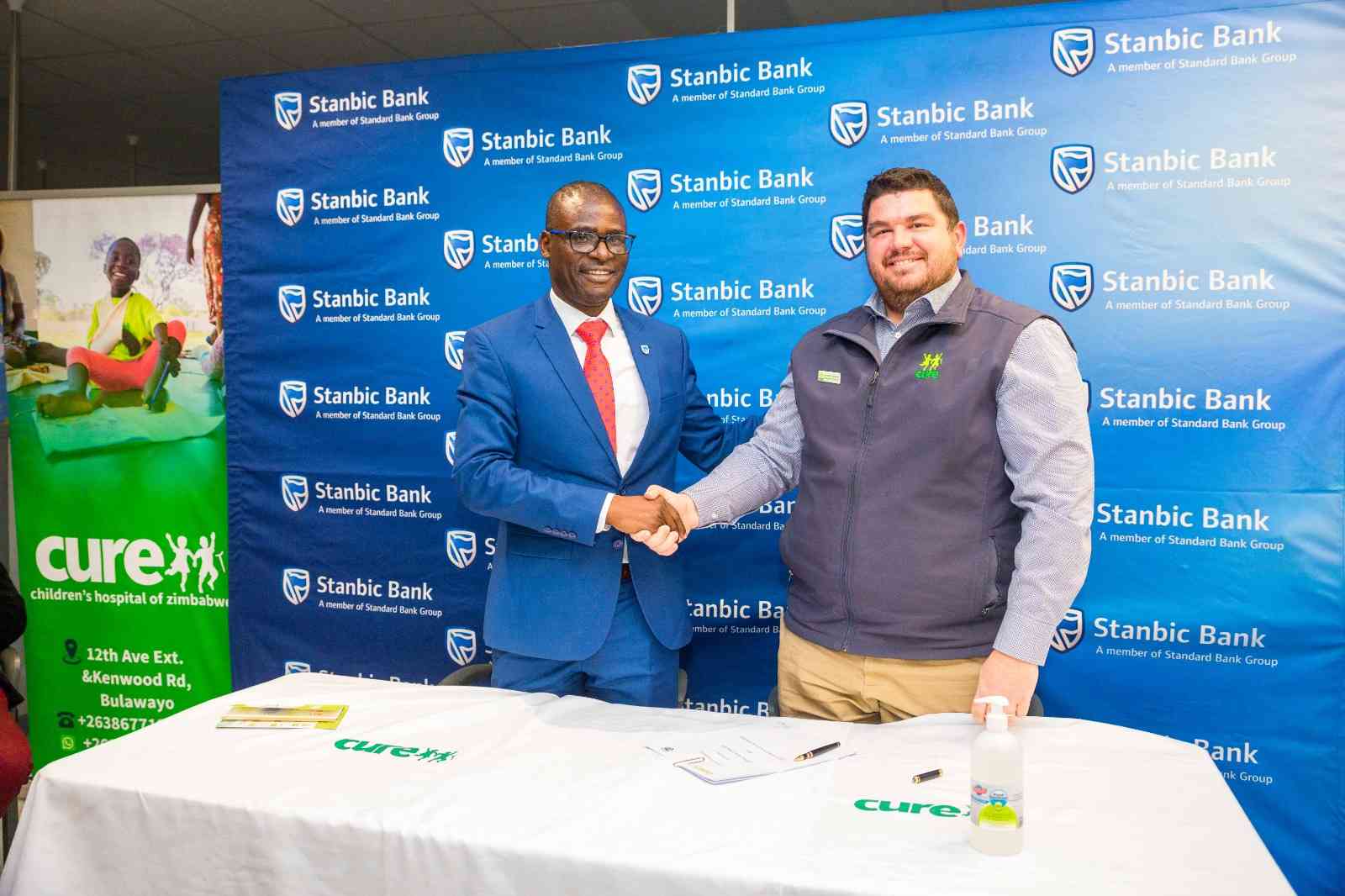 STANBIC Bank Zimbabwe has facilitated life-changing surgical operations for 15 children living with correctible disabilities through a US$22 500 grant as part of its commitment to offer affordable quality health care to Zimbabweans.
The grant was given to Cure Children's Hospital of Zimbabwe (CCHOZ), which is the only healthcare organisation that offers free paediatric surgical interventions for children between the ages of 0-18 with treatable disabilities.
CURE Zimbabwe is a Christian non-profit making organisation that opened its doors in 2021 and, so far, has been a place of hope and healing for over 1 700 children living with treatable disabilities.
It operates a global network of children's hospitals pairing world-class surgical and spiritual care to serve children with treatable disabilities and their families regardless of their economic status, ethnicity, religious background, or gender.
CURE Zimbabwe engages partners such as Stanbic Bank to fund surgical operations for treatable disabilities such as bowed legs, knock knees, clubfoot, brittle bones, windswept, neglected trauma, and burn contractures.
The 15 children who underwent the surgeries last week include boys and girls who had lost all hope of ever healing or recovering from their conditions. One of the children had been wheelchair-bound since birth and suffering from crouch gait – an abnormal walking condition characterised by the upward bending of the ankles (ankle dorsiflexion); bent knees (knee flexion), and bent hips (hip flexion) – is now on his way to full recovery and walking properly after Stanbic bank's intervention.
Stanbic Bank chief executive Solomon Nyanhongo, speaking at the official signing ceremony said the financial services institution derived deep satisfaction from changing the fortunes of the 15 children whose lives would normally have been problematic due to the nurture of their disabilities.
He said the surgical and spiritual care offered by CURE Zimbabwe resonated with Stanbic Bank's quest to not only drive Africa and, in particular, Zimbabwe's growth but make a difference within the communities in which it operates.
"Our tour of the wards has been an eye-opener for the Stanbic Bank staff. This life-changing and transformational work CURE Zimbabwe is doing is astonishing. To see someone come in literally unable to do anything and leave full of life and hope through the surgical operations gives us satisfaction that we are indeed contributing to the welfare of the members of the community in which we operate," Nyanhongo said.
He said such transformation for the beneficiaries was a source of inspiration for the Standard Bank Group subsidiary, whose well-thought-out corporate social investment (CSI) initiatives included propping up health care delivery, provision of education, water, sanitation, and looking after the environment.
"This is an unfamiliar field yet of paramount importance and as Stanbic Bank, we are prepared to partner with you in carrying out this phenomenal life-changing work and uplift the underprivileged going forward," he said.
Stanbic Bank head of public sector, Sarah Charangwa added: "Stanbic Bank takes a keen interest in the health sector, and we are committed to support the government by contributing towards the delivery of the National Health Strategy 2021 to 2025.
"The partnership with CURE Zimbabwe fits this bill in every way especially as it promotes the early identification of disabilities and prevention through corrective surgery therefore eliminating possibility of permanent disabilities."
Orthopaedic surgery is very expensive, and this means that many children born with correctible disabilities often went unoperated and bore the brunt of negative social stigma, with some of them often locked up far out of public glare or even kept apart from their own family members by their parents.
Charangwa said the fact that children born with disabilities are often shunned and stigmatised galvanised Stanbic Bank to play its part in ensuring that the 15 children are given a chance to fulfil their dreams while contributing to national development.
"Stanbic Bank deliberately seeks to go beyond providing traditional banking services and solutions for the health sector players by adding value to their operations. We seek to ensure that end-to-end or holistic financial needs are met so that we free up their time to enable them to focus on their key work," Charangwa said.
CURE Zimbabwe executive director, Jonathan Simpson said the organisation engages donors, corporates, and individuals to finance the surgical operations for children in need of their service.
"We are grateful to Stanbic Bank for offering the full package of treatment to the 15 children. The contribution by Stanbic Bank ensured that the children and their caregivers – either parent or guardian – were looked after from the time they entered the hospital until they left inclusive of surgical costs, x-rays, implants, food and medicine. Stanbic Bank has been generous given the macro-economic environment and they have helped change the lives of these children," Simpson said.
Related Topics