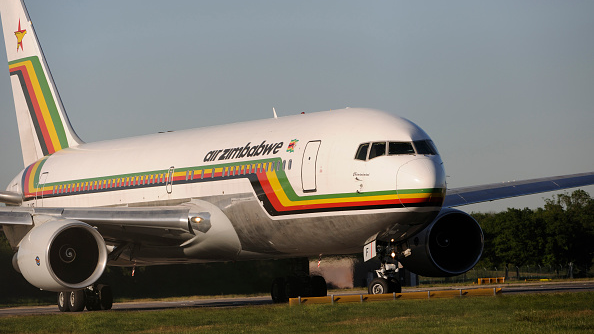 FREEMAN MAKOPA AIR Zimbabwe (AirZim)'s new board has been given the tough mandate to explore the Southern African Development Community (Sadc) region for new routes by February 2023, according to Transport and Infrastructural Development minister Felix Mhona.
Mhona, who this week spoke exclusively to businessdigest about the government's new vision for the bleeding airline, said route development plans were at the heart of his immediate strategy.
He said groundwork for route expansion started when the government announced plans to acquire short-range aircraft, which would soon be delivered.
The aircraft will complement three planes currently servicing domestic and two regional destinations, but are said to be inadequate.
The airline has just come out of a four-year-long administration phase, in which the government debts hit over US$300 million.
"There is room for increasing our route network, especially with the anticipated acquisition of another aircraft," Mhona said.
"I am expecting the launching of at least two regional routes in the first six months of the tenure of the substantive board. As a matter of fact, plans are already afoot for this development."
Mhona was not at liberty to say which routes the airline would be targeting.
However, before being overwhelmed by problems at the turn of the century, AirZim was among a league of a few state run airlines that dominated regional markets, with frequencies into Lusaka, Lilongwe, Nairobi, Kinshasa, Dar es Salaam and Johannesburg and Cape Town from Harare and Bulawayo.
It also had a presence in several other African destinations.
But a passenger exodus to airlines with modern aircraft, along with inability to run flights on schedule, over a period spanning many years, has forced the airline to trim its network to concentrate on domestic routes.
The airline currently flies to Johannesburg and Dar es Salaam from Harare, complementing domestic destinations.
Mhona said protracted efforts to turn AirZim around had been scaled up.
"Among the deliverables that I am expecting from the new substantive board is the finalisation of the procurement of an aircraft that was initiated by the interim board," he said.
"This is with a view to ease plane challenges that we sometimes encounter," he added.
Sadc's airlines landscape is increasingly being dominated by a fleet of privately-owned airlines that have moved to snatch opportunities surrendered by collapsing state run carriers.
The aggressively expanding Airlink in South Africa, and Fastjet in Zimbabwe have invested in modern aircraft that have attracted today's dynamic passenger.
AirZim will be fighting for market share with these, but analysts said last week, a lot of work would have to be done to address the lack of confidence among passengers.
Silvanos Gwarinda, the new AirZim board chairperson, said  while he was optimistic, the airline required a lot of work to ride over its myriad crises, including the effects of Covid-19.
Covid-19-induced lockdowns, which grounded the global aviation system, only compounded a decades-long loss-making patch at AirZim, which turned an airline once described by the United Nations as Africa's most promising carrier into one of the region's worst.
Gwarinda himself acknowledged the grave state of affairs at Zimbabwe's crumbling aviation empire that he and his six-member board inherited.
He disclosed that out of AirZim's eight aircraft fleet, a "number of these are not serviceable".
But Gwarinda was more worried about deteriorating capacity utilisation levels within the fleet.
Vowing to put all hands on the deck, the new AirZim chairperson still warned that low load factors would be a "recipe for disaster" for the airline.
"We have the air assets, eight aircraft in total (B777 x 2, B767 x 2, B737 x 3 and EMB-145 x 1), but we have lost a number of pilots to the global airlines and a number of these aircraft are also not serviceable," Gwarinda noted in his acceptance speech.
"Utilisation levels of our air assets are also below comparable benchmarks. Due to the perishability of the airline product – the seat – more will have to be done by AirZim in order to achieve reasonable seat factors for operational viability.
"This is the current scenario: Aircraft utilisation levels are extremely low, there is reliance on operating short sectors only, and low passenger load factors are being achieved. This is a recipe for disaster in the aviation world," the AirZim chair warned.