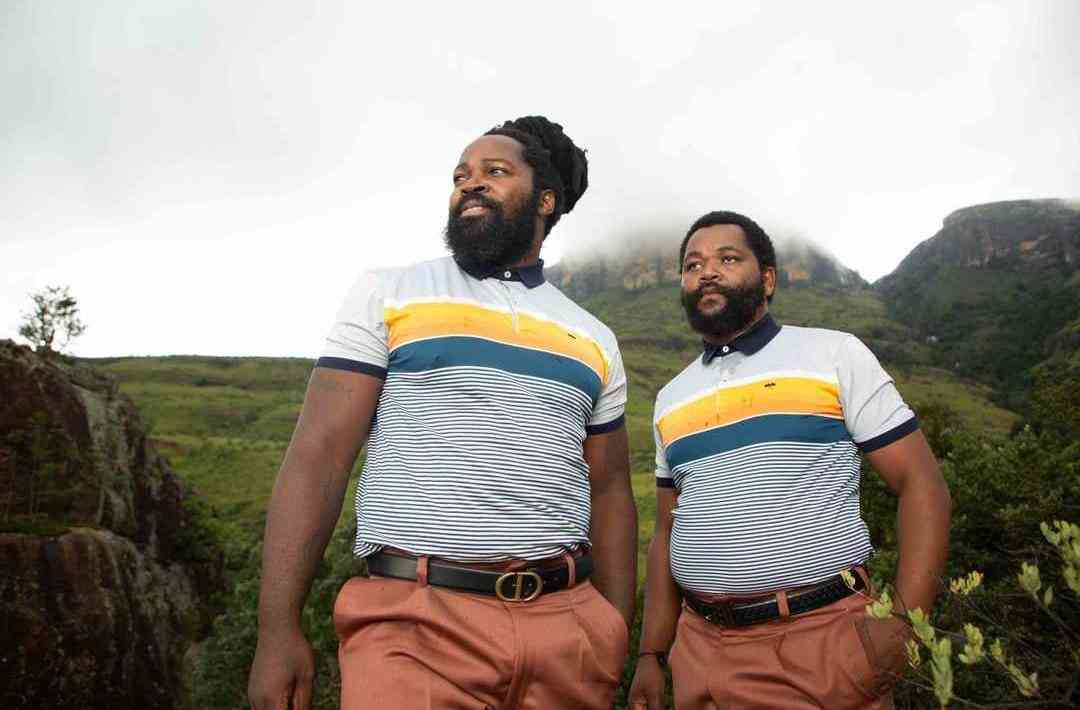 A love kaput eerie is uttered through the lens of a couple whose toxic traits are not adequate to prolong their attenuation love, as woes of love are fleshed out in the attraction acquiring number Sayona — aboard an out of this world concomitant bonny means of cogent, visually brought about by a "more than what runs into the eye" grok illustration.
Just like how the duet went full throttle to make sure that masses get an entire gustatory perception of the double platinum love anthem Umbayimbayi, a forerunner of its record album Ukhamba — a galactic glob of an awe-inspiring sinewy magnitude of Inkabi Zezwe's workmanship is matter-of-course to pilot the heartbreak hit Sayona, a marvelous tune that altogether somersaults the script!
Adding some flames into their sound, things are just getting lit as Sjava and Big Zulu (Inkabi Zezwe) started out their long-awaited live tour to a "sold-out" auditorium in the fall of last month (June 24), at the Sunbet Arena in Time Square.
On site was the official Inkabi Zezwe capsule collection in partnership with in vogue clothing brand Butan, which the musical titans spotted on stage during their performance.
The duo — born in Bergville, KwaZulu-Natal — performed all melodies from Ukhamba, including solo songs, much to the joy of beat fanatics.
Good solid job, with so many flavors and special artistic talents, an unforgettable bit of the night was when it had to perform the "Sesotho" rendition of "Umbayimbayi" five times after obtaining a standing ovation.
As its voices pulled the bunch in, in true rock star mode, the South African duet was met with intimate garments thrown and twisted on stage by a contiguous female circle.
Enjoying the birth of Inkabi Zezwe, knowing how to work a crowd has helped to ballyhoo Sjava and Big Zulu's well plotted joint venture.
The aftermath of serving the mammoth chore of spawning up and golf stroking to design cryptic detail is indeed cornucopia.
Relaxing into it, plenty of big applauds and howling praises go on to shower lullabies trilled out on the ditty craft with so much salt in the pocket.
Towering, besides piling up over 4,8 million streams and hiving away over five million views on video streaming platform YouTube, to date, the audio from Umbayimbayi has been used over 335 000 times across video focused social networking service Tik Tok — while earsplitting and hitting over 15 000 on the reels of American photo and video sharing social networking service Instagram.
Giving the best possible tools from a great place, the graphic to Sayona the follow-up canon off Inkabi Zezwe's acclaimed epic opus sculpt Ukhamba, was directed by Slowman Films in Johannesburg.
Led by performing artists who portray characters of a domestic helper and garden keeper, respectively, with a lavish mansion as the backdrop — the video conveys to animation the bittersweet nightshade reality of a toxic love jam.
Helping to get to the heart of the matter, Sjava and Big Zulu echo the ongoing plot line of a jaded love affair, by appearing in performance shots at antithetical locations of the house — as well as solo scenes where they are partnered throughout the cinematography.
On the red-hot ballad Sjava opens a tattle: "Sayona, Sayona sasinento entle/Sayona thina, amaphutha ethu sawawona kodwa akusizi ngoba impilo zethu zishile."
This opening line sets the panorama of a man who is wounded from being asunder from his lady love, and how much he still cares for her despite the credence that they could never be together.
A schmaltzy Big Zulu croons, "Ayi ngikwenze konke, ngikunike konke kodwa awunelanga ngoba wandijikela/Ayi kodwa akusasizi nawe awungisizi komunye umhlaba ngabe impilo zethu zishinshile/Ayi ngifisela injabulo nothando nempilo entle dali wam'".
He renders the briny subject matter intrepidly as he expresses his ire and dashing hopes for his special female and her actus reus with so much exactitude.
Closing the visual companion piece with the male lead giving off a gut-wrenching cry; Sayona is a banger that strands succor to those who are grief-stricken by the loss of friendships or romantic relationships alike and the espousal thereof.
"We live in times where we always blame our partners for wrongdoings when relationships don't work out," Inkabi Zezwe said.
"It is important that the parties involved both take accountability for their role in the mishap and that's the take-home we want people to receive upon watching this music video."
Grant Moyo is a prolific writer, innovative media personality, entrepreneur and a creative artist who is passionate about using his creative mind for the betterment of society. Follow him on Twitter: @TotemGrant
Related Topics