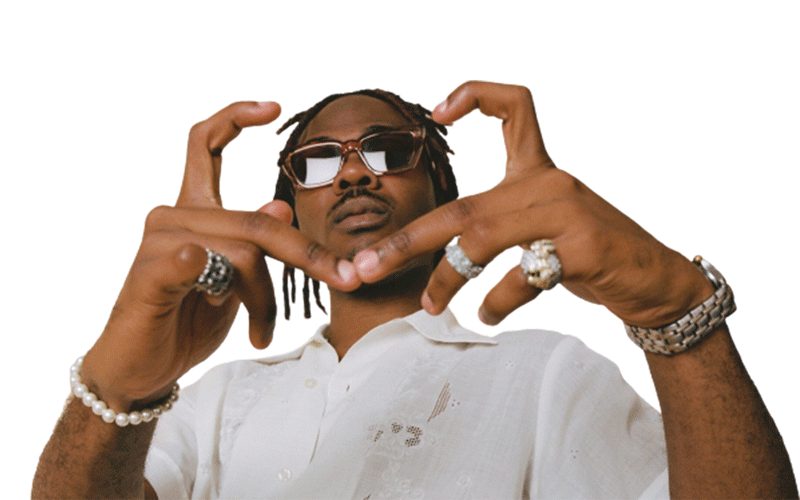 I DECIDED to release a deluxe edition of 'Sad Romance' because I grew romantically since the original (album) and I have a fresh, positive outlook on love, says Chukwuka Ekweani — transcending time and space with his elating squeaky clean vocal pipe for fays, blotting measures of justified ploys successfully keeping his chordal arsenal resistless!
Rocking it up, the Nigeria-born 'Love Nwantiti' and 'Emiliana' hit maker, known publicly as CKay — who from the onset contumaciously shied away from being one dimensional — is changing the dynamics of Afrobeat. Coming in strong, he is keeping this —infectious chef-d'oeuvre hinged to elastic and dulcet elements with pop and hip-hop inflections — genre, wired but awesome.
Amply maximizing the potential of finding his mountain and climbing it, CKay has grown in so many different ways with his super duper commercial voice. Music being his outlet to everything, June 16 marked the official release of his canon sculpt titled 'Sad Romance Deluxe'.
So much to the delight of his devotees, four crispy fresh anthems namely 'Hallelujah' (on which CKay hooks up with rapper Blaqbonez), 'Nwayi', 'Nneka', and 'Capture My Soul' a smash banger he joins forces with singer-songwriter Joeyboy —make the track list of jams furled out on the latter opus craft.
Like most polished singers and those who are diamonds in the rough, the journey of CKay's voice is so communicable. Keeping audiences interested and locked, the bubbling under lullaby 'Nneka' will sure as shooting — charm both the young and the young at heartsmitten at first sight local as well as international fans alike. Yummy, while the Emo-Afrobeat vocalist, composer and record producerholds that note, his range has got a real air-conditioned serious killer vibe.
Cool headed, up-to-the-second, and adroit — CKay's unclouded seventh heaven vision and direction is bringing merrymakers to a boil. Turning the screw, 'Hallelujah' of late rose to the uppermost of Apple Music's Top Songs Chart (NG) in Nigeria, after garnering slightly over 12 million streams since its debut. Setup for success in the aftermath of the latter tune's release, CKay's monthly listeners on Spotify have augmented by 7.68% to an bespangled 13,6 million.
Romancing listeners with 'Nwayi'(Igbo word for 'woman'), CKay returns to his signature Emo-Afrobeat realm professing his deathless love and how he cannot live without his better half. Rooters swooning over the romance played out, thepiece of auditory sensationthat the high-flying musician co-produced with BMH — revisits themes of desire and infatuation. Shot in Lagos (Nigeria), acinematographyto this melody — which is on the verge of reaching a chop-chop 1 million streams milestone —was directed by Ahmed Mosh.
Based wholly on circumstantial evidence, the beatific worth watching graphic to 'Nwayi', tells an alluring Shakespearean story featuring CKay and his love interest. Often than not cited as 'Africa's boyfriend' in a devout status, as with his poetic lyrics — the multi-talented artistgoes on further to fluently portray a fib of passion, with love affair scenes in a carriage on the beach, before culminating with a turn of events.
The main record for the 'Sad Romance Deluxe' work of euphony named 'Capture My Soul', picks up where the beat 'Nwayi' left off — with polished punch-up storytelling pacifying sounds — navigating through and through CKay's satiny tropical flavor feel. Roughshod tears not hitting the ground, the fast-rising ballad ace put his foot down on the latter number, delivering the classic and explosion he possesses as an artist who lets his voice carry him through.
"Capture My Soul' is a song that literally captures your soul when you listen to it. It is an expression of surrender to love. It's a continuation of my Emo-Afrobeat sound and was produced by myself and BMH. BMH is a musical genius who always brings my ideas to life. He did his thing for sure on this one too!" CKay said.
What is more, it takes musicianship and artistry to give standout ability in the first five notes with so much composure and gist —and this is something that CKay has thoroughly enjoyed while taking us on a trip in control of every second that ticks by on his a la mode project. A testimony that music helps us dance in the rain over again, washing away all the painful sensation, giving us a spanking spic-and-span lease of life to learn to love ourselves as well as who we are.
Flagon red-hot, as a vibraharp tints the negative dark mind, it gets into the portion of healing the gloominess in the atmosphere of our romance. So then, adjusting to life and the predicament brought by mankind with auditory communication being a strive to all of this — is a whole wind of an outcome CKay seemingly loves!
"Hearts get broken worldwide everyday. It's okay to be sad, but at a certain point, you have to move on and live your life. Go to a party, go indulge, do whatever! But make sure you aren't scared to fall in love again. It's never deep!" CKay said.
Grant Moyo is a prolific writer, innovative media personality, entrepreneur and a creative artist who is passionate about using his creative mind for the betterment of society. Follow him on Twitter: @TotemGrant
Related Topics