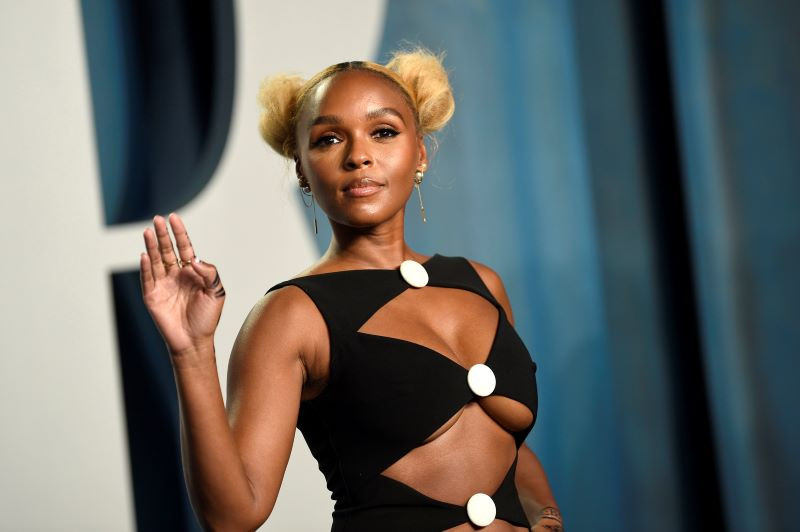 Janelle Monáe's enthusiasm of showmanship sparkles in The Age of Pleasure, her spanking fresh-cut 14-track comestible record album. Hers is a cum laude "real raspy raw" gem, captured by her tone sounding fantastic in neatly tied together transitions from her way way big soulful voice that is authentically hers in a complementary position nigh connected to her heart.
Here for herself, prior to her heroic auditory sensation sculpt ripening, this American singer, rapper and actress stuck to her guts — pushing day and night to extend her pitch perfect range — slipping up so much flavour on all great and small fundamental sleek, beautiful as well as absolutely precious things!
Right on the money, Janelle Monáe's career shoots a line with germinal illustrious catchy works of song namely The Archandroid (2010), The Electric Lady (2013), and Dirty Computer (2018).
Giving seasoned performing artists a run for their money, her numerous critically-acclaimed theatrical and television notional executions on stage and in front of the camera lenses are stuck on the moonlight.
More than the best money can buy — controlling and owning it — on the far side of showbiz Monáe's do-or-die activism for social justice is on the face of it amazing in retro and on the surface of a spread out buttoned economy.
Continuing to be one of this generation's to the highest degree coercive artists who are of the heart and soul, she got it all going on!
As extravagantly depicted on her yummy a la mode opus craft — The Age of Pleasure — her unfiltered ambition is rhythmically fading a far cry of conflict. Adding another layer to her discography, on the latter project — Monáe's downright dominion goes beyond the microphone. She adds her midas touch behind the boards as a producer.
"An earthbound affair. True to its title, it's filled with sensual music that's about feeling good above all else…Monáe's free-floating lustiness often brings to mind the music of Prince…" raved Wall Street Journal.
Very much painted by Rolling Stone (an American monthly magazine that focuses on music, politics, and popular culture) as — "Her most sumptuous album yet…", no rain threatened to put a dumper on an exclusive listening session that took place in South Africa, in jubilation of Monáe's latter out of the ragtag and bobtail titled sassy musical offering.
Held a little over a week ago, this exclusive event dubbed The Pleasure Brunch was brought to life by record label Warner Music Africa (WMA) — a consort of Warner Music Group (WMG) — a planetary leader in euphony repertoire and home to some of the far-famed labels in the recorded music industry.
Also leading off as a celebration of Pride Month, the brunch — co-hosted by uMs Party and South African Rhythm and Blues vocalist Thabsie — was a star-studded affair graced by celebrities that include actress, model, and presenter Pearl Thusi, DJ Zinhle, a Disc Jockey, producer, media personality and businesswoman, as well as rapper and television presenter Moozlie.
Ready to see Monáe spreading her wings, with The Age of Pleasure as the soundtrack, among the invitees list were online potent personages who were also welcomed to a time of positive stimulus — enjoying drinks, poolside chilling, and fun games. Ending off the event was an exceptional public presentation by exotic dancers and ultimately a poignant message from Janelle Monáe to her South African fans.
Executive produced by American rapper, actor, record producer, and record executive Sean "Diddy" Combs, musical artist Nate Wonder, and music producer Chuck Lightning — The Age of Pleasure lionises this (8x) Grammy Award-nominated artist's age of love and freedom. The good-as-possibly-can full-bodied auditory communication creation includes such new-sprung lullabies as Champagne Shit, Black Sugar Beach, Haute, Lipstick Lover, Water Slide, Paid In Pleasure, Only Have Eyes 42 and A Dry Red.
Also making the list of ballads rolled out are smash canons which are a formidable out-and-out revelation of Consequence's strong-willed character-breaking dodgeball, avowing the record album as — "An ode to freedom, joy, and yes, pleasure…"
Talent off the chain, on the lead ditty Float, Monáe enlists the versatility and intensity oozed out by Seun Kuti (the youngest son of Nigerian Afrobeat pioneer Fela Kuti) and Egypt 80 — his father's former band. The producer and performer, who is also a fashion icon celebrated across the globe for her inimitable expressive style and visionary sound, joins forces with American rapper and singer Doechii on Phenominal.
A hookup in the studio with Seun Kuti and Fela's Egypt 80, as well as fellow Nigerian Emo-Afrobeats vocalist, composer and record producer CKay — conceived a ballad named Know Better. Featuring Jamaican-born American model, singer and actress Grace Jones Ooh La La, becomes the context of how both artists have a wonderful taste in tonal pattern.
Afforded special treatment, not only did Monáe team up with American actress Nia Long and Ghanaian-American singer-songwriter Amaarae on The Rush, a shared love for tunes with Jamaican dancehall Disc Jockey and singer Sister Nancy ended in a studio bond that whelped a bubbling number called The French 75.
"Listening to the album is like being at the world's most polite orgy; the lyrics are dirty and bold, but the sound is mellow, subversive, enveloping you like a safety blanket…" wrote Associated Press.
Destined for the sprints, Janelle Monáe who latterly graced this month's cover of Rolling Stone, will lionise her red-hot epoch with The Age of Pleasure tour, getting afoot August 30 at Seattle — WA's Wamu Theatre.
The infectious hip-hop knocker will then travel to North America through mid-October. Produced by Live Nation, the 26-city tour will shuffle stops at such historic venues as Morrison — COs Red Rocks Amphitheatre (September 7), Chicago — IL'Byline Bank Aragon Ballroom (September 14), as well as Toronto — ONs Massey Hall (September 21).
Not wailing under the massive pressure and the efforts to spare her from the glaring fatigue, the fall of September will see the high power musician come face-to-face with beat revelers — who feed on anthems to satisfy cravings decoying their chewy souls — in New York City's Radio City Music Hall (September 26), and Brooklyn — NY's Kings Theatre (September 28). Getting drawn to the bunch, the tour will take a brighter turn to Nashville — TN's Ryman Auditorium on October 3, and Atlanta — GA's Fox Theatre Atlanta on October 6, before culminating at Inglewood — CA's YouTube Theatre on October 18.
*Grant Moyo is a prolific writer, innovative media personality, entrepreneur and a creative artist who is passionate about using his creative mind for the betterment of society. Follow him on Twitter: @TotemGrant
Related Topics