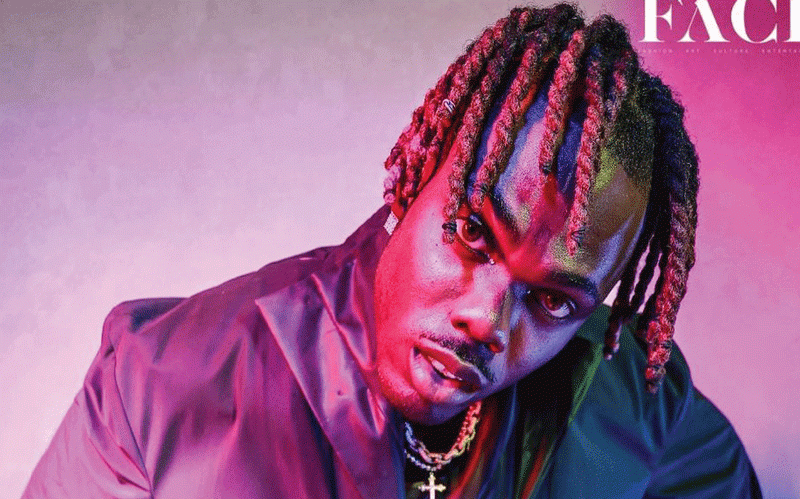 CKay is throwing his best fortune at being a valiant architect of quite a robust discography. Being the most booked African act last twelvemonth — with over 80 shows in 24 countries and igniting the Fifa Qatar World Cup fans festival with his juggernaut — this Emo-Afrobeats vocalist, composer and record producer is filling the niche much needed in the music industry.
Hiving away a bear-sized chunk of billion career streams, the latter is turning the screw — soul stirring wired and off the rail build ups that fully engross and move grand slam performances. Shading through and through snippets of nerves that divulge his vocal explosion — a date with North America as well as European destiny is beyond question a good steal of the spotlight.
So strategically placed, India is a pivotal market for CKay. Nora Fatehi a Canadian actress, model, dancer, singer, and producer known for her work in the Indian film industry performed a mashup of the Nigerian lofty maven's coniferous lullaby 'Love Nwantiti' in her set in Orlando, Florida. Coming out pretty beautiful, the latter smash ditty — not so long ago — went (20x) platinum in India. Here for a reason, CKay also covers India's digital magazine FACE (March 2023, Issue 05, Volume 04) — chronicling his pleasure trip in euphony, his creative process, and Afrobeats taking over the cosmos.
Accomplishing some personal milestones, the musician's anthem called 'Emiliana' has spawned over 70 million views on visual communication sharing platform YouTube, making it his fourth visual companion piece to reach this feat. With Tik Tok having proven to be an integral medium for euphony ingestion and for musicians to touchstone interest in a song they are mulling over, beginning of the year saw CKay premiering exclusively the Amapiano remix for his melody 'By Now' on the video-focused social networking service. The number has since piqued the interest of the singer's fans and 'Tik Tokers' alike, with over 24 000 creations and counting.
Earning his stripes, CKay — who learned his way around the piano from his father who was a choirmaster at a local church in Kaduna (Nigeria) — has been on stage kicking things off with his scorching performance at the African Nations Championship (CHAN) which took place in Algeria earlier this twelvemonth.
Besides orchestrating a stellar public presentation that blew the roof off at the Vh1 Supersonic 2023 festival in Pune, India — this ever blazing artist born Chukwuka Ekweani headlined his first university tour in his home country, aptly titled 'Boyfriend On Tour'. Swaying to his tunes, the Nigerian singer executed sonic builds that brought the undying support from the contiguous circle at universities listing Nnamdi Azikiwe University, Afe Babalola University, University of Lagos, University of Calabar, and Baze University.
Booked and busy, last month CKay's performances at AfroNation in Miami and Festival Santa Teresa (Canada) left rooters in an uproar. Next month he will perform with unclouded seventh heaven in his eyes starting out at Dour Festival in Belgium, shortly followed by a date with the bunch at Lollapalooza in Paris — where music lovers from all walks of life await to be absorbed in a sonic frenzy. Attention will then be snapped upon HIPHOP OPEN festival in Stuttgart where the 'Container' hit maker will blow out the minds of fanatics, before dispatching festival goers thunderously at the Weekend Festival in Finland — this August.
Taking a closer look at how CKay has been filling up the galactic gimcrack, he first shared snapshots of himself in Los Angeles back in February this twelvemonth with American singer, rapper and actress Janelle Monaè, American rapper, singer, and songwriter Roddy Rich, as well as Nigerian rapper, singer, songwriter, and record executive Olamide — hinting at possible collaborations. Oozing out the lush life, in the fall of April Ckay's studio bromance with Olamide whelped a lavish summer banger called 'Trumpet' produced by Nigerian record executive, Disc Jockey, music director, mixing engineer and songwriter P. Priime.
The rapper's laid back sound is complemented by the vocalist's signature moon fantasy on the glossy Afrobeats opus that merges everything that devotees all over the universe have come to love about the genre, which vividly includes its bouncy and melodic elements with Pop and Hip-Hop inflections. This musical composition 'Trumpet' has topped Spotify's African Heat and Apple Music's Naija Hits playlists among other noteworthy playlists that also include Apple Music's Top 25: Lagos and Top 100: Nigeria charts.
"Wanted to make music with Olamide for a really long time but the time was never right until now. Exciting times!" CKay said.
To flesh out the jam's sybaritic get-up-and-go vibes, director Jyde Ajala sets Malibu as a backdrop. The visuals open with the infamous Hollywood sign and rest in a lordly Los Angeles mansion. Hollywood's scenery become Olamide and CKay's vacation spot, as they tang ultimate ease over three minutes and eleven seconds. The video now sits pretty adorned at over 2,1 million views on YouTube since its premiere.
On a high, in his up-to-the-second track 'Hallelujah' — which was hatched slightly under a month ago — CKay teamed up with fellow rapper Blaqbonez. The beat's release marks the first of three new records which culminate in the launch of 'Sad Romance Deluxe' (June 16). Produced by Nigerian record producer, sound engineer and disc jockey Magic Sticks (Oxlade, Davido, Asake), 'Hallelujah' is CKay's first single since the 'Sad Romance Remix' package he released at the tail end of last March.
The larger-than-life auditory communication sculpt includes an Amapiano remix of 'By Now' — produced by OG Sterling x Arieenati of the Nigerian producer collective On some fly shit! The latter is behind some of the auditory sensation from mega music maestros like American-born Nigerian singer, songwriter and record producer Davido and American rapper DaBaby. Also on the pack is a re-imagination of 'Emiliana' by DJ Yo! and AX'EL, who both remixed CKay's bona fide global chart topping smash canon 'Love Nwantiti' in 2021.
'Hallelujah' is a different feel from the emotional bargaining CKay did in 'Sad Romance' and the hotshot is to a lesser extent willing to hash out the high he now finds himself in. The release of this a la mode lullaby ties in a young CKay in his puerility church in Kaduna, Nigeria — with the superstar, with a dream realised — becoming one of the biggest names in Afrobeats. From the onset, the song is overweening, with CKay showcasing a chronic level of self-awareness. It strikes a balance between confidence and inner sensitivity.
In the crispy fresh sound, CKay opens a tattle: "I just wanna make love and money/Walahi suffer-suffer life is not for me." The self-defined Emo-Afrobeats ace later sings, "Nobody pass the almighty/Nobody fit follow me fight." Blaqbonez complements his zip impeccably, as he equally flexes in his verse, letting anyone who is card-playing against him know they would do well to be on the victorious squad.
This first piece of music, 'Hallelujah' sets the gait and the vigour for the upcoming 'Sad Romance Deluxe' on June 16th, which will — if this auditory sensation is anything to go by — unwrap a much more musically dexterous CKay!
n BIOGRAPHY: Grant Moyo is a prolific writer, innovative media personality, entrepreneur and a creative artist who is passionate about using his creative mind for the betterment of society.
Follow him on Twitter: @TotemGrant
Related Topics