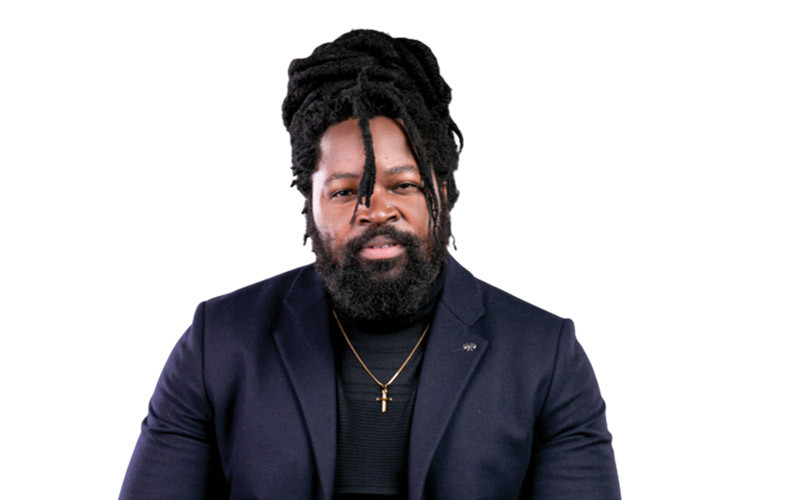 SJAVA who fired up into the music industry after hatching a-good-as-possibly-can body of work 'Isina Muva' (2016) — a 'Best Produced Album' duple award winner — possesses a lethal range that tabled and totally embodied a feature in the Kendrick Lamar-curated and Grammy nominated Black Panther: The Album soundtrack in 2018. Rain no hurdle, not only has he significantly won a BET award for 'Best International Act', in 2019 he bagged gongs for 'Best Afro-Pop Album' as well as 'Album of the Year' at the South African Music Awards, with his sophomore melodic offering called 'Umqhele'. Despite facing just about every scenario possible making his way through African Trap and Afro-soul, it has required countless courage and dedication for Sjava to unite for a monumental musical moment with rapper Big Zulu.
All about the goal, switching gears working for it, looking forward to getting to the next height standing head and tail above other talents — when rap music took center stage — boisterously asserting by its way, the latter knocker who fluxes Maskandi and Hip-Hop with his engrossing flow and cadence, knew that he wanted to have a solid career living his dream. As a credo to his doggedness and natural endowment, it was Big Zulu's third project 'Ichwane Lenyoka' (2021) that helped slingshot him to superstardom. He walked away with trophies for 'Song of the Year' ('Mali Eningi') and 'Album of the Year' at the 2021 edition of the South African Hip Hop Awards.
Not pulling the wool over someone's eyes and barely expletive in the thick of harnessing astronomic reputations of somewhat ever devising fearless their antithetical approaches to music, Sjava and Big Zulu's union as Inkabi Zezwe — which at its center is a torchbearer for love, affinity, and creativity — is rooted in brotherhood and honoring their IsiZulu culture. At the precipice of an unputdownable bit, this duo from the hills of Bergville, KwaZulu-Natal, dropped their debut number titled 'Umbayimbayi' a little over a month ago.
Playing in our homes, automobiles, workplaces, and taxi ranks — this lullaby henpecked several charts in just 3 days of its delivery and went gold as well as platinum two weeks after it was whelped. High-and-mighty on radio charts and cyberspace euphony streaming platforms — hiving away more than 2,8 million streams — the jam has speedily risen in popularity.
"Music takes a lot of time and attention. We have always wanted to collaborate but have been waiting for the ideal opportunity. The outcomes we have now might not have been possible if we had hurried to collaborate," Sjava said.
Joining forces with Warner Music Africa (WMA) on this a la mode undertaking — an ambivalence of genres squeezing out a prime possibility to conceive of and make over sound that is not only an autobiographical anecdote of their intimate worlds but as artists who are heedful to contemporary South Africa — has been well in the whole kit and caboodle. It marks a spick-and-span apparent horizon for both the recording label and the musicians. Echoing decisions contemplated, Warner Music Africa MD — Temi Adeniji — put limelight on the realistic prospect audible stretch of the wake of this up-to-the-second merge.
"This idea (of bringing Sjava and Big Zulu together for a one-time project) started to percolate . We wanted to do something really special! Things didn't immediately fall into place — meeting after meeting, putting all the pieces together, and coming up with a structure that worked for all parties. After a few months, we came to a meeting of the minds, and it was like everything clicked! For me, this project signifies so much. It's the first really big project Warner has done since I came in. And given our intention to transform our business and really bring it to the centre of the culture here in the country (South Africa) — it couldn't be more perfect in my opinion!" Adeniji said.
Produced by Inkabi Records artist and producer Xowla Shabalala, also known as Stallion, this ditty which is a precursor to Sjava and Big Zulu's joint record album called 'Ukhamba' — is an Afropop tune mixed in with Maskandi elements. Seeing the world in each other's eyes, although fresh and forward-looking, the hit which is the duo's first take at championing a rich, bulbous and ethereal soundscape — is filled with references and remnants of their culture.
In a blink of an eye in the chorus they sing; 'Sengizok' thengel' umbayimbayi we dali / udubul' intaba zangakini / uzong' bona njalo'. As the IsiZulu term for a canon, 'Inkabi Zezwe' use the ikon of 'Umbayimbayi' to flesh out the depth-and-breadth of an long-suffering love that triumphs over whatsoever deterrent in its itinerary — even the highest mountain!
'Umbayimbayi' presently holds the top spot on the Mzansi Hits and Mzansi Soul playlists as well as the Top 25 Durban chart on the streaming site. Literally the stepping stone to greatness, this smash canon — which climbed into the top 20 charts just 3 days from release, charting at position 18 (RAMS) with 39 plays and 5,3 million impressions across all South African radio — yanked uncertainty down by catapulting to top spot on Spotify South Africa Top 50 chart and Apple South Africa Top Songs chart.
On Spotify, the anthem placed number 1 on the Made in South Africa and Bhinca Nation playlists while across-the-board thriving a monthly listenership of 39 000. Reigning on the Apple Music pinnacle, this red-hot opus has held the first position on the Top 25 Johannesburg and Durban, as well as Top 100 South Africa Charts. Not shying away from Sjava and Big Zulu's dilly dallying winning habits, besides dominating the peak on iTunes — having relished a placement at number 3 in earnest — 'Umbayimbayi' cemented that Audiomack number 1 spot across South African charts.
Getting a low down on how the record is weaving through the potential to go viral, a little while ago this beat was the number 1 trending ballad on video streaming platform YouTube — piling up over 250 000 views and wreaking just over 218 000 across platforms. All-but bidding for a game face ahead of next month's spectacular full-bodied auditory communication perception release, in a fleet period of time, Inkabi Zezwe's social media audience is flourishing at an exponential rate. On video focused social networking service Tik Tok — followers are way more than 10 200, with the opus bossing with over 100 000 creations.
"The love and support we are getting from the masses working on this project, means a lot. It gives us as musicians full confidence that our music is being appreciated. It is fantastic that everything is going as planned!" Big Zulu said.
As the vision crystallizes, so many cool mysterious things concerning Sjava and Big Zulu are blossoming. Sharing a quaint intrigue for community and the beauty of mutual experiences — 'Ukhamba' — the rich tapestry of complex IsiZulu identities, its people, and its ambition, shall be thrust in the limelight. More than happy to welcome anyone at their events, enthusiasts will be indulged in first hand experience of the artists gushing their much-anticipated collaboration on stage as Inkabi Zezwe at their nationwide tour — commencing towards the tail end of June.
Grant Moyo is a prolific writer, innovative media personality, entrepreneur and a creative artist who is passionate about using his creative mind for the betterment of society.
Follow him on Twitter: @TotemGrant
Related Topics