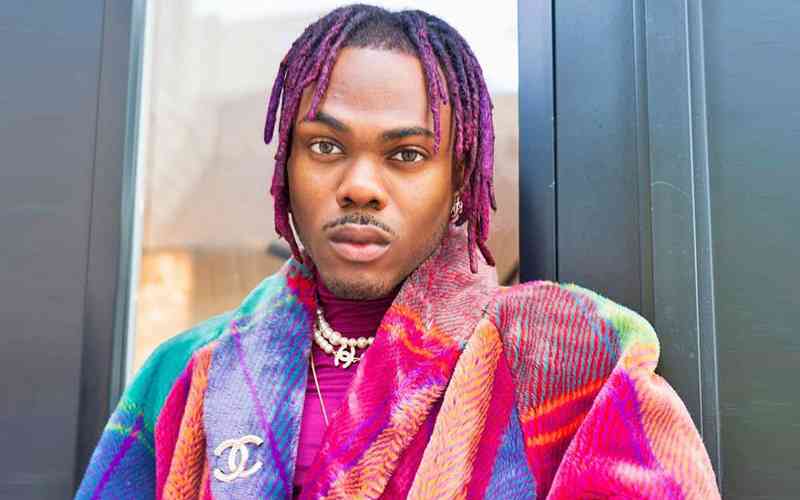 Dashing off the pep talk, CKay has an ultimately bubbling wondrous vocal juxtaposition and a romping trigger-happy musical balance that continues to shove and sideline hobbles — comprehensively setting the internet ablaze in the prior stage of his phenomenal ecstasy.
From catapulting on top of the charts, to wreaking over three billion streams as well as officially garnering way beyond 15 billion visual communication views on video-focused social networking service Tik Tok — it is fitting that this Nigerian Emo-Afrobeat vocalist, composer and producer makes an edgy appearance at this year's Vic Falls Carnival 'Main Stage'.
With the festival director Craig Bright having refused vehemently to be such an outcry that causes a halibut of error, Africa's most invigorating music and adventure fete returns for its 11th edition at Elephant Hills Resort from Friday April 28 to Sunday April 30 2023.
Organized by a groundbreaking team ever willing to plunge deeper, the destination carnival will this year muster in a pretty nuts lineup of over 30 of Africa's hottest music acts that love to push their limits while working hard and having fun.
The Vic Falls Carnival which hit the ground running in 2012, draws in over 5000 party-spirited visitors who gather to lionise Africa's diverse cultures, arts, euphony and food every twelve month. It takes place in the resort town of Victoria Falls, a stamping ground far-famed for having one of the seven natural wonders of the world 'Mosi-oa-Tunya' (the smoke that thunders).
Integrating Africa's galactic artistes for a three-day music extravaganza propped with bungee jumping, helicopter flights, white river rafting, day trip safari to Chobe National Park, sunset cruise down the mighty Zambezi river, high tea at the Livingstone hotel, gorge swings and wildlife, the Vic Falls Carnival is far-famed as one of the apical 10 music and adventure festivals on the planet.
Causing a lot of noise is Trace TV — an initial destination for the a la mode citified and afro-urban celebrity news, music, lifestyle, amusement, and culture — that bounces back as the official media partner for this year's edition of the esteemed carnival. Not missing the mark, Star FM Zimbabwe is the official radio partner and Pula Power is the fete's Botswana TV partner.
Pushing the tipping point of redemption, Wild Africa Fund — which employs mass communications such as the Music for Wildlife Concerts and Poaching Steals From Us All campaigns, to raise awareness of poaching, habit loss, and diabolical human-wildlife conflict — is the official conversation partner. It kicks upstairs wildlife tourism and carbon offset as the root system of conservation and sustainable development financial backing. OAS1SONE RockstarTV is the official 'Premium Live and On-demand Streaming' and content partner.
What is more, a spic-and-span festival betterment for Vic Falls Carnival is the first ever "VFC: Destination Livingstone" in partnership with Timedia, Kulture Xchange, and Radisson Blu Mosi-Oa-Tunya, Livingstone Resort.
It will take place at the Radisson Blu Mosi-Oa-Tunya, Livingstone Resort over the same weekend, featuring headline acts (including CKay) from Vic Falls Carnival as well as a host of local acts.
Bright disclosed that "VFC: Destination Livingstone" was whelped from the desire to let in the Zambian side in the auditory sensation experiences to make over a larger festival footprint and reach more rooters than ever before.
Born Chukwuka Ekweani, CKay, also known as 'Africa's Boyfriend', is spearheading a self-coined subgenre — "Emo-Afrobeat" — to best describe his sound. His hit lullabies "Love Nwantiti" and "Felony", earned him global recognition with the former ditty spurring multiple international remixes — and Tik Tok users from across the universe further coagulated his spot at the top with the "Love Nwantiti" Dance challenge.
Sky rocketing into superstardom, CKay's remix of "Love Nwantiti" featuring DJ Yo and Axel, became the planet's 'most Shazamed opus' (the number of times a user pushes the button to identify a record that is playing) on Shazam — an application that can identify music, movies, advertising and television shows, based on a short sample played and using the microphone on the device. This ballad actuated him into the history books to become the first African artist to hit 20 million Spotify Listeners.
CKay joins the already stellar line-up of artists listing Musa Keys, Jah Prayzah, Oskido, Black Motion, Enzo Ishall, Boity, Mi Casa, Mafikizolo, Khoisan, Tashinga, Nitefreak, DJ Liz and Andrea the Vocalist — to mention but a few acts primed to lit up the Vic Falls Carnival.
"The mission is to take African music to the world. We've already done that, but it's still a work in progress, still doing, working, adding more building blocks every day, trying to expand our reach. I feel African music is too amazing to keep to ourselves, I think we should spread it and hold on to it at the same time," CKay said.
Supremely dazzling, hatching bang-up lullabies on the bounce and big powerful jaw dropping Afrobeat moments that will leave festival-goers marvelling at the gravel in his notes that are on the far side of catastrophe — is no longer a mountain but a hill to climb for CKay, who is always eyeing landmark records!
Grant Moyo is a prolific writer, innovative media personality, entrepreneur and a creative artist who is passionate about using his creative mind for the betterment of society. Follow him on Twitter: @TotemGrant
Related Topics