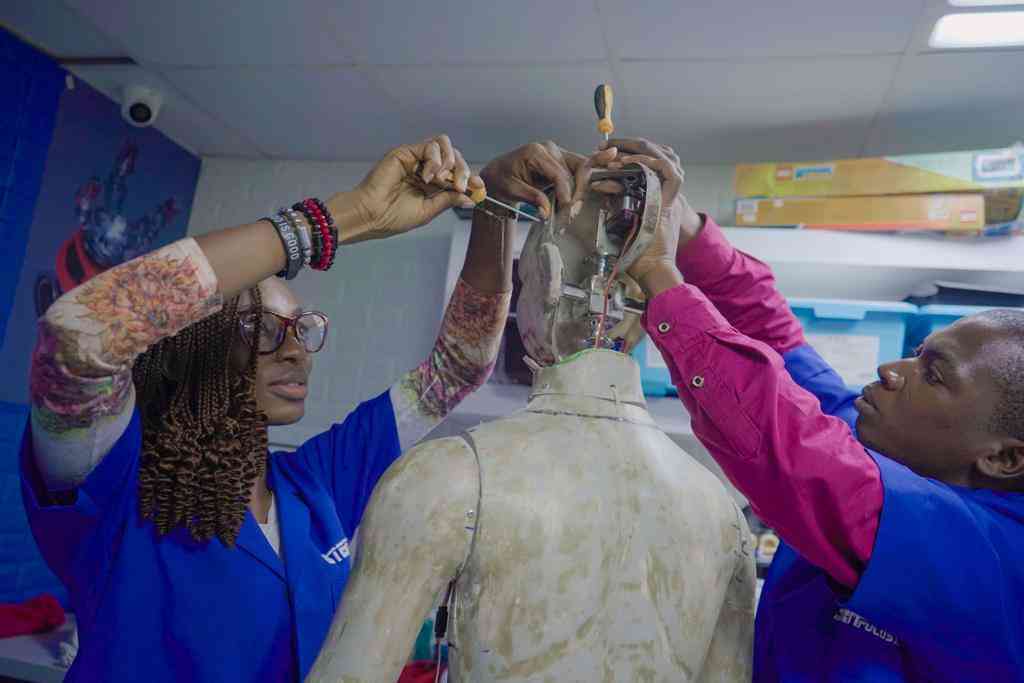 Aside from the mental hurdle big time players in robotics had to climb — being ostensibly a distance away from a backlog of dreams in a historic period of no error — destiny dictated that complete dystopia narrative demanded the advent of artificial intelligence (AI) to impact the spine of manpower.
And it is fair to mention that the extent of the emergency called the robotic technology to design humanoids to assist the workforce deep right to the bone, reaching out every substantial field come-at-able.
Nipping chips off the block, on the surface Pepper, Ameca, Alter 3, ARMAR-6, Astro, Atlas, Beomni, Digit, Jiajia, KIME, Nadine, NAO, Ocean One K, Ocean One, Promobot, Robonaut 2, RoboThespian, Sophia, Surena IV, T-HR3, Walker X, ASIMO, Erica, Junko Chihira, and FEDOR are fashioning affirmative upshots in industries like healthcare, education, manufacturing, logistics and hospitality.
Tying the infeasible in knots, with a human-like aspect portrayed through appearance, behavior, context of use, speech, or a combination of these characteristics, these phenomenal artificial creatures are performing human-like activities such as walking, talking, playing, interacting, and working — above all. Chief characteristics shared in common with Africa's first humanoid robot Omeife — a lone provider of language as a service for businesses needing to integrate native African audiences.
The statista report of June 2021, purported that over the past decade, sales of industrial robots have accrued crisply, while in 2018 the sales of robots were 422 000 units, in 2019 it was noted as 373 000 units. Guarding the AI grid, experts are providing muscle and brain, steeply perpetuating design cues surfacing the willingness to attribute human roles and tasks to an android. Peculiar about an overall preference for the robot as a social actor — besides pinpointing the need to ameliorate dexterity, speed and the ability to walk in a stable fashion, critics noted that when trying to develop a robot that is both affordable and useful, a humanoid kind of shape and size is not necessarily the best way.
Definitely on a come up and set to blow up to the maximum, the sector is expected to mature in spite of the reality that the function of humanoid robots is still pocket-sized and evolution costs are high. The humanoid robot market was valued at $1,5 billion in 2022 — according to research firm Markets and Markets — and is predicted to spawn to more than $17 billion over the next five years.
Moving into an epoch where co-existing with robots permeating with functionality is a reality, in 2020 Alter 3, with increased detectors and reinforced communicative ability and vocalization system for singing, conducted an orchestra at the New National Theater in Tokyo and partook in other live performances. Capable of using drills, hammers and other tools, ARMAR-6 also features AI technology permitting it to pick up how to grasp objects and hand them to human co-workers.
Finding ways to sniff out moments of infinity, big time players in robotics are digging through Artificial Intelligence. Astro uses machine learning — to learn how to pick up objects and is currently working in a variety of industries ranging from manufacturing to logistics. Taking center stage, Atlas is used by company roboticists as a research and design tool to increase human-like agility and coordination.
Humanoid robots' appearance and behavior provide social cues about their purpose and abilities. Looking confident in its situation, Digit is capable of unloading trailers and moving packages. Thrust into the spotlight, KIME, Macco Robotics' humanoid robotic bartender, serves beer, coffee, wine, snacks, salads and more — while OceanOne — a diving humanoid robot from the Stanford Robotics Lab is diagnosing shipwrecks. In 2016, in its inaugural seafaring, the latter ventured to the Mediterranean Sea off the coast of France to look into the wreckage of La Lune, one of King Louis XIV ships that was sunk in 1664.
Being at the center of attention, Pepper has worked as a hotel concierge and has been used to monitor contact-less care and communication for older adults at the peak of the Covid-19 pandemic. Finding tonnes of reasons to bring the spotlight on humanoids, more than a decade ago, Robonaut 2 became the first android to go into space, and worked as an assistant on the International Space Station until 2018, when it returned to Earth for repairs. Discovering its voice, RoboThespian is able to perform for crowds and work in places like the Kennedy Space Center where it responds to questions about the Hubble Telescope from queer travellers.
While Toyota's humanoid robot, T-HR3, is controlled by humans clad in wearable devices, Nadine is fashioned to play the function of a receptionist or a personal coach. What is more, developed by Hanson company of Hong Kong, Sophia the world's first robotic citizen (given a full citizenship of Saudi Arabia) has made a public appearance, interacting with the public and interviewing humans. Not only has the latter travelled the world, graced the cover of Cosmopolitan Magazine and addressed the United Nations, it has made multiple television appearances on The Tonight Show Starring Jimmy Fallon (NBC).
Different from Sophia and ASIMO, Erica cannot walk but it can interact well with others. This robot works as a news anchor. Apart from it being also known as 'Trilingual Android' due to its ability to mouth off three languages namely Japanese, Chinese and English — Junko Chihira can also communicate in sign language. Primitively famed as Robot Avatar, FEDOR was intended for rescue missions. The automaton is specially designed to carry through aid and deliver astronaut roles.
Keen to make human-robot communication more effective, Omeife (Africa's first humanoid robot) was duly unveiled at the world's biggest technology event, Gitex, which took place at Dubai World Trade Centre in the tail end of this twelvemonth. It is a multipurpose as well as assistance six-foot-tall robot that speaks African languages and programmed to have a deep understanding of the African culture and behavioral patterns. It was created by Uniccon Group of Companies. As one of Nigeria's fastest growing technology startups this forward-looking establishment offers eclectic, innovative technology solutions to businesses and government agencies across Africa.
Omeife has terrain intelligence — knowing the level of ground and firmness of itself on the horizontal surface — aiding it to navigate on non-flat surfaces and hold over good balance. It has position cognizance, GPS for location and state-management for knowing whether the system is standing, walking, or talking.
Advanced gestures like expression while talking, hand illustrations, smile and other bodily gestures are some of its common features. Moreover, Omeife is designed with grip, ability to size, understand shape and how to hold things with the hand.
This African android has real time savvy, combat-ready hearing and ability to focus on a circumstantial spoken communication thread as it is occurring. Programmed to be multilingual, Omeife has the ability to switch linguistic communication and interact with the specific gestures. More to that, it incorporates a vivid native accent — pitch and vocabulary detailed pronunciations of words, sentences and even phrases.
Utilising a clear-cut face detection, this female golem identifies and tags humanity through face and facial expressions. Besides integrating subject focus — paying attention to a specific item when required — the daring robot unifies object detection (identifies objects and knows their characteristics) as well as distance analysis (calculates positions and distance of objects it sees).
With a straight-from-the-shoulder discussion awareness and focus, Omeife pays attention to a specific person to keep the conversation alive. Its politeness gives room for it to be careful and aware of words, phrases, sentences as well as expressions that are not polite in African cultures. Consequently, 'smooth interaction and not reactive' — point-blank depicts characteristics which makes Omeife safe for kids.
Having been created with a learning pipeline to always improve and understand new things from conversations, this African android is lettered in various fields and always teachable. It holds strong retention, thus, the ability to recall and to understand old concepts better with new information. Conveying the tidings on the 'Omeife Project', Chuks Ekwueme, CEO of Uniccon Group of Companies, confirmed the well-stacked positive energy floating in the heart of this groundbreaking development.
"Africa is fast being recognized for its contribution to the global tech ecosystem. Through Omeife and other projects, we're happy to play a part in helping businesses and people all over Africa to achieve their fullest potential by providing access to the most innovative technologies for efficiency, " Ekwueme said.
Planting its footsteps in each and every stepping stone, it is hard for Uniccon Group of Companies to escape the position it has endeavored itself. Showing no sign of loosening up, this trailblazing establishment has climbed in the galaxy of big time players in robotics listing Engineered Arts, Intelligent Robotics Laboratory, Osaka University, Android Technics, Stanford Robotics Lab, Beyond Imagination, Agility Robotics, University of Science and Technology of China, Hanson Robotics and Tesla — led by Elon Musk, to mention but a few.
Trailing on the heels of sunshine, certainly, the growth and demand of advanced humanoid robots with greater AI capabilities and human-like features that can fill up life's cracks in the service industry, education and healthcare — has become a self perpetuating habit. Elastic band flicking, although in its infancy in Africa, this development will change the face of robotic technology within and beyond the landmass where the margin of error is zeroing in, as robotics heads are fain bringing in a spurring common purpose to work together.
Grant Moyo is a prolific writer, innovative media personality, entrepreneur and a creative artist who is passionate about using his creative mind for the betterment of society. Follow him on Twitter: @TotemGrant
Related Topics