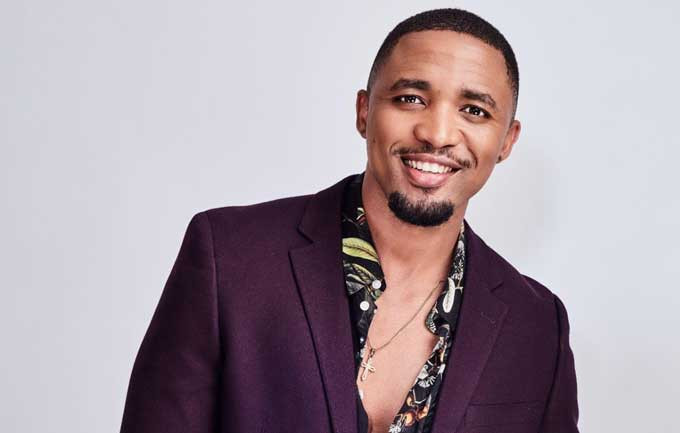 The type of music I make now is more meaningful and has more substance than before. When I'm within my creative process, I go a bit more deeper than I used to.
The aim is to convey a message that moves the listener both emotionally and spiritually, says Sandile Mfusi, weighing in on how he has stepped out of the shadows to serve a cracking euphony menu that is saucily luring devotees in drips and drapes.
Tweaking imps making his career wince, the passage from pop to inspirational musician was peradventure — not a hands-down option to do— for this singer-songwriter and established motion picture actor, known publicly as Masandi.
Prepared to go to combat, going for the equation full-throttle, outdoing himself, was a life-or-deathbit in his narrative. Amazingly powerful, popping the cox amicably changing the dynamics of his niche in the showbiz, the fall of 2022 period of time has seen Masandi progressing plentifully.
Enjoying a good spell on set in front of the cameras, besides playing the role of 'Fanyane Fana', known also as 'Junior' on ETV's boundary-pushing adult-only prime time risquetelenovela 'The Black Door', this twelve month the multi-faceted entertainer joined the cast of the South African Film and Television Awards (Saftas) 'Best Soapie' award-winning hit soap opera 'Uzalo' (SABC 1), playing the character 'Kwanda Buthelezi'.
Absolutely beautiful, on the far side of his desire for reel, he kicked into gear, hitting the right notes behind the microphoneon his well knit EP titled 'Kaleidoscope' (2022). Forging forth, barely a fortnight ago he yielded big at this year's edition of the Crown Gospel Music Awards. The cinematic visuals of his ditty called 'Ithemba' bagged a gong in the 'Best Music Video' category.
On 'Kaleidoscope', Masandi diagnoses his spirituality, a boulevard he may not have always took hold of in his sound as a recording artist, but has been an integral part of the tapestry of his existence thriving up as a pastor's kid in KwaZulu-Natal (South Africa). The changeover into sacred auditory sensation had been an essential stride for the young musician on his trip, but it was not until after surviving a car crash that he reasoned this much closely. 'Ithemba' was dropped in 2020, serving as a reminder to stronghold faith during a bleak time in the world's history (Covid-19 global pandemic).
Masandi re-imagines the classic South African hymn 'Ithemba Lam', with a crisp and galvanising approach— stage setting the temperature of the remainder of the seven-track EP with records such as 'Ngibonga Wena' and 'Noma Kunzima'. Produced by well-known Gospel, Afro-pop artiste and producer Mojalefa Mjakes Thebe, 'Kaleidoscope' is a directional pale of what contemporary South African praise and worship might look like— with Masandi as the torchbearer.
Despite missing out on the 'Best Newcomer' accolade, he headed home with a glorious smile after scooping the prestigious gong for 'Best Music Video' at the recently held Crown Gospel Music Awards. Pocketing finesse, this award-winning graphic to 'Ithemba' was shot by prominent South African director Monde Dube. Precisely complex as usual — with a pristine sense modality and zing beyond his age — this video director's amicably groovy means of telltale and debunking through illustration permits Masandi to express, as he does in lyric, the air-filled comprehensiveness of his faith.
"The main purpose of the performance scenes was to capture Masandi on a spiritual journey. We followed him walking on a long road to show him on a pilgrimage home, toward himself. The scenes we incorporated such as the desert scene give depth to his journey and help viewers imagine just how rich and complex a spiritual voyage can be, and hopefully, it inspires them to explore their own," Dube said.
To lionise this triumph, the tail end of this twelvemonth forth gives prominence to Masandi sharing an EPK where he talks fans through cardinal moments in his melodicjaunt and everything that has influenced him as an artist thus far. The 'World of Masandi' will give savvy into the vocalist composer's puerility; how he was raised, his time in school; and the philharmonic genres that wrought his plan of attack to opus-devising.
The star also divulges inside information of his nighlethal motor vehicle accident, which was a catalyst for his venture into gospel music. As Masandi mounts his own itinerary in both life and tunes, what remains of the essence for him is the relation he has with his fans and bringing them ever so side by side to his macrocosm as well as ennobling them to live in their truth.
"My dream is for people to look at my path and how I've carved out my life and see themselves. We are all really seeking the same light and we're doing the best we can with the resources we have, that said, there's always room to stretch ourselves beyond what we could ever imagine. I want to inspire people to reach deep within and nurture the relationship they have with themselves and God. I am so happy and grateful to have been awarded this award and to be recognised by the Gospel community. This is only the beginning of the great things faith and God can do," Masandi said.
Taking a jab at sloppy consistent threads of rants and raves derailing telepathically — patently shaking him to the core —as an artist who has newly ventured into a different musical space, to have the community not turning a blind eye on him is no mean feat. Drifting towards the appetite for a golden chance to hit the front powered by a refined kick upstairs, the prospects of an adequate apparent place in the praise and worship canon, punctures any chances of distortion or jeopardy tied on total setback.
BIOGRAPHY: Grant Moyo is a prolific writer, innovative media personality, entrepreneur and a creative artist who is passionate about using his creative mind for the betterment of society.
Follow him on Twitter: @TotemGrant
Related Topics