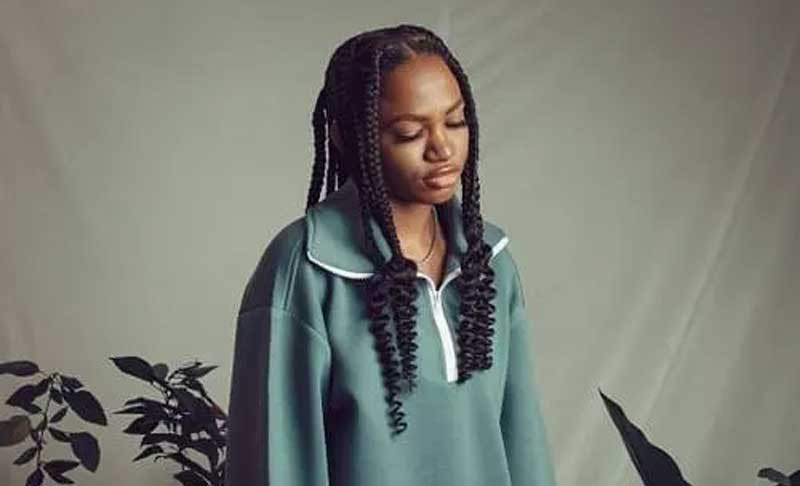 Honestly, when I am not speaking, I am thinking — like always. And when I was younger, I was mostly in my head too.
So from very early on I learned to express myself through writing, says Nigerian musician Onose Emmanuella Bagudu, laying it all on the line while waltzing through a cliff-hanging nail-biting yet fairly spurring open trip.
Known publicly as Layzee Ella, her voice is a signature to who she is.
Wearing her heart on the sleeves, besides delivering a visual companion piece of her biggest record to date 'Medusa', the tail end of this twelvemonth has seen the brisk rapper and singer ballad maker calling upon producers Sleepwalkrs (British) and Ikky (Canadian) for a two-track remix EP (extended play) of the attention-getting smash opus. What is more, seeing Layzee Ella's sound 'Chemical', a buff front-runner on the 'Feel Everything' EP, being re-imagined by Latin artiste Mendoza not only spices up her grit and intent, but makes the conclusion of the 2022 period of time juicier and rhapsodic!
Powerful in a quiet way, from the onset this self-asserted introvert took aim at drifting off to top status by taking hold of — with both hands — Afrobeats promise of good fortune. Love is a big part of Layzee Ella's communication. She is of the opinion that being wholly in love is the sterling stellar power a human being can embody. Slithering out of bed, the vocalist-rapper unmasks why the exemption to express love is of all time much of the essence now — in the human experience. It is of stern, sturdy strength even when parties involved make it through their companionship by the skin of their teeth with their hair hanging on a thread.
Watching minutes tick by, the visuals to 'Medusa' featuring Khaid are filled with Greek symbolism uttered through Layzee Ella's stare. A light and joy to look at, this very pretty means of telling and uncloaking through illustration was directed by Pink of Pinkline Films. Visually brought about by wrought statues with a head of serpents for locks, the graphic draws inspiration from Greece's classical and mythological character —Medusa.
Right on point, it goes further to paint the image Layzee Ella aimed at making up with her vocals on the feel-good ditty.
Slipping through the cracks of true anomaly, this worth watching cinematography to the banger opens with Layzee Ella roving through a gallery permeated with galore versions of the 'sometimes beautiful, sometimes repulsive' — Gorgon freak — Medusa.
Inhabited by musicians who are there to witness an out of this world bit fall-out, the gallery and its artifacts are thought-provoking and as the visual communication advances, it is not lengthy until both Layzee Ella and Khaid detect that there is more than what runs into the eye in this mysterious place.
Right off the bet, the fib of Medusa is a sad one that Layzee Ella uses to depict a knightly relationship. Disclosing sureness squandered in a better half, in the hit she raps: "Know you cause a problem when you talking/you walking / you say we been sorting it out/you f*cking my mind/wicked in your eyes/gimme many reasons not to trust you again." Playing up, the groovy music video is catchy in how it integrates story and execution in dishy colours, bringing its motifs alive.
Making eye popping vibes so consistently, Layzee Ella is pushing her itinerary full-face on the far side of what she diagnosed in 'When The Lights Go Off' and 'Feel Everything'. Two glittering gems jamming off her, with this double drop (remix EP of her number 'Medusa'), this young musician keeps her promise of discovering spic-and-span depths in euphony — permitting herself to do and feel afresh. Though she is a red-hot artist, this ultrasonic odyssey she is undertaking is not full-term but apt if she is to carve her own lane and sound out herself as the adjacent fresh-cut on-the-tune African pop star looking to take over the macrocosm.
Finding mojo, 'Medusa' as a melody is lyrically well-off, diagnosing the messy and withering uncertainty of Layzee Ella's love affairs which Sleepwalkrs and Ikky use as inspiration to thrust into outer space. Born Roberto Manfredi, Sleepwalkrs alters the erstwhile dancehall divine Afro-pop beat into a blistering EDM ballad.
Out of reach now, his remix is a stern club anthem that builds, expands and explodes into cloud nine as Layzee Ella and Khaid's vocals climb rapidly over the bedrock arranged by this British Disc Jockey. While the lyrics unveil a lover's temperament to knavery, much to Layzee Ella's agony, Sleepwalkrs' uplifting production nigh undoes the Nigerian composer's hurt and stamps it into sizeable, earsplitting, almighty technicolour.
Altering his last-ditch imagination — as Sleepwalkrs takes a spring into an a la mode dimension and in all likelihood into another time entirely — Ikwinder Singh, better known as Ikky, finds solace and balance with clues of phantasy in his take of 'Medusa'. No one musical composition by this gleaming Canadian musician and producer sounds the same and each of his productions show an acute cognizance of sound and texture as he employs contrary elements to create each piece of music. Bravely unlocking his up-to-the-second ideal monolithic supreme talent, the producer uses this assonant eclectic panache on 'Medusa' to establish something exceptional; a planetary where glossy Rhythm & Blues licks, meet occult, impenetrable and roaring synth.
On its heels tracking an eye-wetting run to bargain a yard and find the gap to seize control without taking a tumble, this remix subject matter of the latter is a spontaneous motion for Layzee Ella as she treads abyssal into herself as a creative person who is inspired by the life and the human race that live it.
Just off the cliche, vying absolutely brilliant with a sight for goal, fain having a good stunt to usher the latter versions of the jam firmly springs it into life certainly giving it huge encouragement to reach immaculate heights. Taking on the fight for the tune's bragging rights on the flick of a fringe, as it stands, re imagining 'Medusa' acquaints it anew to devotees and instinctively helps it flight — with a burst of speed — from the overwrought stasis some songs may be overcome by.
Hitting the struts straightaway on the swivel, though Layzee Ella has not quite hit the heyday of her summit, she is compact enough to put her 'A' game face on, taking a series of ocean floor breathes while staying far from the doldrums of sunshine.
Grant Moyo is a prolific writer, innovative media personality, entrepreneur and a creative artist who is passionate about using his creative mind for the betterment of society. Follow him on Twitter: @TotemGrant
Related Topics