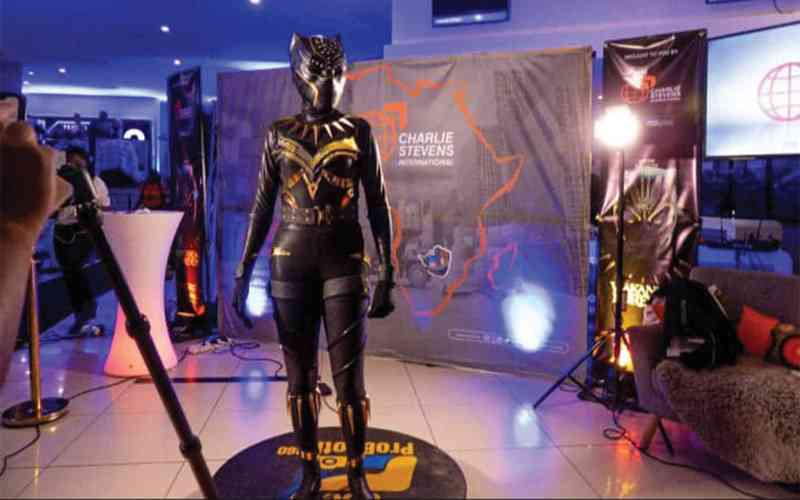 SONGSTRESS Anita Jaxson, wowed fans who attended the premiere of the movie Black Panther 2, as she made an appearance dressed in similar riggings as the Black Panther at Sam Levy's Ster-Kinekor Cinema on Friday.
According to the film synopsis, Queen Ramonda, Shuri, M'Baku, Okoye and the Dora Milaje fight to protect their nation from intervening world powers in the wake of King T'Challa's death. As the Wakandans strive to embrace their next chapter, the heroes must band together with Nakia and Everett Ross to forge a new path for their beloved kingdom.
Jaxson was revealed to the revellers around 6:30pm when multitudes of merrymakers were strolling in for the film.
Cheering and ululations broke the scene as the crowd was mesmerised by the surprise appearance of Jaxson dressed as the marvel super hero.
The environment at Sam Levy's Ster-Kinekor Cinema's was filled with comments from astonished merrymakers who queued to get captured with the 'Black Panther'.
Speaking to Standard Style, Jaxson expressed her gratitude to one of the event sponsors, Charlie Stevens International, a company that does customs clearing, courier and logistics for giving her the opportunity to appear at the film premiere resembling the Black Panther.
"I'm honoured and excited that I got selected by Charlie Stevens International to be appearing dressed like the Black Panther, and I cannot wait to watch the film too," said Jaxson.
The film promotes women empowerment as seen through the roles played by women as the Dora Milaje warriors which was headed by Okoye, real name Danai Gurira, a Zimbabwean-American based actress.
Jaxson also shared that she is proud of Gurira and would like for her to keep soaring.
"I am so proud of her and would like to let her know that we are watching her and the movies she is making keep us inspired," she said.
"My outfit was made by Jasper the designer and he is so talented, looking at the details of the outfit, everyone is so astounded."
Charlie Stevens International MD Chiedza Makwara highlighted that their company was still growing, working with big companies such as National Foods who were also sponsoring the event, has given them good exposure and definitely would like their company to engage more in the entertainment sector as sponsors.
"As Charlie Stevens International, we are a young company which is vibrant and energetic and we really have the arts at the centre of our passion, while we do the logistics, the customs services and the courier, we also work with artistes," she said.
"I would also like to emphasise that we do not have rights to the Black Panther franchise, and Jaxson is merely coming in as cosplay."
Related Topics