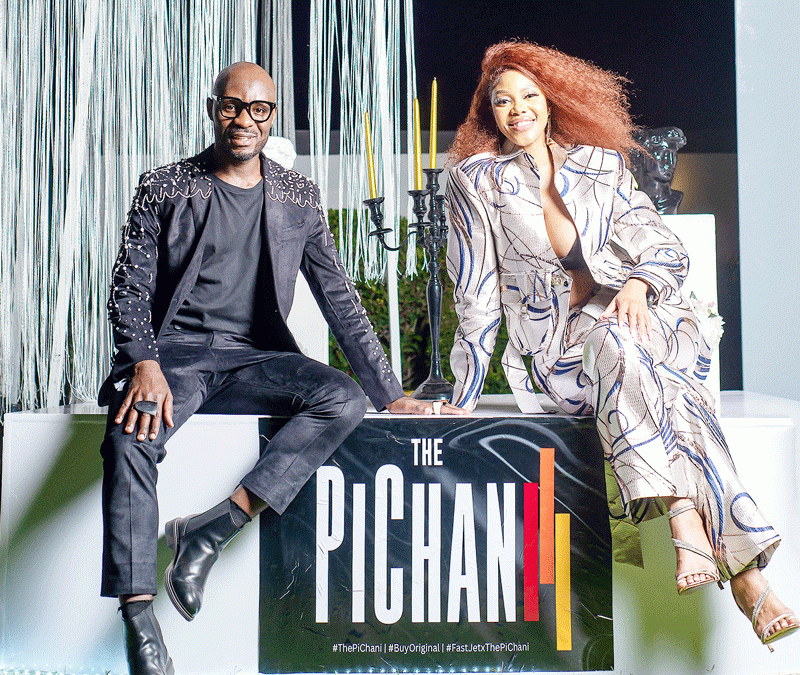 Buzzing glamorous dainty laces, gold shimmers, slits, high necklines, beautiful open backs with a tie to hold it all together — sum up a cringe-worthy slick and stylish fashion representation that is always a ladder for a growing list of achievements you get to witness first hand in the heart of The PiChani.
Getting off the fence to provide one of the most unique and incredible experiences you can ever have in this world, this pan African lifestyle and cross-networking platform integrates young leaders and achievers from across different sectors of influence listing business, finance, creative, medical, diplomatic, civic and entrepreneurs.
Elegance and grace are common denominators that have moved needles for The PiChani despite this bubbly event being dewy behind the ears.
Scoring brawny points, the platform is using every second available to navigate exchange of dialogue that is kicking movers and shakers three notches upstairs.
Travelling between space and time by taking the past experiences to the present day, this year's edition of The PiChani themed BLAK saw over 140 guests arriving in their own interpretation of being who they are — adding their own personalities to the colour black.
What has oftentimes made The PiChani unique is the fact that everything has always been an a la mode experience — starting out when people await to receive the first communication from the organisers, to making a grand appearance dripping all dressed up.
And even in the aftermath of the event — bouncing around until you are able to scrounge in the midst of meeting the requirements of the craftily society — is the winning formula.
Prior to the event, fashion heads that include designers, stylists, and makeup artists buzz with clients. It is something that The Pichani has always wanted to breathe life into. A full sustainable initiative that creates opportunities and employment within and on the far side of Bulawayo. Individuals who have graced the event to date include, South African content creator, influencer and make-up artist Mihlali Ndamase, radio personality MisRed, Honey TV's Zimbabwean television personality Davina Mavuwa, financial advisor and fitness enthusiast Miss Chindiya and singer Willom Tight, to mention but a few.
Over dependent on gratification, this year's edition of The PiChani was designed at pushing black pride and being original. Fain seeing the partnership with Jameson's Buy Original campaign — aiming at pushing the consumption of the original Irish whiskey — was a milestone.
Encouraging people to love the city and do their level best to take care of it, Habakkuk Trust was on board with their #LoveBulawayo initiative — a light bulb moment for the city often referred to as a sleeping giant.
What is more, guests from South Africa got to fly in with Fast Jet and had an opportunity to not only explore Bulawayo, but experience the Victoria Falls through the events extension called #KhanondoExperience, powered by Khanondo Safaris and Tours.
Doing whatever it takes to draw attention to fashion, the highly anticipated event saw the attendance of South African television presenter and radio personality Luthando Shosha known publicly as LootLove, ZITF's Stella Nkomo, financial advisor and fitness enthusiast Miss Chindiya, former Miss Tourism Zimbabwe Ashley Morgen as well as fashion designers Danai Madondo, Sibusisiwe Falala and Nomakhosazana Ncube. Bringing everyone under one umbrella, more of the esteemed guests who graced the event looking absolutely stunning included representatives from British Council Southern Africa and the corporate world as a whole.
For LootLove — known for hosting SABC 1's Live Amp, Metro FM's Hip-hop Show, Honey TV's Battle of the Ankara, among many other live televised events — channeling her polished reputation as a lethal style icon yet again was a no-brainer. The ever fashion forward media maven spotted a cheek, cool, constable, comfy and gorgeous catchy suit showing off her fine figure.
As the fashion aspect took off, the fact that 'garment construction and sketching are always spiritual' was proven.
The PiChani celebrated black culture through a fashion showcase by the founder and creative director of Imprint ZA, a proudly South African luxury fashion brand Mzukisi Mbane, who recently jetted in from Milan Fashion Week 2022.
A premier of the I Wear My Culture fashion film wowed the audiences, as it blended with success the love for vogue and motion-picture show.
Also running under the theme of being proud and staying original, this fashion film was put together by the founder and curator of The PiChani Gilmore Tee, alongside award-winning filmmaker Prosper Kunyetu.
It is part of a research project and documentary that explores 10 different unique ethnic groups from Zimbabwe — looking at their way of dressing, decorative methods and motifs.
This project, which is supported by the British Council, has been running for six months, working closely with 10 young Zimbabwean fashion designers who went into the field to gather information which they later used to create two garments representing their assigned ethnic group.
To top up the exclusive premium event, putting talent on the platter and skills at work — performances by poet Sthandazile Dube, Billius The Majestic and kwaito artist Tebza de Mrekza, constructed and brought to colourful life the event's "awesome okay" aura.
A surprise appearance by Dj Liz, also added a midas touch to the evening. Itching to weigh in on the grand plan and putting the limelight on the drive behind the very best moments of the event, Gilmore Tee put his valuable point across.
"On a scale of 10 out of 10 — it's high time we start looking at each other as value-added people instead of competition," said Gilmore Tee.
"This is why every year we push to build bridges and I'm very excited to have had productive collaborations coming from this platform.
"The PiChani aims to create an ecosystem among us, this is why every year local designers and make up artists are fully booked prior and on the day of the event.
"One might not be attending directly, but they are benefiting immensely.
"From people coming through to getting an outfit or wanting to look good for the event, this is just an example of what we mean by creating an ecosystem that will last longer than handouts."
Looking out of this amazing glass, beyond any shred of doubt, organisers of The PiChani have a lot on their plate moving in a big wave.
Wanting everything about the platform to be perfect — from the word go — a lot has been invested in making every edition a "stroke of genius".
Cracking the door wide open, in the pursuit of providing a stunning environment, it is very clear that The PiChani owns the next level of sunshine!
l Grant Moyo is a prolific writer, innovative media personality, entrepreneur and a creative artist who is passionate about using his creative mind for the betterment of society. Follow him on Twitter: @TotemGrant
Related Topics