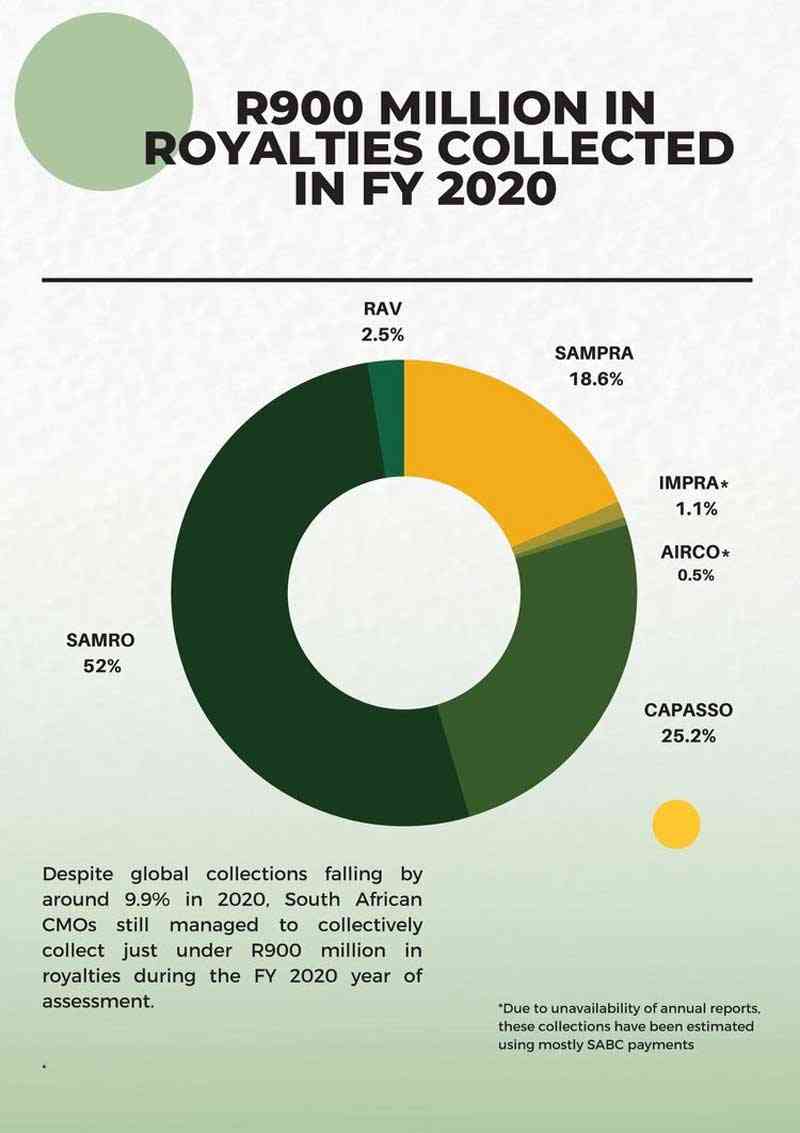 By the end of the 2020 financial year, the South African music industry is estimated to have been worth over R2 billion. This is according to a report compiled by Sounds of the South (SOTS).
The inaugural report looks to set a standard for a continued discussion on the industry's economics, which should be done annually.
The report showcases the real rand value of the licensing activities of collective management organisations and for the first time ever, quantifies the economic impact of these organisations collectively.
SOTS, which is an African Music Business curation collective, released this first-of-its-kind report last week. The report unpacks the total economic impact of the South African music industry.
One of the key outcomes of the report is a financial assessment of the licensing activities of CMOs. Globally, these organisations are known to be responsible for monitoring, licensing, and collecting performance and mechanical rights for their clients.
They also enforce the conditions of each licensing contract and collect and distribute any subsequent royalties.
Such organisations play a crucial role in the functioning of the South African music industry.
The work they undertake to monetise the use of music had, until now, never been assessed holistically.
In Zimbabwe, regulations were put in place in recent years in an effort to expand the local music industry.
While there are more than a dozen CMOs in the South African music industry, locally the Zimbabwe Music Rights Association (Zimura) is the only regulator mandated to protect the rights of musicians under the copyright law, they also collect royalties on their behalf.
However, it must be noted that there is a significant lack of knowledge about copyright law and protection in the country.
The report is a detailed look at how much revenue was generated by various South African music industry organisations.
Some key takeaways from the report show that, traditional (non-streaming) sources of publishing revenue account for 75% of all revenue generated.
Despite global collections falling by around 9.9% in 2020, South African CMOs still managed to collectively collect just under R900 million in royalties during the FY 2020 year of assessment.
SOT spokesperson Phil Chard told Standard Style that foregrounding such information was critical for an ongoing assessment of how well the music industry is doing as well as looking at what else can be done to improve processes within the industry.
"The study was motivated by the need for data," Chard said.
"In recent years we've seen the explosion of the African Music market and investment from various stakeholders.
"It is important that everyone in the entertainment industry's value chain is making data-driven decisions that encourage further investment, which will then lead to growth.
"We feel such reports have been difficult to undertake in the past because of a lack of easily accessible, transparent and accessible data.
"Even within this report, not all the necessary data was easily available."
Related Topics