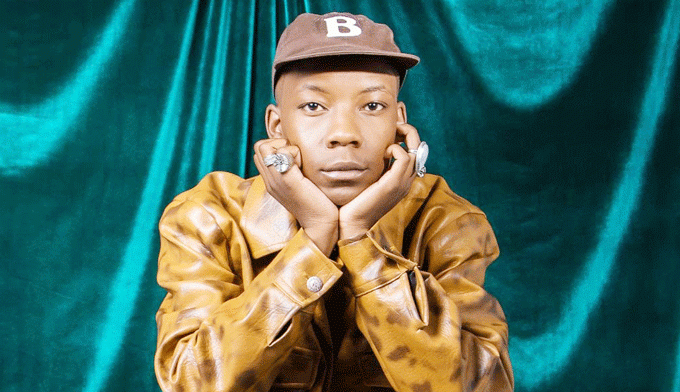 Getting into the spirit of securing blockbuster hits, ambitious Kiddo CSA is hands down — a live wire in the studio.
Undergoing a remarkable stint, after the beat, he hangs on every key — elevating bars. Not lulling — soul shaking his stead — this fresh talent in the Hip-Hop lane has pearls of wisdom to give. Reintroducing himself, the attention snapped upon his cool head in the heat of the moment, epitomises a lambasting 'slide and go' run — carrying in phases, tons of reasons to rewire the influx of music across every cultural background.
Orchestrating the appetite for success, the roller coaster of uncertainty came to the fall after Kiddo CSA whelped his up-to-the-minute EP (extended play) titled 'Worldwide Eye'.
Maximising on his strengths and subduing effects of his weaknesses, in the tail end of last October, the young hip hop knocker from South Africa flew to London to create music with performing artists from all over the world. Diagnosing his antithetic broadside, upmost of Kiddo's mind was to perforate himself in a space where he would work with artists who were just as ablaze about fashioning auditory sensation as he was.
Bolstering his arsenal, for a fortnight he experienced just what it is like to tap into an antonymous frequency and have no inhibitions.
Establishing himself as one of his country's most promising talents, upon his homecoming from London — Kiddo CSA had recorded several demos which had stellar latent, making the track-listing an all but infeasible undertaking.
Dedication to his craft coming through — in the end — the highly anticipated rapper decided on five galvanic tracks that thrust that get-up-and-go vibe he was going for.
"I was aiming for a new sound…. [The EP] is five chances to give people different genres so that if people don't really like one particular song, they'll love the other one. If someone is in a specific mood they'll go for one song or they want a different vibe there's a song for them. With the sound I made sure that I cater for everyone and be as diverse as possible," Kiddo CSA said.
In retrospect, though the project is experimental, seen as he ventures into Afro-inspired and Hip-Hop realms, the songs make this body of work — 'Worldwide Eye' — feel cohesive and thought-out. Ice thawing off, the opening banger — 'Breathe' — produced by Dominant One from Malawi, sounds like a space odyssey. Kiddo takes listeners on a journey from the East of Johannesburg to the apical of the universe, where his wildest dreams are.
Using to their advantage gifts they are endowed with, the next opus, 'Window' — a cool nipper's track and reminder to keep grinding — is bird's-eye trap vigour served as the EP's prelude earlier this twelvemonth.
On this smash canon, Kiddo CSA teams up with London-based Rhythm & Blues singer-songwriter Moniqué Lawz — whom to date has joined forces with acclaimed creative performers such as American record producer, rapper, singer, songwriter, and fashion designer Pharrell Williams as well as Canadian record producer Murda Beatz. Totally confident, her verse is dropped with a sassy and sauce that harmonizes with Kiddo's silver-tongued flow.
Produced by Karan Kanchan — a India-based producer with credits on musical compositions by far-famed talents like American rapper, singer, and actor Vince Staples as well as American rapper, songwriter and record executive Pusha T — 'Window' proves to be a collaboration of three top artists that are no strangers to delivering anthems. Benefits accruing from such synergies clearly defined — the ditty has been a fan favourite, catapulting to position 1 on 5FM's '5 Nights Hip-Hop Chart' for four consecutive weeks.
Serving as a morale booster, the third lullaby on the EP called 'You're Mine' — also enlisting Lawz and Kanchan's midas touches — forms an integral part of Kiddo CSA's a la mode project.
The ballad is perhaps the epitome of the heavy-hitting diverse artist's pursuit at diagnosing spic-and-span beats. 'You're Mine' opens with a traditional Indian tune and pattern which lives up to as the pulse underneath a Rhythm & Blues jam.
Continuing to be in sync, Kiddo and Lawz boom over the record, swaying through verse and chorus.
Juxtaposing keenness where deemed necessary — produced by XOVOX, an electronic dance music producer from Buenos Aires, Argentina — the number 'Miss Me' is Kiddo's take at 2000s Afropop and Afrobeats nostalgia, as he raps about love and Hip-Hop. Gravitating through character, shutting off the thrilling project is '11 Hours to London' — a hit where the rapper chews over on his life and his aspiration over glassy keys and synths.
Seizing the proven, this body of work — 'Worldwide Eye' — asserts Kiddo as an artist who feels and makes over euphony that reflects just that. His philharmonic sensory receptor keeps spreading out with each spectacular full-bodied auditory communication perception he puts out. Sliding sleekly, while he is deliberate about his superior skill and conceptualization, he still understands melody, tonality and cadence — all of which get the buffs turned up!
"My experience recording in London was great. Getting to learn how people from all over the world do music was really interesting. It taught me a lot and broadened my experiences with music and how to tap into other ways to make music. Working with Moniqué Lawz was insane! I think I was intrigued — learning how she does stuff and the melodies she comes up with, it was really dope.
The producers as well, hearing sounds I've never heard before was intriguing. I would wake up everyday looking forward to locking in with different producers," Kiddo CSA said.
"I want people to understand and appreciate everything it took to create this project — the different cultures and musical creativity, the sounds. There are so many things wrapped in this one project and I want people to connect with that."
Ice cool in such a pressure spot that he made simple, a love for artistry continues to explore Kiddo CSA's exciting exceptional slaying — depending as well as hinging a lot on his really enhanced extensive lyrical genius and a smooth effortless tone. At the heart of it all, as this rapper — who last twelvemonth released two crunchy EPs 'Just Kidd-in' and 'So Far, So Great' — picks his moments, he can step up to the party and staggeringly bring the beacon back!
n Grant Moyo is a prolific writer, innovative media personality, entrepreneur and a creative artist who is passionate about using his creative mind for the betterment of society. Follow him on Twitter: @TotemGrant.
Related Topics