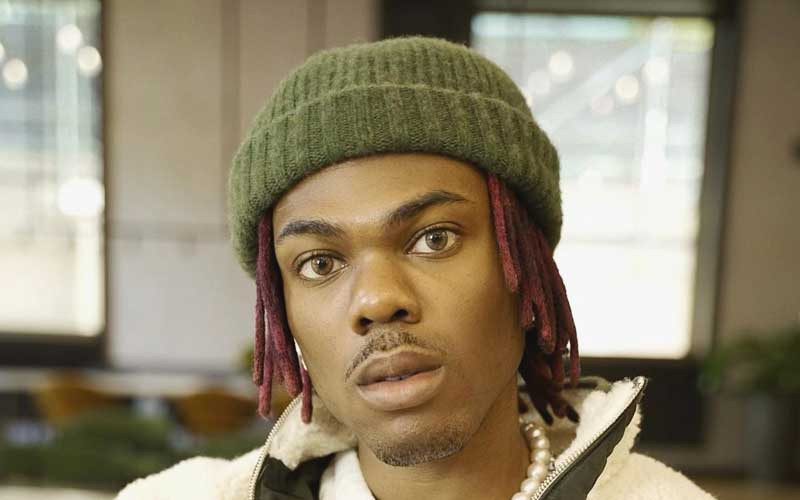 My parents never really saw music as a very stable career. I had to make the decision to either chase my dreams or regret them and spend the rest of my life thinking "What if", says Chukwuka Ekweani, fain sharing fair to middling remarks on the cradle of the drive behind his indispensable itinerary from the bottom up.
Known publicly as CKay, his — is a fruitful leap of faith pulling up dandy lullabies on the bounce that are opening flames of desire and firmly splurging in sparkly offshoots that are out of this world.
Bossing, as one of Nigeria's most perceptible musicians with tunes emerging from the pedal extremity of Lagos startlingly opening the window to global applause, this Emo-Afrobeat vocalist, composer and producer turns up the heat in his red hot music video for Mmadu the crisp ditty off Sad Romance — his a la mode debut album. Swayed by director Ahmed Mosh's pizzazz and pristine sense modality, the crunchy cinematic visuals depict the lulu as well as blood-and-guts get-up-and-go juggernaut of fleshly warmheartedness which combust a molten rock and hot gas eruption.
Winding up loafing and life's fickle showdowns at a tender age, CKay learned his way around the piano from his father who was a choirmaster at a local church in Kaduna (Nigeria). Probing for a route to hit top gear, in the aftermath of forming a band called Cre8tive Music with friends, he left home for Lagos where he would make ends meet as a producer working in three recording studios. Being a bright talent with a good head on his shoulders, CKay's happy chance came when he signed to Chocolate City —a record label under which he would release his first piece of music Nkechi Turn Up in 2016, followed by the EP (extended play) called #WTFiCKay in 2017.
Diving straight into the deep end, it was not until the release of the dance ballad Container in 2018, with which he would get tongues of musicians and fans alike wagging. After Container, CKay's next big banger would become his brawny musical composition to date — Love Nwantiti — which was initially delivered in 2019 as part of his second EP titled CKay The First.
The towering star's winning formula did not stop there as the release of Emiliana this 12 month followed in the giant footsteps of Love Nwantiti — a bona fide global number that has had its long lifespan stretched yet again with an orchestral arrangement version of the sound making the track list of records rolled out in Sad Romance (2022). This latter up-to-the-minute 12-track project also spawns smash hits like Watawi [What Are We?] and Mmadu —currently holding the spotlight with a freshly dropped sensual visual communication.
Shot in Lagos Nigeria, is the scene for this bonny romantic escapade, which director Ahmed Mosh captures with grandness. Delivering visuals that can come across world over, an underlying grade to the production creates suspense as the camera pans through different parts of lush Lagos —its ocean; its atrociously grim and immense green crosswise landscape; and its trigger-happy concrete jungle.
From the onset, CKay's gaze is impinging and his goal lucid, as seen while pushing plates of food aside to make room for something else that has flickered his wonder. The Nigerian singer and his love interest find themselves floating through each setting, drifting closer and deeper into one another, impelled by a force neither one of them is competent to get the better of.
Unlike his past auditory sensation videos for anthems Love Nwantiti and Emiliana —showing a blue-blooded CKay following his 'small love' somewhere in Nigeria or serenading a girl named Emiliana in cheery Dakar — Mmadu discloses a superabundance ripe intrigue to the lofty star. This melody and its visual companion opus are crystal clear ecstasy and dedicated to celebrate sensation. All this permits CKay to be more poised in how he opts to sort artistry.
"The inspiration, simply put, was sexual tension. It's more sensual than my previous videos. It makes me feel a mixture of sensuality, love, and sadness. An exciting mix of emotions. Very few songs make me feel like that," CKay said.
Everything falling into place, interpersonal relationships are of course an important motif and groundwork for CKay's euphony which is a mania he shares with video director Ahmed Mosh. Stretching our imagination, as a storyteller himself, the way in which Mosh captures black bodies is unputdownable. Faced with undoubtedly no-brainer moments, his lens is congenial to how black people move, subsist, and touch off the spaces they occupy.
Getting hitched in an inescapable responsibility to roll out avenues that grip instant identity, this video director's subjects, at their core are hearty, spirited, animated, and echt —a quality CKay appreciates: "Working with Ahmed Mosh was great, as usual. He knows how to work with emotions and vibes quite well. He also brings the beauty out of African aesthetics in a way very few can."
As we begin to see CKay transform into a more nuanced artist who makes beats that stir audiences to feel more viscerally, we also start to witness an artist who overmuch intentionally pimps his own sprightliness for love experience and how he might share this with the universe. As an upshot, his storytelling, at least for 'Sad Romance', is both headlong and inward-looking.
Separating himself from the battalion through willingness to hop-step- jump into the zone and help to get the swing of it as he rides along, CKay is a sinewy young soul acing the test of life. Locking into greatness on a crazy compulsive sweet run soaked up in super authentic pedals with real iron on the lyrics, he by all odds has 'showbiz' dialed in!
Grant Moyo is a prolific writer, innovative media personality, entrepreneur and a creative artist who is passionate about using his creative mind for the betterment of society. Follow him on Twitter: @TotemGrant
Related Topics