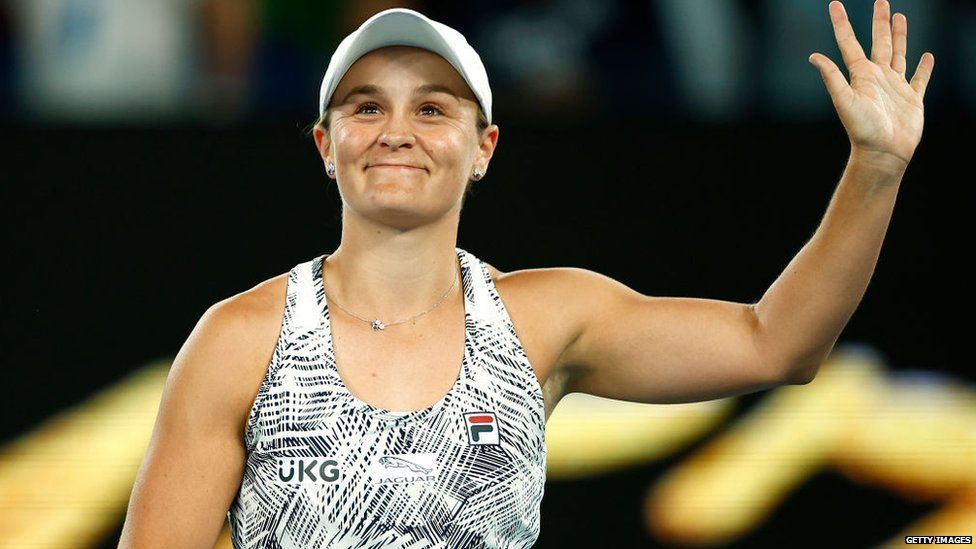 By Tim Middleton WHAT do Ashleigh Barty and Alyssa Healy have in common? Well, they are both ladies – true! They are both Australian – correct. They are both international sportswomen – right again (Barty in tennis, Healy in cricket). In fact, they are both superstars in their sports – absolutely (Barty is a triple Grand Slam tennis winner while Healy is a multiple World Cup winner). They are both hugely talented in multiple sports – agreed (Barty was the top-ranked ladies tennis player for over a hundred weeks but also played franchise cricket in the Big Bash tournament in Australia while also winning several golf tournaments and Healy is also a natural hockey player and golfer). They have much in common.
In addition, and probably far more importantly, they are both humble and balanced in their view of sport. Barty has given up her illustrious tennis career at the age of 26, as the reigning Wimbledon and Australian Open champion, as she had lost her love of the game, even admitting that after winning Wimbledon (her biggest dream) she "wasn't quite fulfilled". She went on to say, "I don't have the physical drive, the emotional want and everything it takes to challenge yourself at the very top of the level anymore.
I just know that I am spent — I just know physically I have nothing more to give. And that to me is success. I have given absolutely everything I can to this beautiful sport of tennis." As she concluded, the next chapter is "Ash Barty the person, and not Ash Barty the athlete."
In a similar way, Healy looked at her match-winning score of 170 in 138 balls in the ICC Women's World Cup Final against England in New Zealand in April this year (the highest individual score made in any World Cup final, men's or women's) and commented in an interview on the BBC website that "It's my job, after all. I guess I can tick the box and say that I did a good job." What has been described as "one of the greatest one-day international innings of all time" is simply defined as "a good day at the office". Furthermore, while she clearly loves her sport, she has stated that "it's this sense of achieving something so much bigger than winning trophies and medals that's keeping me going." She wants to create a legacy by paving the way for others to follow.
There are wonderful and powerful lessons for coaches here, both for them as individuals and for them in their role of raising up children in sport. Above all else, sport is just a job; for some it is an extremely well-paid job, with lots of glamour, excitement, glory and adrenaline but it is still a job.
When someone scores a goal, try or a century there is no need for excessive celebration; it is their job – it is what they are paid to do. It is what is expected of them, just as any and every job requires and expects certain goals to be achieved. That is what they are meant to do. It is no more important than other jobs. A school coach is hired to develop youngsters' love of and ability in sport (not to win per se) – that is his job. No fanfare is required. A sports player is meant to contribute to the team, to score, to defend; that is his job. No attention-seeking is required. Our job is to let them see their job.
Coaches in school sport need to look at the bigger picture and not look purely at results. They need to achieve something much bigger than wins or trophies; they need to leave a legacy that provides children with a passion for sport that will continue through life.
They are not there to build their own reputation; they are there to help children learn huge and vital life lessons, the greatest of which is to have humility. Coaches need to keep their feet on the ground, not have their heads in the clouds. They need to be balanced and humble, rooted in values not victories, accepting wins and losses as opportunities for learning and growth.
Children, in turn, are to be trained by their coaches to see their sport as part of something bigger, as part of their character development, as them being a person before being an athlete.
Many people think of a job as being dull, repetitive, dreary, uninspiring, when it is so much more. However, it still is a job which we are called to do to the best of our ability, in the limelight or in the background. Coaches' jobs are to develop youngsters, not just in sporting ability but in human character; children's jobs are to do what they can with what they have been given.
We may have good days and bad days in the office as well as on the sports field but, at the end of the day, they are just days. May all our children have this in common: they emulate these young ladies' legacy.
Tim Middleton is a former international hockey player and headmaster, currently serving as the Executive Director of the Association of Trust Schools Email: [email protected]
Related Topics