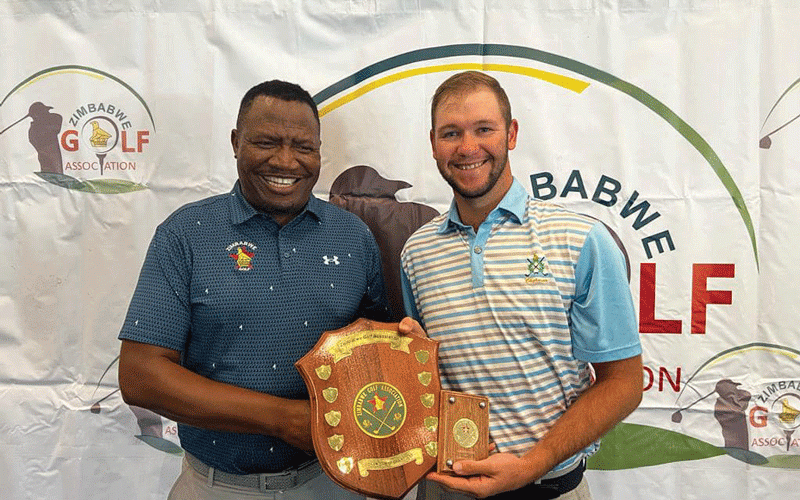 The Zimbabwe Golf Association (ZGA) has named a three-member team which is set to represent the country at the World Amateur Team Championship also known as the Eisenhower Trophy which is scheduled for Abu Dhabi next month.
Teenage star Keegan Shutt (17) is set to make a second consecutive appearance at the global golf event after teaming up with Rasheed Mohammed and Clifford Sibanda to help the country to a 61st place finish out of 71 participating nations in France last year.This time around Shutt is joined by top amateur golfer David Amm, who has been to the competition before when he made his debut appearance when the event was held in Ireland in 2018; and the current Zimbabwe amateur champion Michael Wallace.
ZGA president Martin Chikwanha expressed high hopes for the team which will fly the country's flag at the event which will run from October 14 - 23, at the Abu Dhabi Golf Club, UAE.
"This competition is the equivalent of any world cup. The qualification process is by no means an easy feat. I am however delighted to inform you that as difficult as it was, we managed to qualify and be counted among the world's best golfing nations in the world," he said during a press conference in Harare last weekend.
"This will be the second time in a row that we have managed to qualify for this prestigious world event post the COVID -19 era which had derailed most of the sporting competitions at various levels.
"The team will be coached by Shorai Simon Murungweni who is a highly qualified PGA Coach and I will head the delegation. It is my clarion call that we all need to rally behind the team so that it may perform well during the tournament," Chikwana added.
Chikwana went on to chronicle some of the work that his association is doing in order to grow the game in the country.
"Last year we successfully ran a Train the Trainer programme across all the provinces where we have some footprint and we managed to train a total of 400 coaches. As part of going into the next phase of the programme whose objective is to take golf to the community, our international federation, R & A supported us financially and materially.
"Today we are also to inform you that we are now moving ahead to distribute the equipment some of which is before you. The equipment is suited for the young kids who are in primary school. I would like to assure the members of the public that this equipment will be put to good use.
"Also, as part of efforts to upscale the performance of the young Golfers, we will be having a High-Performance Camp which will be conducted by South African PGA Coaches here at Chapman Golf Club from 22-24 September. A total of 12 Golfers and 6 Coaches will participate in the camp," he said.
Related Topics