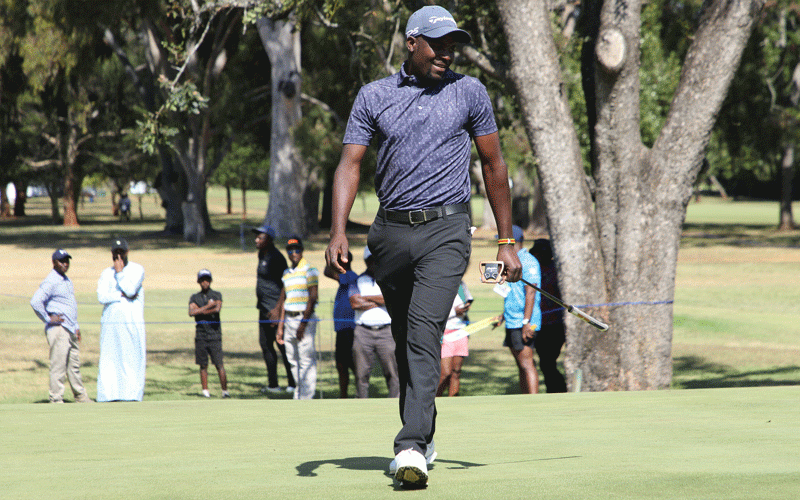 CROWD favourite Robson Chinhoi kept Zimbabwe's slim hopes of a local winner at the FBC Zimbabwe Open after carding an entertaining four-under-par 68 at Royal Harare Golf Club yesterday.
The 31-year-old Mutare-born star started the day on level par following a difficult 74 on Friday but came out Saturday and shot the joint second lowest round of the day to climb into a two-way tie for seventh position.
Chinhoi, who is popularly known in Zim local golf circles for his booming drives from the tee, attributed his solid display to being less aggressive with his tee shots.
"I'm so happy with how I played today. I had a good front nine and a good back nine. I hit the ball very well and I was putting well, and I gave myself a chance. I had five birdies and a single bogey," Chinhoi said after his third round.
"I didn't change much today except being less aggressive off the tee. I didn't use my driver that much. That helped me to keep the ball in play and gave me a chance to hit more greens.
"I think I only used my driver three times on the front nine and four times on the back nine and I will be sticking to the same strategy in the final round. Hopefully I will hit more fairways and try to drop some putts."
The rising golf star, who has proven to be a favourite of the fans throughout the tournament, took time to express his gratitude to local golf fans for their support again yesterday.
"I had so much support today from the crowd and that gave us so much energy to keep pushing and not lose hope. We are very grateful to everyone who supported us today," added Chinhoi.
After starting his round with two straight pars, Chinhoi got his round going with birdies on holes number three six and eight to make the turn at three-under-par.
The back-nine has proved to be a tough challenge to players throughout the tournament.
Chinhoi was however, equal to the task yesterday as he managed birdies on holes number 12 and 14 before a tough stretch of bogeys on numbers 15 and 17.
He however, finished his round in style with a well measured birdie putt on the 18th hole which drew wild cheers from the fans.
Chinhoi, however, faces a tough task to challenge for the coveted title in today's final round as he trails the leader Neil Schietekat from South Africa by a massive 10 shots.
The 39-year-old started the day in second position on eight under-par before firing a bogey-free six-under-par 66 which took him to a dominant-54-hole total of 14-under-par 202.
Schietekat, who is a three-time winner on the Sunshine Tour, will start the final round with a seven-shot lead ahead of his compatriots Wynand Dingle and Jonathan Broomfield, who are both tied for second position on seven-under-par.
Zimbabwe's rising star Kieran Vincent is the second highest-placed Zimbabwean on the leaderboard in a four-way tie for ninth position on three-under-par after carding a 70 yesterday while Ghana-based Zimbabwean Biggie Chibvuri is tied for position 24 on one-over-par.
Related Topics