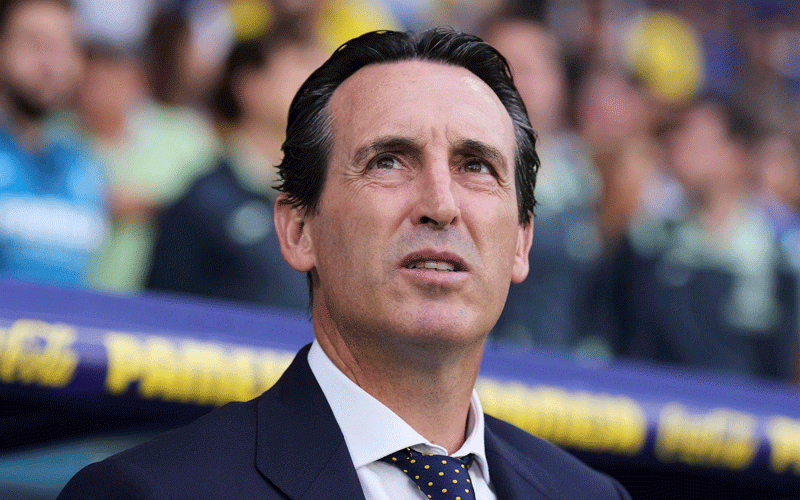 WELCOME to Villa Park, the home of Aston Villa currently creating waves in sixth place in the EPL.
It's a phenomenal position, exceeds all expectations and it's got the Midlanders in one helluvilla tizz!
You see,it doesn't happen, its not supposed to happen to this team or any team from Birmingham.
After all, the poorly performing football city boasts two major clubs and currently only Aston Villa are in the top flight.
Birmingham City are a dismally run club languishing since 2011 in the second tier of English football, the EFL Championship.
Their most notable contributions to the football sphere have been the transfer of Trevor Francis when he became Britain's first million pound player following his move from Birmingham to Nottingham Forest in 1979, as well as their unveiling and early development of future superstar Jude Bellingham who is now at Borussia Dortmund.
This is the same dude who may well be the biggest summer transfer story as he is on the radar of every mega club (I guess sadly, this is why Liverpool have formally announced that they have pulled out of the race for his signature!).
Anyway, with Birmingham City FC in a permanent shambles, it's been left to the side in claret and blue to carry the flag for England's second largest city.
For their part Aston Villa have this season not let their fans down.
This, incredulously in a season which had started dreadfully with Stevie Gerrard at the helm and the real prospect of relegation staring them in the face after a run which had spiralled them perilously close to the drop zone.
The appointment of Unai Emery to replace Gerrard was not a widely accepted choice given his so called disappointing earlier stint at Arsenal.
However, mere months down the road, the same fans are starting to wonder if Stevie was blind as he was unable to work with exactly the same squad which Unai Emery has managed so successfully to totally transform into one now pushing zealously for a European place.
Can this mesmerizing marvellous run continue and result in Villa actually securing a European spot even if it's not quite the holy grail of the Champions League?
Confirming a European spot for Villa would be the ideal icing on the cake as they would enter next season in the hands of the master of European competition.
Under Unai Emery, La Liga's Sevilla registered an unprecedented hat trick of Europa League trophies between 2014 and 2016.
He followed that up with a runners up place with Arsenal in 2019 in the very same competition before taking small Spanish town minnows Villarreal to an unlikely further Europa League victory over Manchester United in 2021.
One could argue I suppose that it's not like European success is the sole preserve of Unai Emery as Spanish clubs led by Real in the Champions League and Sevilla in the Europa League have actually won more than half of all the European titles available since the turn of the century!
For the record, what on earth must Manchester United make of Thursday's clash against Sevilla?
A first half picnic comfortably leading 2-0 but by the end, they were more than likely, feeling just a little sick as unbelievably Sevilla clawed back to tie the match!
To be fair, it's not like Villa themselves don't have a unique European story to tell.
Younger readers might be surprised to discover that Aston Villa were in fact crowned champions of all of Europe in 1982 when they stunned the highly fancied Bavarian giants Bayern Munich 1-0 in the European Cup Final.
It was a side that contained a trusted mixture of established experienced stalwarts such as prolific striker Peter Withe, legendary captain Des Mortimer, Kenny Swain, swashbuckling left winger Tony Morley complimented by the energetic and youthful Gary Shaw, Gordon Cowans and Nigel Spink.
The season before, Villa had been crowned English champions sneaking in ahead of an Ipswich Town side who themselves were a revelation.
It's also worth bearing in mind that entry to Europe's premier prestigious competition was reserved at the time only for the actual winner of a domestic league.
It spoke volumes about the strength of England's domestic competition at the time because Villa had kept the cup in England for a sixth consecutive year on the back of multiple Liverpool and Nottingham Forest successes.
Cynics will argue that the competition was not at the level of the current Champions League meaning that if the same rules were in place today, next year's competition would be potentially deprived of the likes of Real Madrid, Manchester City, Bayern Munich and AC Milan assuming they fail to win their domestic leagues which of course as they currently stand,is a genuine possibility.
It was clearly a different time and era but it was Aston Villa in 1982 who got to the final, and not Real, Chelsea, PSG or Man City. In fact perhaps we should put it into context that Manchester City, Arsenal and Spurs have not in their entire glittering histories ever won The Champions League or its predecessor The European Cup.
The years ahead were a mixture of satisfactory accomplishments(never quite reaching the heights that one would expect the largest club in England's second largest city to attain)and massive disappointment with Villa spending five years in the wilderness of Div 1 before returning triumphantly to the EPL in 2019.
This year though which had promised so much with the appointment of Gerrard, was turning into a monumental disaster with Villa winning only two of their opening eleven matches of the campaign before Unai's rescue package.
After only four months into his reign, and following six straight wins out of seven, Villa look like a demonstrably different proposition as they are playing with a zest and confidence that was totally lacking before.
Previously underrated Ollie Watkins is blossoming with nine goals in his last 11 games as the team have at the time of writing scored astonishingly in all 17 games under Emery.
A goal in their next match against high flying Newcastle would establish an EPL record for a club of 18 consecutive scoring matches.
They do have an especially vigorous run in this year with tough end of season encounters against Newcastle and Manchester United as well as clashes against direct rivals for a Europa League place,Liverpool,Brighton and Spurs.
However under Emery, Villa have developed a mental resilience and fortitude that was non-existent under Gerrard and it must be pointed out,with a relatively thin squad.
A glance at a couple of their regular starters may reveal part of the secret to their current success with Argentinian World Cup winner and stopper Emiliano Martinez at the head of the queue.
Emery is blessed here with a player who must surely fill any dressing room with passion and pride.
Who wouldn't want to be on Dibu's side other than just about every Frenchman out there?!Another high achiever after Emery's arrival this season has been steady and calm Tyrone Mings who looks England class again.
Throw in the confidence boosting goals of Ollie Watkins, the guile and craft of Emi Buendia and the energy and charisma of Douglas Luiz and you have the core of a solid if unspectacular side which Emery has been able to harness to dazzling effect.
These are all players Unai inherited from Gerrard so Unai's clearly got their backing,has them firmly on track and pivotally, united.
He's achieved the impossible by turning Gerrard's Villains into Emery's much loved Villans!
Now with Unai at the helm, if he can somehow lead Aston Villa into the Europa League, Villa fans could start dreaming of European glory again, they really could!
Feedback: Twitter @thesoccerwhiz
Related Topics