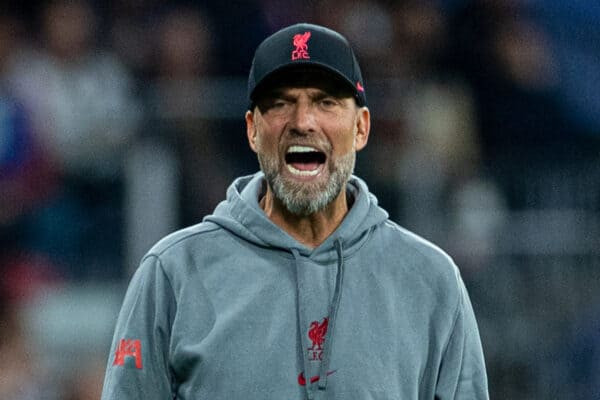 THE world of football went bonkers following Liverpool's 7-0 mauling of Manchester United in arguably the most unexpected result in modern football history.
How does one explain a football result, which had some fans looking upwards at the seven heavens in gratitude while others asked if this was punishment for committing the proverbial seven sins.
Not long ago, yours truly was in one breath lauding Ten Hag as the prophet who was going to lead Manchester United to the promised land and in another, advocating the removal of Jurgen Klopp from his role at Liverpool which I considered necessary and vital despite his phenomenal success in recent years.
What we all witnessed at Anfield defied belief as the seven- goal thrashing of Manchester United equalled their worst EPL defeat ever.
All of a sudden the scribes were out in full force with a multitude of opinion makers from those confidently forecasting the demise and destruction of Manchester United to those predicting that a resurgent Liverpool were all set to reclaim their lofty status as one of the top two sides in England.
The prelude to this macabre massacre had seen a sequence of results which gave not even the slightest hint of the possibility of such a one sided outcome.
Liverpool's poor season until that point had received much coverage and the match was played shortly after Liverpool had been given a real 5-2 roasting by Madrid in a Champions League encounter.
Manchester United, meanwhile, had been odds on favourites to conquer their old foes in their own backyard coming in the wake of their first trophy in six years as well as a superb run of form which had included the prized scalp of Barcelona.
Nevertheless on the day itself, United contrived to produce their worst display of the entire season whilst everything Liverpool touched turned to gold.
It was the first time all season that Liverpool's vaunted acclaimed new front line finally got their act together and boy did they turn it on.
It all made for fascinating viewing even if it had a heaven and hell finale for the opposing sets of fans.
In the aftermath, United were fortunate that a couple of Thursday Europa league matches with Spaniards Real Betis presented them with a quick easy opportunity to rid themselves of the demons of Anfield.
This they handled comfortably enough with a rather less comfortable draw against Southampton sandwiched in between which effectively ruled them out of the EPL title race.
Ten Hag will have urged his disciples to totally eradicate the memory of Anfield and focus instead on the promising prospects and path ahead which lest we forget, still includes the genuine possibility of an amazing plastic treble(Lol! Plastic because it doesn't include the EPL or the Champions League!)
Liverpool meanwhile, supposedly reborn, revitalised and buoyant visited Bournemouth expecting to inflict another demolition on a side they had destroyed 9-0 much earlier in the season.
Instead they came a cropper, coming unstuck and losing deservedly by the odd goal to the relegation threatened seamen.
It is therefore back to the drawing board then for Liverpool, who once again in midweek looked distinctly mediocre in going down yet again to imperious Madrid in the Champions League.
Most Liverpool based pundits were realistic enough not to expect another Istanbul 2005 three goal come back miracle but they certainly didn't expect Real to doner them and make them look like absolute kebabs in the process!
The world media were in addition exceptionally generous in their praise of Real for warming the hearts of Liverpool fans by playing the Liverpool anthem" you'll never walk alone" in the Bernabéu.
Call me a cynic but personally at the time, it seemed more like a funeral hymn with Madrid rubbing it in gleefully and affirming to the world that Liverpool were dusted, dead and buried!
It's however imperative to note that Manchester United didn't become a hopeless side overnight at Anfield.
Likewise Klopp hasn't miraculously got Liverpool gelling again either and the proof is very much in the pudding with the results and the performances that have followed thereafter.
However, what that freak seventh wonder of the world result on that epic night does prove beyond any doubt, is that in football on any given day, any match outcome is possible no matter how puny the possibility.
There will always be the favourites and the form teams.
However in professional football, the margins are increasingly wafer thin and a surprise will always potentially be on the cards as EPL leaders Arsenal also discovered to their dismay in crashing out of the Europa League to Sporting Lisbon on Thursday.
For Liverpool though, the sad reality is that it's time that they heed the bright red warning signs staring them in the face.
Failure to qualify for Europe's top competition this year will be catastrophic and will have the unfortunate additional consequence of making it almost impossible to lure the brightest world class talent to the famed city of the Beatles.
However dude, just 'imagine' that 'after this 'long and winding road,' Jude Bellingham does actually end up at Liverpool!
Now that would prove that in life, 'all you need is love,' because he'd truly be enamoured with the club if he chose Liverpool at this particular juncture above the other mega clubs currently circling and expressing interest!
It's also been a curse rather than a blessing for Liverpool to have had FSG as their backers.
Liverpool have been shortchanged and been both the provider and breadwinner in this one sided relationship.
I suggest that new ownership is essential if Liverpool are to continue to compete at the highest levels.
Liverpool fans naturally glance across enviously at the seven star monies being dished out at The Etihad and Stamford Bridge while they are also nervously monitoring take over developments at Manchester United.
FSG meanwhile have run Liverpool on the cheap in a classic case of under investment.
They have been able to get away with their scant spending because of one man and one man only, Klopp.
As I stated recently, Klopp is now shattered and spent and needs a deserved sabbatical having overachieved with limited means and taken Liverpool in the process to extraordinary heights.
From a side which has unquestionably been in the top 5 sides in Europe for close on five years,the drop off this year has been startling.
It's a side in desperate need of extensive surgery starting with the replacement of an entire midfield who are short of legs and not up to the riggers of their very own pressing game which has sucked the very life out of them.
Liverpool's defence has not been spared criticism either,with most wanting to vent their frustration towards Trent.
The poor guy currently resembles a religious zealot who has gone a bit too far and decided to give up DEFENDING for Lent!!Lol!
Till next time folks…with the draw for the quarter finals of the UCL concluded, here are my predictions:1) Benfica v Inter-INTER.2) Manchester City v Bayern-BAYERN.3) Real Madrid v Chelsea-REAL and 4) AC Milan v Napoli-NAPOLI.As for a pick of an overall winner at this stage, while I personally cannot look any further than tried, tested and triumphant Real Madrid, I'd be one of many on cloud nine if a Victor Osimhen-inspired Napoli bring it home.
It would trigger celebrations in Naples and Lagos that would make even Argentina's World Cup celebrations seem tame by comparison!
Feedback: Twitter @thesoccerwhiz
Related Topics