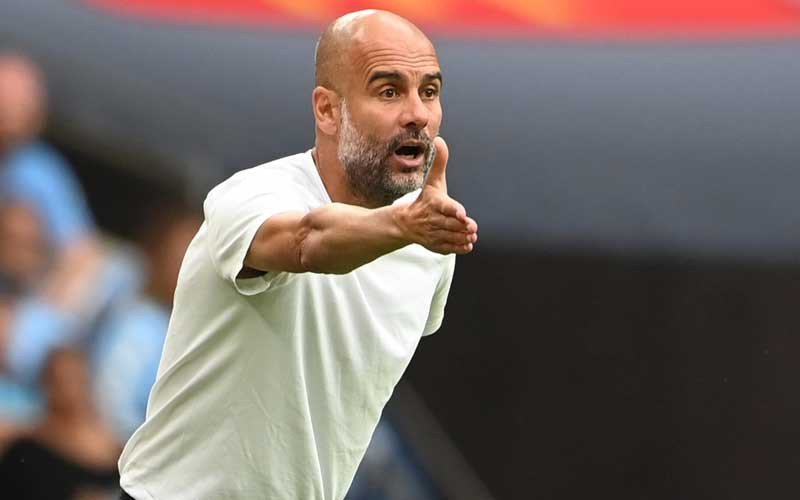 THEY say in football a week can change everything.
For Manchester City it was a week where the grey clouds that were hovering menacingly suddenly seemed to disappear and present to its citizens stunning sky blue Bulawayo skies.
It was a week that threatened to derail their early season title aspirations and it could so easily have turned out truly bleak.
And yet somehow after a satisfying if not entirely deserved win over Arsenal, their on-field problems almost miraculously seem to have vanished into the creek.
After all the questions, after all the recriminations following the Spurs humbling, Pep Guardiola had literately the whole world, including and especially yours truly, waiting expectantly for his side to crumble.
Instead Guardiola proved that it was merely a stumble in the mighty EPL jungle and that his side are still on the Maine Road to the title.
He had however as per his by now customary practice whenever he feels the pressure, started the match against Arsenal with a decidedly different defensive shape.
This Guardiola tinkering might and perhaps should ultimately have had disastrous consequences were it not for the blaring easier-to-score than miss opportunities that fell the way of Eddie Nketia ("I've had my share of the limelight but please Jesus I can't handle this burden, so please rush your return and rescue me!").
Nketia, however, will take a minuscule measure of comfort knowing it wasn't all his fault in that Arsenal chose to gift City all their three goals with Tomiyasu praying that his blunder doesn't get him to eternally develop a special sad bonding band and kinship with Stevie Gerrard known as"The Culpable!"
It was a first half that Arsenal bossed and dominated without seizing the day, a half which exposed and undermined City and in a manner that they are not accustomed to.
Never under Guardiola have City had as little as 30% possession!
Of course possession without goals in the bank is an exercise in futility, it's pointless, it's plan Barcelona without Messi (and we've seen the hopelessness in that!)It's like hankering on about the success of Tesla over the years but then failing yourself to have invested in shares in the company during it's phenomenal growth spurt.
In other words, it means nothing and equates to absolutely zero.
That sadly is where Arsenal found itself at the end of a first half in which they should have had a comfortable cushion and cosy lead but instead found themselves level, allowing City the opportunity to regroup and rethink.
It also gave my lucky amigo Pep, the chance to address the shortcomings of his own woeful pre match strategy and resulted in a City that were from the outset of the second half, an altogether different side.
The introduction of Nathan Ake (Pep had been crazy enough to have Bernardo Silva effectively operating as a left back) reinforced their defensive lines and shape while the long balls directed towards Haaland troubled Arsenal enormously and also minimized the impact of Arsenal's forward press.
Arteta meanwhile had perhaps his worst match in the Arsenal dug out this season.
Even diehard Gooners will admit that they could see that second Manchester City goal coming long before it actually happened.
Arteta though, like in the ways of his previous guru Guardiola, froze exactly at the precise moment that he needed to respond.
His failure to act decisively and in time, was apparent and a serious slight on his managerial credentials.
Arteta on the night resembled Guardiola in so many ways and he ultimately paid the price for his stubborn refusal to address key issues before it was too late.
The dark grey clouds once perched on The Etihad were now hovering perilously close to the Emirates!
Thursday night brought to our screens the eagerly anticipated Europa League duel between Barcelona and Manchester United.
It was a clash that had promised so much and it did not disappoint!
This was the launch of the Marcus And Jules Show, showcasing attacking flair at it's finest with goals from Marcus Rashford, Marcus Alonso and a Jules Kounde own goal too.
Although a late equaliser from Rafinha does give Barcelona a sniff, they will not relish the prospect of needing to beat an on fire Manchester United in their own backyard.
This is a United side who based purely on results, are right now the most consistent team in Europe.
It might have been rather different for Barcelona if Xavi had not drastically altered the back line which up to then had been ironically Barca's biggest strength this season.
The net effect was a rash of defensive strewn errors that bedevilled them as the Reds of Manchester piled forward.
As it stands, Barcelona will certainly go into the next leg as underdogs but this is however not to undermine a Barcelona side who have made great strides this year.
It's rather though to highlight instead, just how much progress Manchester United have made in a few short months under the deft Dutchman.
Astonishing as their development has been, I believe it unlikely that they will be able to dethrone City this year.
They are just too far off the pace, especially with the two incredible teams above them.
I have a hunch though, that come next season, they will be front runners and one of the outright favourites.
Arsenal will remain City's only genuine challengers and will have learnt some harsh lessons from the last few weeks.
These lessons will place them in good stead as they give everything on the home straight towards a bolt which this year does represent their most likely chance of success.
It's a year which has seen all the traditional giants with the exception of City, in a state of transition.
Manchester United are albeit too late, starting to get their mojo back while Liverpool and Chelsea have been incognito, absent and this has allowed Arsenal an almost unhindered, unopposed ride to the top of the tree.
While I'm not suggesting that Arsenal are incapable of success next year, I'm definitely stating that by next year, the big boys will be back in full swing.
Chelsea will have demonstrably added further to their already substantial squad (I'm sure they'd have added a striker too!)Manchester United as indicated above are unrecognizable from last year and will probably have improved twenty fold under Ten Haag by next year.
They will also have a significant transfer kitty especially if Qatar and Sheikh Jassim Al Thani come on board as new owners! (Lol!).
I can see every other club quaking in their boots!)Liverpool meanwhile can surely do no worse than this year's aberration while Manchester City who remain the standard bearers, will no doubt spend lavishly and find further work for their accounts team to fend off the Financial Fair Play vultures circling the club.
Arsenal need to dig deep and do whatever it takes to bring the title home this year or by next year it may well be too late.
They will need to immediately get their act back on track with a season defining, confidence boosting away victory on Saturday at awkward Aston Villa managed by ex-Arsenal boss Unai Emery.
It's not a foregone conclusion as Villa at home are no slouches and can realistically take points off anyone.
Should that happen, it wouldn't signal the end of their exciting title challenge, but they would now find themselves chasing an almost impregnable Manchester City.
In football,a lot changes in a week.
For Arsenal,next week might be either brilliantly bright or an extremely dark grey one.
For Manchester City, those skies might now be so blue that they can feel and kiss the blue moon!
Feedback: Twitter @thesoccerwhiz
Related Topics