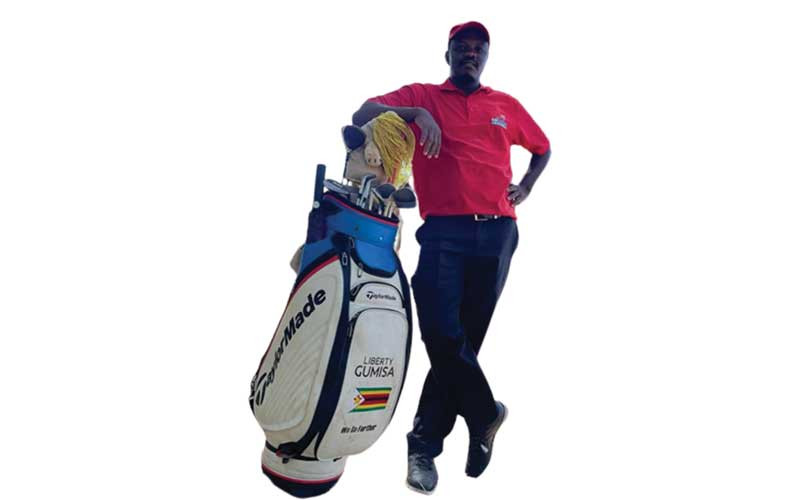 ZIMBABWEAN professional golfer Liberty Gumisa is aiming to finally end his wait for a maiden pro win this year after a busy 2022 season both locally and outside the country.
The 34-year-old former national amateur golf team captain, who is the brand ambassador for one of the country's leading fuel companies, Glow Petroleum, had his busiest season since joining the professional golf ranks in an effort to get some competitive exposure.
Gumisa was a regular feature on the local Zimbabwe Professional Golfers Association (ZPGA) circuit, the East Africa-based Safari Tour and the Chevron Tour which hosts tournaments locally and in Zambia.
After getting a first taste of competitive top level golf on a regular basis, Gumisa's goal is to continue improving and hopefully clinch his first victory on the paid ranks this year.
"My goal is to continue improving yearly. This year I was focusing more on getting the basics in place, which include ensuring my golf equipment is up to standard which I managed to do and trying to lower my scores as much as I can," Gumiso said in an interview with The Sports Hub.
"I'm so happy that I have been gaining more confidence as I play in more events and this year my main target is to win my first tournament as a professional. I want to push up the ladder and continue to gain competitive experience on the Safari Tour by playing the full schedule this year. The Safari Tour is a good platform to learn and gain experience while it also provides an opportunity to qualify for a DP World Tour event (the Magical Kenya Open).
Although the year was a learning curve for Gumisa, he still managed to post some positive results which included a solid 11th place finish on the Chevron Tour while he also made his debut in the FBC Zimbabwe Open which is sanctioned by the Sunshine Tour.
"Probably the highlight for me in 2022 was qualifying to play for my first Zimbabwe Open as a professional. Even though I didn't manage to make the cut it was a very good experience. I had played in the Zim Open before as an amateur but it was more special to do it as a pro and I hope it's the first of many. I also managed to host a tournament in Kwekwe, where we had some professionals coming to compete and I finished second," he said.
The gifted golfer, who is the brand ambassador for Glow Petroleum thanked the fuel company for their financial support which has enabled him to compete regularly locally and outside the country's borders.
"I would like to pay tribute to my sponsors Glow Petroleum. They have become my pillar and strength, they have sponsored me in all the tournaments I have participated in since then and that's why I wear Glow Petroleum branded regalia in all my tournaments whether locally or outside the country. I'm very proud to be their brand ambassador, they are a very professional organisation and it's been an absolute joy working with them. They have done a lot in taking my career to the next level and I believe we will go further together," he said.
A product of the country's vibrant junior golf development programmes, Gumisa was born and bred in Gokwe, where he did his primary education and part of his secondary education before moving to Kwekwe.
Gumisa was mostly a self-taught golfer until he received his first formal coaching from the late veteran teaching professional and golf development stalwart Roger Baylis when he was selected for the national amateur team.
He made his debut for the country at the African Amateur Championship at Leopard Creek Golf Estate in South Africa in early 2017 before captaining the country at the Africa Region 5 Golf Tournament in Zambia later that year.
Gumisa, who credits Baylis and administrator Boniface Chigorimbo for his development as an amateur, would go on to turn professional after the regional competition in Zambia.
In addition to being a touring professional, Gumisa is also very passionate about golf development in the Midlands province, where he introduced the sport of golf at Midlands State University 2012.
He also runs junior golf development clinics at Gweru Golf Club, with some of his protégés earning national recognition while he has worked with a number of schools in the province in an effort to increase the number of children taking up the sport of golf.
Gumisa is married to Beatrice and the couple have three children.
Related Topics