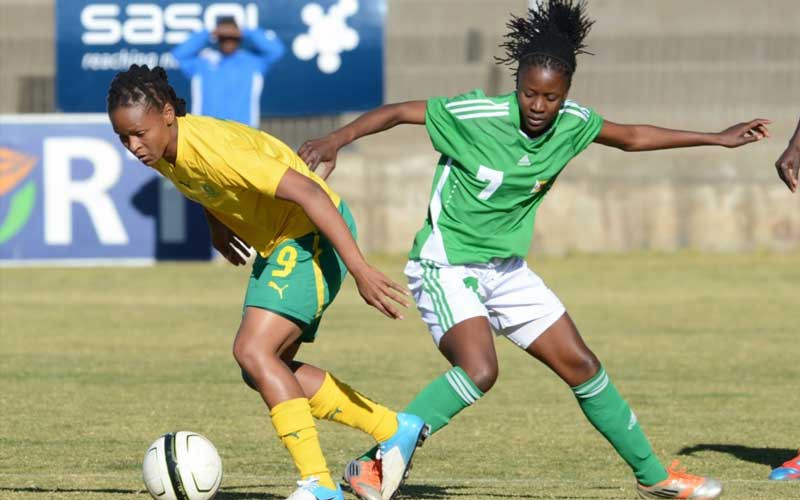 The corporate world has thrown its weight behind the Northern Region Women Soccer League ahead of the 2023 season, with a number of monetary pledges.
National Building Society (NBS) donated US$ 5000 at the fundraising dinner held over the weekend with Blue Ribbon Foods, National Social Security Authority, Moonlight and Mimosa Mine among others pledging their support.
The league, which has 11 teams, is looking to gather resources for end of season awards, playing kits for teams as well as partnership towards setting up a high-performance training programme.
An auction was conducted with former Mighty Warriors defender and national team coach Rosemary Mugadza's national team shirt being snatched up for US$150 among many items that went under the hammer. Balls signed by the league's co-patrons Public Service, Labour and Social Welfare minister Paul Mavima, Women Affairs, Community Small and Medium Enterprises Development minister Stembiso Nyoni and Youth, Sport, Arts and Recreation minister Kirsty Coventry were also auctioned.
Mavima highlighted that female footballers were potential wealth creators as proved by the successes of women in the history of Zimbabwean sport. He added that his desire was to see women soccer regain its luster and support for national transformation.
"We want to ensure that football can be taken as a decent career in which the players can earn a decent living during their active years and that they have social protection to cover for unexpected mishaps and for life after retirement," he said. "To this end, we will work with football administrators to ensure that we provide the players with financial literacy training and financial planning services, so as to ensure financial security after retirement from active football. This will help to avoid situations where former football greats fall on hard times after retirement."
Arthur Mudarikwa who is a senior official in the Sport, Arts and Recreation ministry, represented Coventry at the function.
The Zimbabwe Football Association also donated 40 match balls to assist the league.
With two matches before the 2022 season ends, Black Rhinos Queens currently top the log table with 43 points after 18 games followed by Harare City Queens with 41 points while Maningi FC Queens are on 39 points.
Follow MagrethRuzvidzo @MagrethRuzvidzo
Related Topics