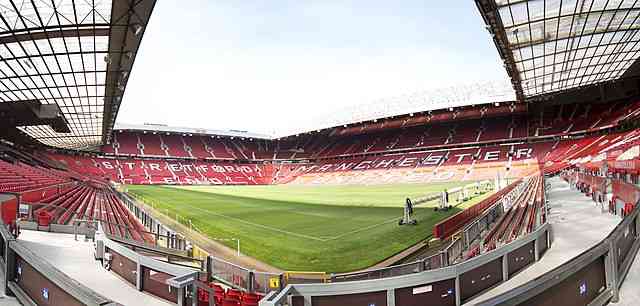 I guess it was just too good to be true.
It couldn't possibly last could it?
Five wins on the trot and another expectant routine victory awaited them at Old Trafford on the weekend.
Sadly the inevitable occurred as Arsenal succumbed, caved in to the first stern opponent they came up against as Manchester United brushed them aside in a game that most neutral observers felt Arsenal should have won.
Arsenal fans can be forgiven then for thinking that it's all just a sensational but common Arsenal fan's dream, all just a figment of their imagination, all just a wonderful memory and a throwback to the Invincibles and that when they wake up from their deep slumber, reality will return to haunt them.
By now we're accustomed to this, we're all expecting this from Arsenal pretty much every season right?
A few flashes and twinkles here and there, a semi decent run and then just like Cinderella loses her beauty when the clock strikes midnight, it all just fades and fizzles away.
That's the Arsenal; they might start on fire with all guns blazing but at a certain juncture they just lose their mojo, reality sets in and the gunners find themselves getting hammered as their season spirals out of control unable to spur it in the right direction.
This has been the sad reality for longer than the loyal Arsenal fan will care to admit.
This is a sad reality where Arsenal now scramble to secure a Europa League spot, a reality that sees them being mentioned in the same breath as Leicester, West Ham and Aston Villa!
It's a reality that has seen them fall from regality, a reality far removed from their incredible golden successful years under Arsene Wenger.
Arsenal Football club is a glorious grand historic old football club with a proud history.
Unlike some of the new contenders, it's not built on barrels of new found money or wealth, but rather it's one based on a legendary legacy of fame, success and honour crafted with distinction over a hundred years of existence.
It's situated in the North East of London in close proximity to its bitter but not better rivals Tottenham Hotspur, otherwise known as Spurs.
It's a club that belongs to that elite few who have always been in the upper echelons, who have always been able to stave off relegation and remain royally regaled at the top end of the pyramid.
In fact they have only ever been relegated once and have remained in the top division since they were controversially (some would say unfairly) promoted ahead of Spurs in 1919!
It's the city of London's greatest ever club with a celebrated trophy haul that includes thirteen league titles and a record high fourteen FA Cups.
Unfortunately for a club of such stature, it's failed to win a Champions League title although it came agonizingly close in 2006 losing to Barcelona 2-1 in the final.
Chelsea fans will no doubt be queuing to raise their hands in displeasure with this comment as they will not surprisingly point to the two successes that Chelsea have had in the last decade in the Champions League.
While I cannot and will never debase the achievement of winning the greatest club football trophy in the modern game, and twice for that matter, I simply cannot ignore the lengthy continued Arsenal success.
It's spanned decades and seen them lift the English title no less than thirteen times, compared to Chelsea's six.
It's an achievement only eclipsed by the undisputed top two of English football, namely Liverpool and Manchester United.
It's a legacy that has seen them evolve over the years into a truly international football club with a fan base spread right across the globe watching a football team that is multinational.
To illustrate this point in February 2005 for a match against Crystal Palace, Arsenal created history with a match day squad made up entirely of foreign nationals.
In our own continent of Africa, Arsenal is often the chosen and favoured club as Arsenal were one of the first English clubs to genuinely welcome and embrace African players including the Nigerian superstar and Arsenal legend Nwanko Kanu.
Arsenal's dominance in the 1930's where they picked up five league titles inspired by the original innovative great manager Herbert Chapman was followed quite literally by decades of near finishes and close shaves.
The 50's and 60's were Arsenal's least successful period made especially unbearable and infuriating in having to witness arch rivals Spurs complete the domestic double in 1961.
Ten years later in 1971 much to their immense relief, Arsenal did likewise completing their first double comprising the League title and FA Cup.
It's important to stress that while the dominant forces of today's modern game eg a Manchester City, are always in the picture for a potential double success, this was not usually the case in yesteryear when the double was deemed practically impossible.
Liverpool and Manchester United for example only won their first ever doubles in 1986 and 1994 respectively.
Arsenal's superb success therefore in 1971 ought to have been the springboard for a period of sustained success but that side was quickly dissolved with little fanfare and glory.
A hatrick of FA Cup appearances in 1978, 1979 and 1980 included the classic 3-2 final victory in 1979 against Manchester United but did little to dispel the notion that Arsenal fans had been short changed by a side containing stalwarts Pat Jennings, Pat Rice, David O'Leary and Frank Stapleton.
While Arsenal frittered and faltered, Liverpool meanwhile were wasting no time and confirmed their status as the top side, not just in England but all of Europe.
Such was their dominance at the time that all of Europe's elite clubs heaved a huge sigh of relief when English clubs were subsequently banned in 1985 for crowd violence.
We will of course never know what might have happened but I for one, have no doubt that the Liverpool of the eighties would definitely have added a few more European crowns had the ban not been in place!
Arsenal though did pop the Liverpool parade in a massive surprise against all the odds in 1989 when Michael Thomas popped up with a last minute winner to steer Arsenal to a 2-0 victory at Anfield to hand Arsenal an unlikely League title on goal difference.
It's a match that is part of Arsenal folklore and still enrages Liverpool fans to this day.
For Liverpool fans, the only disappointment comparable is the time when Steve Gerrard slipped horribly causing Liverpool to lose against Chelsea in 2014 literally conceding the title for that season to Manchester City.
Under George Graham, Arsenal won another league title in 1991 with a formidable side built around the "famous back four" which included England captain Tony Adams.
It was a side renowned for its toughness, spirit and never say die attitude and very much in the mould of their manager.
Arsene Wenger joined the club in 1996 and proceeded to become not just Arsenal's highest profile manager ever, but perhaps one of the most successful and recognisable managers in the history of the game.
What he achieved at Arsenal was not just deliver unparalleled footballing success to Arsenal, but also to propel the club and the entire League to a totally different way of thinking and approach to the game.
It saw a monumental change and shift in all aspects of the game including fitness and diet.
He was a leading catalyst and ambassador in the growth of the EPL and led the league into the next century.
The years of Wenger were characterised by a brand of football that was not just exciting and eye catching but hugely successful too.
A haul of three EPL titles and seven FA Cups represents a pretty spectacular record spearheaded by handpicked and nurtured Wenger gems such as Thierry Henry, Patrick Viera, Kanu and Dennis Bergkamp.
Like all good things in life it couldn't last forever and a barren trophy less run of nine years after 2005 was only partially salvaged by an FA Cup win in 2014.
It was however crucially the first year where Arsenal football club had failed to make the top four during Arsene Wenger's reign.
It was also the beginning of a process to find the next great manager which Arsenal hope they have now found in Mikel Arteta.
An ex Arsenal player himself,Arteta after an admittedly shaky start, seems like he's on the road to managerial mastery.
Arsenal's motto is Victoria Concordia Crescit, which in Latin means "Victory Through Harmony."
Arteta's intelligence allowed him very early on in his Arsenal managerial career to realise that unless he had harmony at the club, then he was ultimately doomed.
He subsequently had the strength and personality to axe certain players he considered toxic such as Mesut Ozil and most recently Pierre-Emerick Aubameyang even though they were held in high esteem at the club and considered almost untouchable.
What we are now witnessing is Arteta's Arsenal slowly, but surely beginning to take shape.
He has been blessed to have played and schooled under Wenger at Arsenal and before he applied for the hot seat at Arsenal, was Guardiola's number two at Manchester City.
If education is the cornerstone of success, then he's going all the way to the top because he's been premier schooled by the very best in the game.
It's been some week with European action returning to our screens a little earlier than usual and with a crowded tight schedule in place due to the upcoming World Cup, we're in for one helluva treat.
It was an unexpectedly poor week for English clubs across both European competitions with Liverpool, big spending Chelsea and Manchester United all losing in first round action.
In the Champions League there were a number of outstanding clashes but it's the Napoli versus Liverpool match which ended in a victory for Napoli by four goals to one that deserves our closer introspection.
The result and the manner of the comprehensive mauling has shaken Anfield to the core.
It's made even die hard Liverpool fans finally realize that the house is not in order, that Klopp has big problems ahead and that this season, it's going to be impossible to maintain their position as England's preeminent club alongside Manchester City.
It's a far cry from the heady days just months ago where Liverpool were on course for an incredible quadruple and as I predicted even prior to the Manchester United clash, this season's Liverpool look average, bang average!
Enter the Arsenal or might I call them The Prince who's been waiting patiently to step up to the throne!
They may not have waited seventy three years like another Prince who has finally scaled the heights and ascended to his regal position, but perhaps this is their time.
Throw in the fact that Liverpool are not the same force as they were last year, consider that Manchester United while making progress are far from the finished article and watch; as tuchelless or rather toothless, cuckoo and potty Chelsea continue to implode.
Meanwhile in Arteta, Arsenal have the apostle of both Wenger and Guardiola on board and the blessings of Jesus too!
Perhaps this season's battle Royale is instead going to be between Manchester City and the Arsenal, and just maybe there's going to be one mega Partey!!
Till the next time folks…..
Feednback:[email protected]
Related Topics