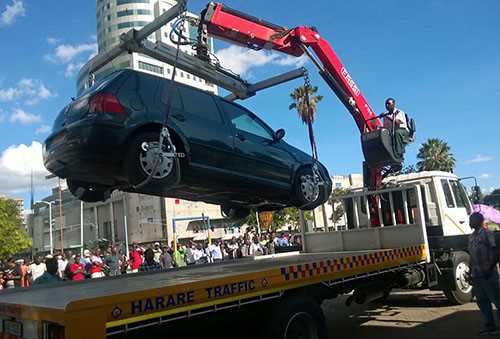 MELODY CHIKONO MILLIONS of United States dollars could have slipped through the Harare City Council coffers amid revelations that the council last had an internal audit in 2017.
This comes at a time when revenue leakages have also been buoyed by malfunctioning accounting packages and lack of robust audit systems.
Investigations by the Zimbabwe Independent have uncovered these as information indicate that the council's budget processes lack transparency.
Harare residents have said the local authority has been deliberately evading questions during budget consultations on previous financial plans, thus turning the gatherings into service delivery meetings.
Investigations have revealed what appear to be massive gaps in realignment of audit systems with the council having relied on external auditors for select issues of concern over the years.
At the centre of the mess is the fact that the council last had a substantive finance director back in 2016 when the then director, Justin Mandizha, was unceremoniously dismissed for alleged incompetence.
However, he is said to have introduced professionalism aimed at closing the revenue leakages that had severely affected the council.
Sources allege that some councillors and members of management ganged up against Mandizha and claimed that he was incompetent. They decided to extend his period of probation. He, however, refused to bend the rules for them and opted instead to resign.
Tendai Kwenda, who was a member of the finance team, replaced him as acting finance director.
He was, however, suspended and was charged in 2017 with criminal abuse of office, together with three other directors, for alleged improper payments made to several directors.
However, Kwenda denied the allegations saying they were fabricated.
"I have not been paid since then. I know others are back. A matter for another day, I believe. The allegations are fabricated, all the payments were in terms of Council approvals and Ministerial approvals. The resolutions are available for perusal," Kwenda said.
"There were no improper payments. If that was the case, why are the other three directors still in office, and why are all the other managers, who were paid, still in office? Vindication, I need my name cleared and will gladly leave. The matter is at various stages both at the courts and in government."
Meanwhile, he was replaced by Stanley Ndemera, who while still in his acting capacity faced accusations of massive corruption, as well as, of gross incompetence.
In efforts to plug revenue leakages, he introduced a functional billing system for the council, sources at the council said.
Contacted for comment, Ndemera said: "I'm not able to comment because the matter is still before the courts".
There have been other acting finance directors, including Godfrey Kusangaya, Tichavona Mhetu and Assumpta Shutu among others.
Investigations by the Independent uncovered that the council was battling huge budget variances, which were creating avenues for looting of council resources.
There are also indications that the council could have lost millions of dollars through the malfunctioning of accounting systems, which are failing to account for revenues in United States dollars.
Minutes of an audit council meeting held on May 19, 2021 accessed by the Independent highlights how the council had no adequate controls on the Sage ERP System to ensure that access and amendments to the General Ledger, Accounts Receivable and all transactions were accurately recorded in a timely manner.
Sage ERP is an integrated business management software, which automates back-office functions covering finance, distribution, manufacturing, project accounting and services, time recording and billing, among others.
Absence of an ERP system has also seen the council manually preparing draft accounts, according to minutes dated April 13, 2021 on the report to management on 2018 financials.
According to the audit manager, the council has no billing of business licencing accounts, the Sage Systems went offline regularly, some modules like asset human resources and payroll modules had not been implemented on the Sage system and  RTGS payment system was not integrated with Sage ERP, among other issues.
The Sage system was also slow when receipting clients and the inaccurate financial reporting by the Sage System raised fears of the possibility of overstating or understating income for the city council.
The Sage System could not produce reports, such as accounts receivable, ageing reports and business reports and inadequate Disaster Recovery Plan (DRP) and Business Continuity Plan (BCP) for ICT systems and equipment.
Minutes of another audit committee meeting held on April 13, 2021 shows that the council also engaged an external auditor to review City Parking (Pvt) Ltd financial statements for the year ending December 2019..
The independent audit by  Baker Tilly revealed that  City Parking Private Limited was not complying with the Public Procurement and Disposal of Public Assets (PPDPA) Act (Chapter 22:23) regulations.
Auditor General Mildred Chiri in her 2020 audit report also raised concerns over the council's accounting systems.
Her report noted that trade and other payables to the tune of US$105 542 million were unverifiable for the council's 2018 financials.
In addition, trade and other payables totalling US$83,7 million had debit balances and should have been reclassified, suggesting that the council might have prepaid or overpaid suppliers and has to recover the same.
Chiri only managed to audit financials for 2018 as the council's cash books were not made available for audit.
Cash receipts and payments journals linked to the bank accounts were also not available while reconciliations of bank accounts and Ecocash accounts were not updated and proper checking and authorisation of the same was not being done and some of the bank accounts were not in the accounting system.
Chiri recommended that management should consider investing in robust IT systems to foster proper accounting and financial reporting.
Investigations also show that managerial expenses, for example fuel and travel, especially those in United States dollar (USD) terms, have been concealed or reported in Zimbabwean dollar terms.
This is despite the fact that the council has a number of initiatives through which it earns USD.
A look into the City Council's 2021 Budget performance overview showed that while the council had USD incomes, the USD component was never reported on their revenues.
A regional advocacy officer with Combined Harare Residents Trust, Rueben Akili told the Independent that council has always been avoiding giving people the budget.
He said the council was getting payments for car wrecking, parking and other initiatives in USD but they never presented anything in USD terms.
According to the budget performance review for the half year ended June 30, 2021, City Parking had a budget variance of ZW$89,51 million after remitting  ZW$32,59 million to the City of Harare .
The document also shows that the council spent ZW$2,1 billion during the period for goods and service delivery while salaries gobbled around ZW$1,9 billion against a proportionate budget  of ZW$7,4 billion and ZW$3,1 billion million, respectively.
"What they give out is the budget statement. There are a lot of revenue leakages, for example City Parking, a council subsidiary, was not remitting money to the City of Harare," Akili said.
"Zupco has not been paying rank discs to the City of Harare since it commenced. It's all revenue that's getting lost. So if we go to the budget and they had stated that we will get money through  Zupco  rank disk payments but Zupco is  not paying, these are the anomalies we are talking about, what is the potential revenue? But this information is rare to come by.
"At budget review consultation meetings, they will be having the information but the problem is that the city officials will start to present service delivery issues.
"This, they know will drag and raise a lot of emotions and eventually they dodge presenting real money issues and get away with it."
Akili said the battle the residents have been having with the council was on the 30-70 ratio, where 30% of revenue had to be directed to salaries and other expenses while 70% should be set on service delivery. He said council has been spending much more on salaries and allowances and the fear is that this will be exposed, adding that the money used for fuel for executives was more than that used for service delivery.
However, in its 2022 budget presentation, the council indicated that it was set to be up to date with audited financial statements by December 31, 2021. However, six months later, the council has not succeeded.
In the same document, the council also said it had a recommendation to get a fully integrated functional enterprise resource planning system, which will run with SAGE until full migration.
This article was produced under the VMCZ Investigative Journalism Fund with support from the Friedrich Naumann Foundation.