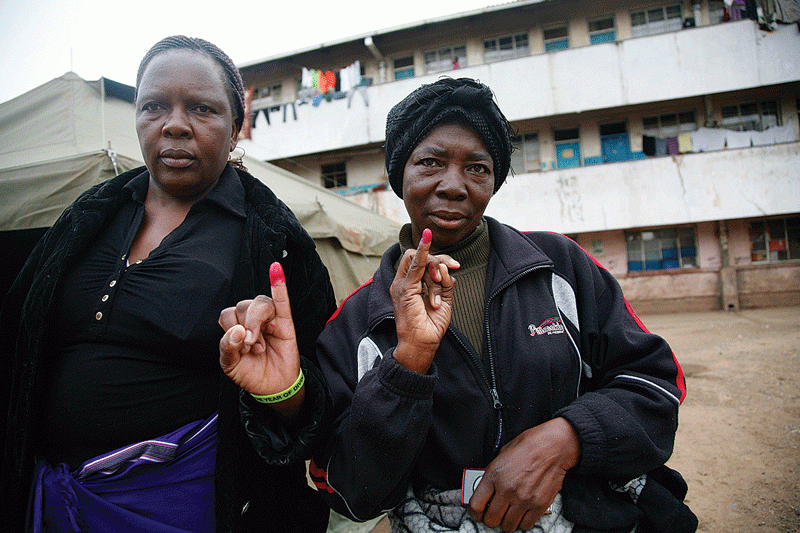 OPTICS in politics matter, so we have been told. That is why the ruining Zany party has been bussing alleged supporters from all over the country to every rally addressed by our current owner, President Emmerson Mnangagwa.
Some of the numbers have been astounding: 150 000 in Harare, 124 000 in Chiredzi and 127 000 in Muzarabani.
According to reports, the party has spent around US$2 million on transport costs per rally alone!
That is some cost to pay in order to give the impression that the people you are suppressing actually love you.
We are used to the Herald of truth and other State-owned media spouting rubbish about numbers in the name of optics.
This week, however, the Chinhu Changu Chete (CCC) team decided to join the battle for numbers. Whoever is running CCC's twitter handle is clearly eyeing bigger jobs should the Yellow submarine conductor win the top office.
After the Monday rally at the 'Freedom Square' they posted: "President Nelson Chamisa addressed a record-breaking crowd of over 400 000 people, with more than 100000 physically attending the rally and over 300 000 watching on various digital platforms. Our Facebook handle had over 100 000 viewers watching the live stream, while other media platforms also had the same number of online viewers."
Our owner on Wednesday told local and international media that he could not pretend not to know who will win the charade of a presidential vote he made the country go through this week.
Winner
According to the people at the Zimbabwe Electoral Commission, I mean, those that pretend to be in actual command of announcing the winner of the vote, the winner will be announced latest by August 28, five days after the voting itself.
However, while Zimbabweans were voting to elect a president, members of parliament and local government representatives, our owner was in no doubt.
"I have done my duty as a citizen of the country to decide who should be president of this country. I made a decision that I know him".
He was unequivocal that he would win: "If I think I am not going to take it, then I would be foolish. Everyone who contests… if you go into a race, you go into a race to win. Precisely that is what I am doing."
Intimidation
It has been a curious election by any standard.
The Zany part and its affiliate, with an apt acronym of Forever Associate Zimbabwe (Faz), set up tables close to polling stations, reportedly for the purpose of conducting exit polling survey.
With Zec voters rolls in hand, the officials would reportedly note the ID numbers and names of voters before or after they cast their ballots.
How is that for voter intimidation?
How is Gogo Mheri in Dotito supposed to feel that her vote is her right and that it is private when her every move at the poling station is literally being policed in full view of the police and Zec officials?
Yes, Zec has some laws which explicitly prohibits the presence of party-branded materials within a 300-metre radius of a polling station and so forth, but this is clearly voter intimidation by the Zany party.
Zec and the police are either powerless to intervene and protect Gogo Mheri's vote, or are complicit in the whole saga.
In Gokwe, the Zany thugs went further, chasing away opposition election agents from polling stations and threatening to burn down their homes for trying to observe what was happening.
Wealthy bin
When Mnangagwa banished some Zany chefs to the Shake Shake building to replace them with younger, more trusted cadres in his government, he placated their anger by giving them ministerial pecks to go with their exclusion from the feeding trough.
So, it was a surprise to learn that our former bin counter, and the Zany party's money man, Patrick Chinamasa lost some cash and party documents after some daring thieves broke into his car outside Meikles Hotel in the capital.
The poor fellow lost US$6 700 cash, some party documents, and fuel coupons totalling 20 000 litres after the audacious thieves broke a window while Chinamasa was attending a meeting at the hotel.
We are told he also lost some bank cards and an iPad.
Our fast responding police recovered the stolen leather bag behind their ZRP Kopje Market Square base, with the iPad and the fuel coupons intact, but the cash and the documents were missing.
Where were the security aides, a staple of the ministerial perks?
Unless of course the meeting was personal and he just did not want cumbersome company.
The explanation on their absence would be interesting when the police conclude investigations.
Related Topics